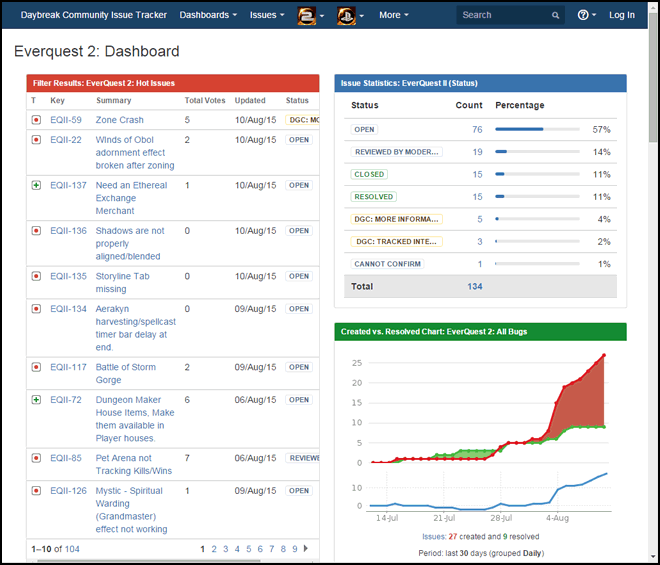 Since the launch of EverQuest II, players have been able to submit bug reports and feedback through the in-game /bug and /feedback commands. It's nice and integrated, but they are essentially a black hole. Players have no idea when or if their issue has been tested, confirmed to be a bug, or a timeframe when it might be addressed. Players have speculated that /bug and /feedback might not even be read (they are!). Over the years, other methods of bringing bugs and feedback to the EQ2 team's attention have arisen, each with strengths and weaknesses.
Break On Through to the Other Side
In 2004, EverQuest II entered beta with Forums (EQ2Wire offers an extensive EQ2 Forum Archive of over 2.3 million posts) which has allowed players to share their thoughts and, more importantly, bring issues to the attention of developers. Unfortunately, forums tend to have a poor signal-to-noise ratio, especially if insufficient sections are made available to corral conversations into useful categories. Those who aren't stakeholders tend to embrace the "active posts per week" metric to chase elusive "engagement" statistics, but this usually diminishes forums as an effective communications platform.
While the EQ2 team diligently reads the forums on a daily basis, these days posting a thread on the EQ2 Forums in the hope of getting an issue onto the radar of the right developer has become a hit-or-miss affair. The chaos of forums also invites off-topic blather and petty arguments which discourage the kind of fact-based discussion necessary to handling bugs and feedback in a professional manner.