Using the DGCIssueTracker to Improve EverQuest II!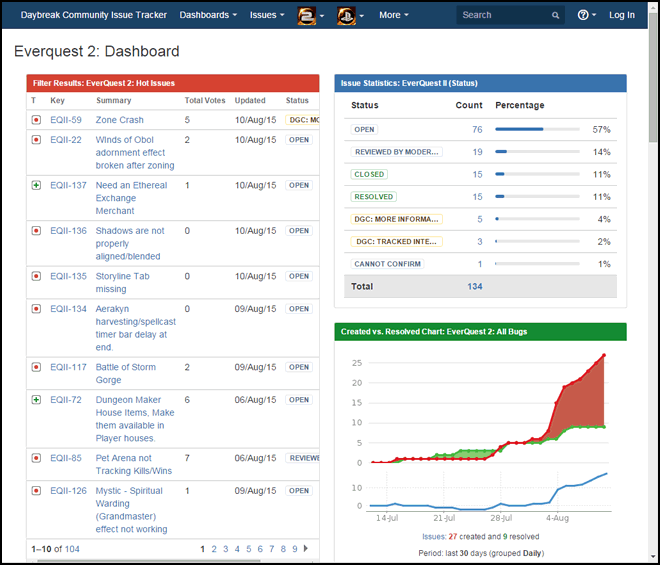 Since the launch of EverQuest II, players have been able to submit bug reports and feedback through the in-game /bug and /feedback commands. It's nice and integrated, but they are essentially a black hole. Players have no idea when or if their issue has been tested, confirmed to be a bug, or a timeframe when it might be addressed. Players have speculated that /bug and /feedback might not even be read (they are!). Over the years, other methods of bringing bugs and feedback to the EQ2 team's attention have arisen, each with strengths and weaknesses.
Break On Through to the Other Side
In 2004, EverQuest II entered beta with Forums (EQ2Wire offers an extensive EQ2 Forum Archive of over 2.3 million posts) which has allowed players to share their thoughts and, more importantly, bring issues to the attention of developers. Unfortunately, forums tend to have a poor signal-to-noise ratio, especially if insufficient sections are made available to corral conversations into useful categories. Those who aren't stakeholders tend to embrace the "active posts per week" metric to chase elusive "engagement" statistics, but this usually diminishes forums as an effective communications platform.
While the EQ2 team diligently reads the forums on a daily basis, these days posting a thread on the EQ2 Forums in the hope of getting an issue onto the radar of the right developer has become a hit-or-miss affair. The chaos of forums also invites off-topic blather and petty arguments which discourage the kind of fact-based discussion necessary to handling bugs and feedback in a professional manner.
In recent years, A number of EQ2 developers have invited players to contact them via E-mail or Private Message / Conversation via the Forums. This has proven successful for correcting very specific issues such as broken house items or misbehaving spells which can be addressed by a single developer. However it has been less effective for broader issues such as class balance, itemization, or mechanics issues which have more than one designer involved. These types of issues require a collaboration that is impossible with one-to-one communication.
Social Media (Twitter/Facebook) is most useful for large scale issues that widely affect players, such as server lag, chat room unavailability, travel bugs, etc. However it can be a blunt instrument (especially due to character limitations of Twitter) which is ineffective for addressing smaller scale issues such as a specifically bugged quest, armor appearance, or spell effect.
Attending SOE Live — Sometimes the most effective way of putting issues in front of EQ2 developers and immediately gauging player support for your bug fix/change has required a plane ticket to Las Vegas. By standing nervously at a microphone in a Question & Answer panel at the annual Fan Faire / SOE Live event, descriving your issue, and then praying for a round of applause (rather than crickets), many an issue has been addressed and received developer attention. Players have had similar success cornering developers in the hallways and shoppes of the host hotel during said Las Vegas event. The obvious drawbacks include the cost of a plane ticket and hotel, the sleeplessness that tends to erase salient details of a specific bug report if copious notes are not taken, and the fact that this approach doesn't help for the other 361 days of the year.
Each of these methods has their strengths and weaknesses, but none offers a centralized place to discuss, collaborate, and verify bugs and track their progress on a year-round basis. And none of these approaches offers even the faintest timeline of when issues will be addressed, how many other players have experienced the same issues, or allows players to work together to root out the cause of complex bug interactions.
Introducing DGCIssueTracker
For years I and other EQ2 players have hoped that Daybreak nee SOE would institute a Bug Tracker for its games. That didn't happen, so players have stepped in and saved the day! DGCIssueTracker.com is a fan-operated Bug Tracker which has been quickly adopted by the H1Z1, Planetside 2, DCUO, and more recently EverQuest and EverQuest II development teams.
Q: Isn't this just another social media site we're being pushed to like Reddit that works well for certain games but won't get much attention from established games like EQ2?
A: I have personally consulted with the EQ2 team on this and, over the last few months, have voluntarily embraced this new site and are using it to track issues and gauge priority for issues and popularity for feedback to determine which items will get attention. The team have seen the benefits and advantages of a centralized, public Bug Tracker with player transparency and developer involvement rather than the opaque /bug and /feedback.
Q: Do I login to the DGCIssueTracker.com site with my DGC/All Access Account, or are the accounts separate? What if I'm worried about my privacy?
A: Like EQ2U and Dragon's Armory, DGCIssueTracker is a third-party player-run fansite. You should create a separate account using a different login and password from what you use for DGC forums or EQ2. When setting up your DGCIssueTracker Profile, you may choose to use a familiar Display Name to something that players recognize from in-game or the official Forums so that any posting or collaboration you do is attributed to your name.
Q: What if I want to keep using /bug or /feedback or talking to developers by e-mail or through the forums?
A: There is certainly nothing stopping anyone from continuing to use these approaches. I know that some people do not wish to create and maintain yet another web account and keep track of the goings-on of another website. Personally, I've been using a Password Manager called LastPass to manage all my accounts so that I can have a different password on every site I use but not have to remember or write them all down.
Q: What software is this DGCIssueTracker website running? It's confusing, where can I find documentation?
A: DGCIssueTracker uses industry standard bug tracking software called JIRA by Atlassian. It can indeed be confusing, but this is one of the cleaner implementations I've seen.The best place to start is the EQ2 Dashboard. There you can see existing issues, click on them and Vote or post Comments about them. An Activity Stream of what's been going on with the EQ2 Project is available. At any time, a new Bug or Suggestion (Feedback) can be posted by clicking the "New Submission" button in the navigation bar at the top.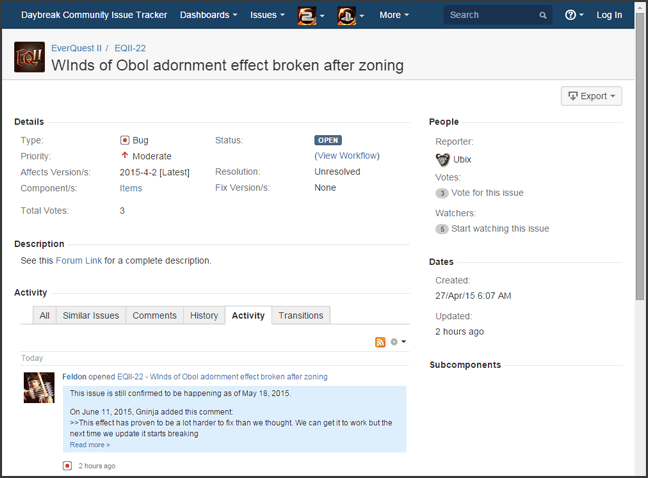 As seen in the example issue above, the issue was created by a player named Ubix on April 27, 2015. They consider it a Bug affecting Items. There are currently 5 Votes for this issue and 5 people are Watching the progess of this issue. There have been a number of Comments including one from an EQ2 developer. There is a place (if you're logged in) to drag-and-drop Screenshots that further illustrate the issue.
Q: What can I do to help this Bug Tracker? Are you looking for Moderators to assist in Categorizing and Verifying Issues/Bug Reports?
A: Absolutely! The EQ2 team are looking for individuals who wish to spend about an hour a day going through submitted and backlogged issues to keep things neat-and-tidy. DGCIssueTracker has a team of moderators, especially on H1Z1, PS2, and DCUO, and they would love to see people from the EverQuest and EverQuest II communities lend a hand to support these games. If you'd like to volunteer for this position, please Contact me at morgan (at) eq2wire.com or e-mail Kander at kvallee (at) daybreakgames.com (or both if you wish!). We're looking for a few good bug hunters!
Trackback from your site.