EQ2Wire's Guide to Game Update 63: Skyshrine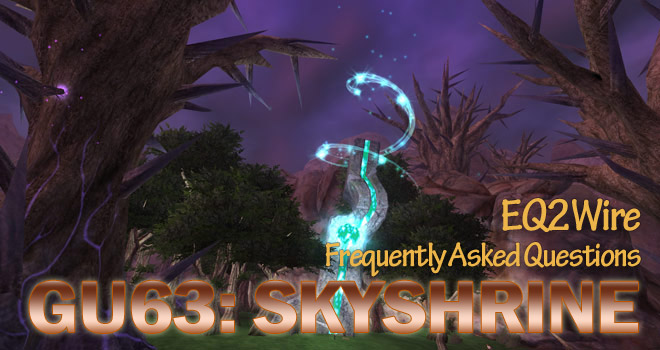 EQ2Wire is proud to present our Game Update 63: Skyshrine Frequently Asked Questions guide.
UPDATED April 24, 2012.
After the jump, find out how to reach the Withered Lands and Skyshrine, what kind of solo, group, and raid content is available, a bit more about Prestige Points, and how to get started in Game Update 63 regardless of your play style!
Game Update 63 Adventure FAQ

Q: What are the pre-requisites to do the adventure (solo/group/raid) content in Game Update 63?
A: You must be level 90 and have the Destiny of Velious expansion flagged on your account. To level past level 90, you must have 280 AA points. Due to the AA curve adjustment, as long as you login with at least 248 AAs, you will get dinged to 280 AAs! NOTE: The Age of Discovery expansion is required for some features.
Q: How do I travel to the Withered Lands?
A: Seek out Lieutenant Rennik on the Thurgadin docks opposite the other Griffon Trainer. Listen to his story (or not) and then talk to the Griffon Tamer who will offer you the option of traveling to the Withered Lands.
Q: Is the Withered Lands just solo content?
A: There are some throngs of heroic mobs as you delve further into the Withered Lands. The cave-dwelling harpies and perched drakes aren't so friendly. There are solo, heroic, and raid nameds within Withered Lands if you know where to look.
Q: Why am I not gaining experience / leveling?
A: Ensure that your AA slider is set to zero (0%) and that you do not have Combat XP or Bonus XP disabled. Also, make sure you have at least 280 AA points. You do not have to level in the Withered Lands or Skyshrine. If you prefer, you may level to 92 in any zone with non-trivial (green, blue, white, yellow, or orange) mobs.
Q: How do I get Prestige Points?
A: You must start leveling past 90. Every 20% of a level you gain after level 90 earns you a Prestige Point. You will have 5 points at level 91, and 10 points at level 92.
Q: How can I spend Prestige Points?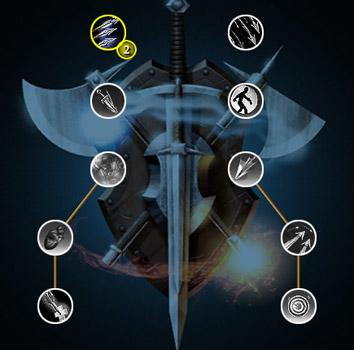 A: Unless you are willing to give up the end-of-line abilities, you must choose either the LEFT or RIGHT side of the Prestige Talents. There have been extensive discussions on the EQ2 forums about the Pros and Cons of these different lines which are unique for each class. You'll have to decide which side is best for you!
BUG: The first time you gain a Prestige Point, you will need to Zone or Evac to be able to spend that point. This bug was reported on Test.
Q: I'm wearing Drunder heroic / EM / HM raid armor and jewelry, or Ry'Gorr armor, or ToFS x2 jewelry. Should I do the solo questlines in Withered Lands?
A: Most likely yes. As we will talk about in another article, Game Update 63 is a complete armor/jewelry reset, replacing virtually ALL Velious and Drunder solo, group, EM, and even HM raid armor and jewelry. Only Plane of War HM armor remains relevant (and barely so at that).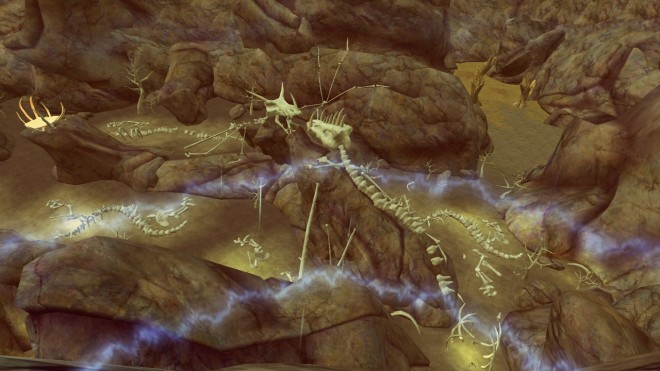 Q: Why do I keep getting knocked out of the sky when it rains?
A: Vyskudra the Ancient, a dragon who has gotten rather grumpy over the years, roams the Withered Lands. When she gets near, you will be forced to land and given a debuff preventing flight for a short time. Her arrival is predicated by the sight of rain. Naturally, this tends to happen at the most inopportune times, often leading you to crash land into thickets full of mobs.
Adventurers who complete the questlines at Alivan will be granted safe passage through the skies. Tradeskillers who complete their Withered Lands questlines receive a cloak that grants immunity to this skyward bullying.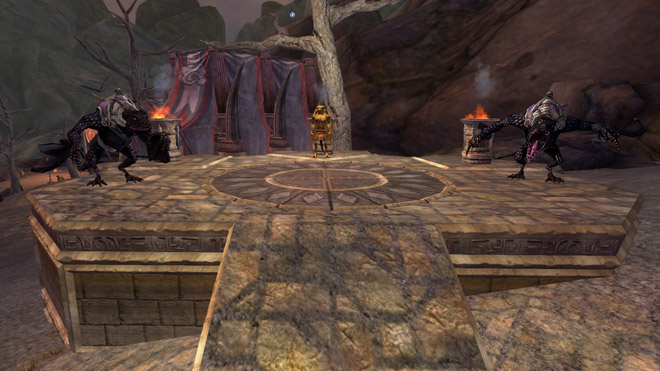 Q: Can I bypass Withered Lands and go straight to Skyshrine?
A: Yep. You'll need to traverse the length and breadth of the Withered Lands, with the aforementioned flight concerns in the back of your mind if you intend to fly there. The Drakurion Flight Master can be found in the area known as Alivan (marked on the map below as 'to Skyshrine').
Q: Is there a portal item to travel from my house or guild hall directly to Skyshrine?
A: Yes. This item may be purchased for 100 platinum pieces from the vendor in the marketplace area (north center) of the old city of Skyshrine. You will need to have opened this portal via completing some of the Heroic Access quests started by Hazrem.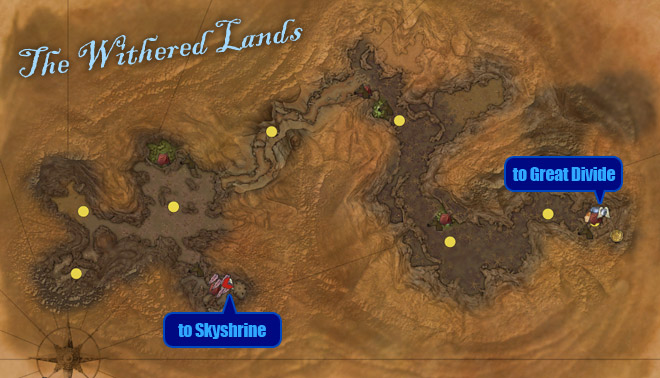 Q: What can you tell me about Skyshrine?
A: Skyshrine is city of dragon and dragonkin. As a city under siege, it acts as a quest hub as well as a contested dungeon. The dragonkin need your help to turn the tide of battle in each of the three districts, and maybe even reverse the invasion altogether! Beyond the small arrival area, you will have to fight your way through to get anywhere in the war-torn city.
Q: What solo/duo content is there in Skyshrine?
A dracurion (maybe?) named Cek'Arctor offers daily missions which can be completed solo, duo, or "molo" (with a mercenary). All names must be killed within each instance to spawn the final named. Tracking is highly recommended if you wish to skip as much trash as possible. You'll receive consumable health, power, and dps items from some of the names, which come in handy during the final boss fights especially if you are attempting this content solo. You may do one mission per character, per day:

Covenant District [Solo] — boss: Mirrakar
Kill Captain Veezaran, Velkron, and Commander Mirrakar.

Lyceum of the Recondite [Solo] — boss: Arch-Necranaut Yolth
Kill Termagore, Necranaut Dolk, Lektus, and  Arch-Necranaut Yolth

Dracur Prime [Advanced Solo] — boss: Tigloth the Conqueror
Kill Valagas, Hammilkor Barka, Nenlarn, Xerxix Mal'Fyrm (grouped with Mardonn Myr'Valak and Ariorb Vel'Kera), and Tigloth the Conqueror.
The reward for completing any of these missions is an "Ornate Crate of Endless Goodies" which provides a general item (special food, drink, repair kit, etc.) and a random piece of jewelry or armor. The challenging Dracur Prime (Tigloth) instance awards a second Ornate Crate of Endless Goodies.
Q: Is there an access quest to get to the heroic instances in Skyshrine?
A: Yes. Speak to the injured Hazrem in the Skyshrine arrival area and pick up the quest The Breach. This quest and the followup quest Defending Dracur requires killing droags in the contested areas of Skyshrine. After completing these two quests, you will speak to Jorlak who sends you into Skyshrine's past with the quests Blast in the Past, Actuation Scroll Acquisition, Disc of Binding Ruined, Clash within Covenant District, and so on.
In the course of doing these quests, you also must at least partially complete the first three Skyshrine group instances — Covenant District, Lyceum of the Recondite, and Dracur Prime. These zones all require 4-6 decently-geared people. At the conclusion of these quests, you will have access to the old pre-war City of Skyshrine, and all of the heroic instances to include the Underdepths which is a massive zone with a dozen named encounters.
The quest Clash Within Covenenat District awards a Shoulder upgrade with 2 white, 1 red, and 1 yellow slot. The quest Temporal Gem Hunt awards an exceptional Ranged item. The quest Final Item for Jorlak awards a Boots upgrade with 2 white, 1 red, and 1 yellow slot.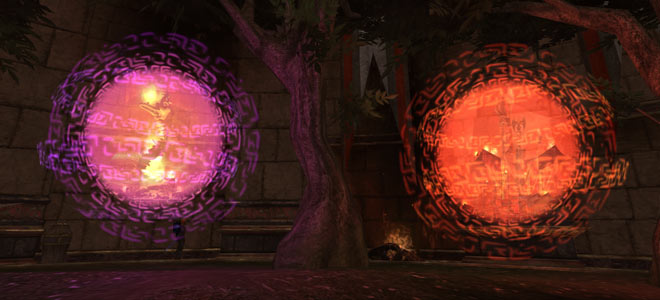 As soon as ONE person in your group has completed these access quest(s), everyone in your group will be able to see the portal(s) to the Skyshrine instances which have been unlocked so far.
Q: What heroic/group instances are there in Skyshrine?

Covenant District


Lyceum of the Recondite


Dracur Prime


Underdepths

Covenant District [Challenge]

Lyceum of the Recondite [Challenge]

Dracur Prime [Challenge]
Q: How do I access the raid content in Skyshrine?
A: Once you complete the Heroic access quest lines, you'll be able to see the portals to the raid zones. Only 1 member of the raid needs to have access to zone in.
Q: What raid content exists in Skyshrine?

Dracur Prime: Sevalak Awakened x4 raid
Names: Arraken Skyward, Sargon the Destructor, Sevalak of Storms

Betrayal of the Underdepths x4 raid (requires level 92 — 3 names have a Challenge/HM mode)
Names: Tel'koran Bloodmaw, Theldek the Stinger, Dagarn [Easy/Challenge], Balor the Primeval, Belkreiz Blazeclaw, Ikatiar [Easy/Challenge], Sevalor Gorescale, Malteor Flamecaller, Dozekar [Easy/Challenge]
Dracur Prime: Vyskudra the Ancient x4 raid
Names: Vyskudra the Ancient [Challenge]
Individual contested mobs:
Hexapola x4 in Withered Lands
Kildrukaun x4 in Contested Skyshrine
Honvar x2 in Withered Lands
(a Raptor) x2 in Withered Lands
Vhodeka x2 in Skyshrine
Q: Why does all this gear have "Focus: Cleric Head" or "Focus: Scout Legs" or "Focus: Mage Forearms", etc. on it?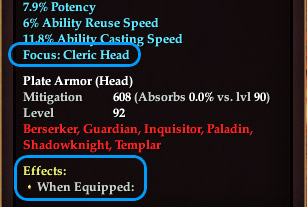 A: Instead of having to create 25 different pieces of armor for each "set" of gear, the EQ2 team has introduced automagical Class Focuses to Skyshrine armor. This means that instead of armor "crates" with a list of different armor pieces to choose from, mobs now drop random armor pieces that are applicable to either Mages, Scouts, Leather Priests, Chain Priests, Plate Priests, Plate Fighters, or Leather Fighters. If the item is appropriate for your class, it automagically has your correct class focus.
If you had Ry'Gorr or Drunder group gear in Velious or raid gear in Rise of Kunark, The Shadow Odyssey, or Sentinel's Fate, then you are already familiar with these class focuses which are improvements to spells or effects unique to your class.
NOTE: If you are viewing a piece of armor that is NOT your class/archetype, you'll see a description like "Effects: When Equipped" or "This item does not have a class focus applicable to your class" . When you are viewing an item appropriate for your class/archetype, you will then see the applicable class focus.
Q: How do I acquire the Flying Drake Mounts?
A: Eashindor the Far-Seer is acquired from completing the quest lines within the challenging level 92 group instance The Underdepths.
A: Validon Stormweaver is acquired  by completing all the heroic Skyshrine collections.
A: Other colors/appearances of flying drake are available as drops from Skyshrine raid zones.
Q: How do I gain faction with the Claws of Veeshan?
A: Each of the quests in the Heroic Access Quest timeline (starting with The Breach) grant +3,000 Claws of Veeshan faction. Beyond that, if you kill droags within the 3 districts of contested Skyshrine, they have a chance to drop Vilewing Drake Talons, Recovered Draconic Tome, and a few other quest starters which ask you to kill 20 droags each. Completing these quests grants +250 faction. Each contested named awards +250 faction. Each instanced named awards +500 faction.
Earning -40,000 (?) faction with the Claws of Veeshan unlocks access to the Mender.
Earning +50,000 faction with the Claws of Veeshan allows you to see the Faction Merchant (who sells armor and weapons but no jewelry) in the past version of the Covenant District in the Market area. To purchase any gear, you will need the Head of Dozekar from the final named in the Underdepths instance.
View the Claws of Veeshan Faction Armor and Weapons >>
Bug: The Head of Dozekar is LORE so spend each one as you get it.
Q: How do I acquire the new Signature Mercenaries in the Forbidden City of Skyshrine?
There are 3 areas there that have these mercenaries
Monk /way 351.37, 0.00, 42.05
Brigand /way 99.84, 0.00, -375.75
Inquisitor /way -342.78, 0.00, -21.09
To Hire these mercenaries you need a Ancient Skyshrine Control Wand which is obtained in the Underdepths group instance from the second to the last named this key is also used to summon a golem to help with the last named (dragon). Thanks to Celidur.
Q: How do I acquire the Elite Tradeskill Apprentice "Deshniak" who makes Legendary gear?
A: In the the Skyshrine solo instance "Dracur Prime [Advanced Solo]" or group Dracur Prime instance, walk to the back of the alcove immediately south of the three linked names. You will trigger an event and then be able to speak to Deshniak. Help him by defeating waves of enemies (some of them will 'leash' and reset if you are too far into the alcove) and he will give every player present a stone to summon him to your house as a Tradeskill Apprentice.
Q: How do I acquire the Elite Tradeskill Apprentice "Yelnar" who makes Fabled gear?
A: You must complete a  quest line and then rescue Yelnar from the Underdepths raid zone to loot Yelnar's Binding Stone which can be used to summon him to your home. The recipe to make this raid tradeskill apprentice requires one of each T10 rare, with an estimated cost of 1,500 platinum.
Q: Do I need to get these Elite Tradeskill Apprentices on all 9 of my tradeskill alts?
A: Yes and no. Unlike the Age of Discovery apprentices, the Elite Tradeskill Apprentices are only divided into Outfitter, Scholar, and Craftsman, so you only need 3 crafters to make all of the recipes. However the wait time (which cannot be accelerated) for each recipe is 16 days. You'll want to put all 9 tradeskill classes to work if you want to get these recipes as fast as possible.
Q: What materials do I need to craft Elite Tradeskill Apprentice gear? Can I use Colossal Reactants (if I am rich enough or lucky enough to have some)?
A: Believe it or not, Elite Tradeskill Apprentices use 8 different materials that drop in heroic instances. The Raid Tradeskill Apprentices use 8 variants on those materials which drop in raid zones. You'll need SIX of these dropped broker-tradeable materials to make each recipe. It may be too early to tell, but it seems likely that Elite Tradeskill Apprentices will go underused due to this extreme material cost.
Tradeskill Elite Apprentice Materials:
\aITEM -1793300056 -296351726 0:[Maligonian Horns]\/a
\aITEM 1400369307 -49442271 0:[Bone Golem Shards]\/a
\aITEM 766802641 36739332:Wyvern Stinger\/a
\aITEM 1247526606 -1069227914:A Bloody Drakota Eye\/a
\aITEM 1011118043 -99139519:Wurm Tongue\/a
\aITEM 961062649 -2034514189:Drake Fang\/a
\aITEM 975362555 978160565:Dragon Hide\/a
\aITEM -2140938805 1713427454:Great Dragon Scales\/a
Tradeskill Elite Raid Apprentice Materials:
\aITEM 1309260449 -1543934914:Prime Maligonian Horns\/a
\aITEM 712007148 -812101210:Prime Bone Golem Shards\/a
\aITEM -436135367 -1336632044:Prime Wyvern Stinger\/a
\aITEM -1011210980 137897983:A Bloody Prime Drakota Eye\/a
\aITEM -1247415287 1311274408:Prime Wurm Tongue\/a
\aITEM 200840288 -1305470961:Prime Drake Fang\/a
\aITEM -1279049175 -1905082788:Prime Dragon Hide\/a
\aITEM 1215993000 277839085:Prime Great Dragon Scales\/a
Game Update 63 Crafting FAQ
Q: Is this a real level cap raise?
A: Yes. All classes gain level 91 and 92 spells, weapons, armor, and jewelry. There is a new tier of harvestable ore, gems, roots, pelts, etc. To try to maximize the amount of useful items for players, some of the handcrafted and mastercrafted jewelry and other crafted recipes have been "compressed" into level 91 and 92 when they would normally not be available until later levels. Even players in Drunder heroic gear will see upgrades in level 91 & 92 Mastercrafted.
NOTE: The Essentials and Advanced recipe books have been perplexingly renamed at the last minute.
Q: Where do the GU63 Tradeskill quests start?
A: Travel to the Withered Lands by speaking to a Griffon Trainer on the Thurgadin docks. Then enter the tunnel to your left when you arrive. All of the necessary crafting tables, fuel merchant, broker, banker, and quest givers will be in that tunnel.
Q: How do I get my Level 90, 91, and 92 Tradeskill recipe books?
A: The Tradeskill "timeline" in GU63 consists of six (6) quests which grant your Essentials and Advanced crafting books for level 91 and 92. These quests do not require any adventure level to reach or complete, and only common Tier 9 harvestables to complete. There are no level 90 Tradeskill recipe books although they may be added at a later time. [ Read More @ EQ2Traders ]
Q: Do I have to grind to Tradeskill level 91 and 92 to scribe these recipes?
A: No. You can immediately scribe these recipes at level 90. Also, once you have completed these quests, you may also buy your tradeskill class' books from a vendor for your friends if they would rather not complete the quests.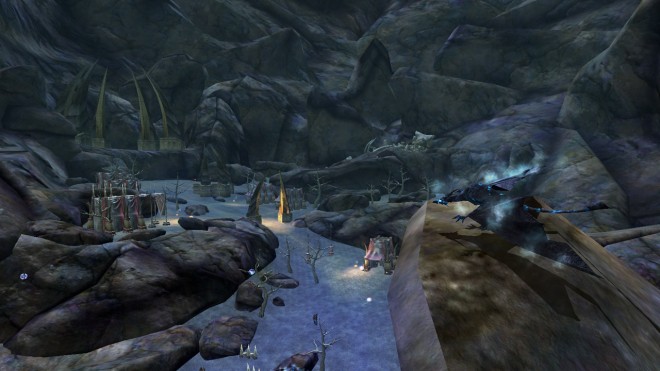 Q: Wait? That's all the Tradeskill content in GU63?
A:  GU63 also introduces two Elite Tradeskill Apprentices which can only be acquired by adventuring. Fortunately, both Elite Tradeskill Apprentices are tradeable on the Broker.
The first Elite Tradeskill Apprentice "Deshniak" can be acquired from the hardest Skyshrine daily solo/duo instance Dracur Prime (defeating Tigloth). That apprentice offers heroic gear upgrades. The second Elite Tradeskill Apprentice "Yelnar" is acquired from the Skyshrine Underdepths raid.  Note: There is no way to coach or accelerate the research of either Elite Apprentice. [ Read More @ EQ2Traders ]
Commentary
If you see questions you'd like answered, or mistakes above, please feel free to leave a note in the comments! Thanks to Technologically of Guk and Arbitrat for advice on this article. Any errors are my own. 😉
Tags: game update 63
Trackback from your site.