EverQuest II Now Has a Discord Chat Server
Players are always looking at methods to keep in communication with developers. Of late, the forums have been less than successful at serving that mission. Community has tried different things, including engaging us on Facebook, Twitter, and Reddit, however these social media platforms haven't been adopted as much as they have in other games. Connecting the player community to the developers is something I am hugely in favor of and some methods have been more successful than others. I thought the old EQ2 ZAM Question & Answer sessions did rather well.
Yesterday, a new EverQuest II chat server was launched on Discord, which is a service available in your browser as well as through mobile apps that features both text and voice chat. It is independent of Daybreak Games and will be staffed by volunteer moderators and members of the EQ2 team. So far, Discord has been incredibly successful on other Daybreak games.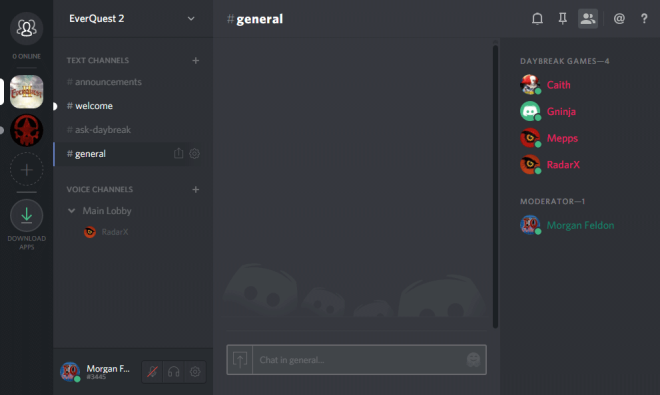 Things to expect:
Developers aren't going to talk about things they're working on that are still in the planning stage.
We aren't going to be strict about "off-topic" discussion. If need be, we'll create more subchannels for specific topics, including possibly an #offtopic channel if there is strong interest.
It's hoped we'll have regularly scheduled Question & Answer sessions.
If you attack developers or are extremely negative, you're going to be shown the door.
If you prefer Forums, E-mail, or other forms of communication with Daybreak, nobody is saying you can't continue to use that.
You may be asking if Community is already stretched so thin, why add yet another form of communication beyond Facebook, Twitter, Forums, E-mail, and In-Game chat? The answer is that this is an a third-party site that will be a shared effort between different people.
Trackback from your site.