On Test: Frostfell for 2015!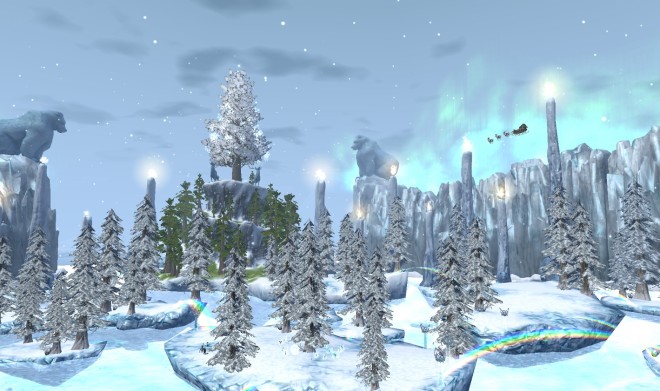 If you didn't get your fill of testing during the Terrors of Thalumbra expansion beta, or you just can't wait until Frostfell arrives on non-TLE servers, you're in luck. Frostfell has now been activated on the Test server and you can check it out, report bugs, and provide feedback!
From the EQ2 Forums:
Now that Test has been updated… Frostfell is active on Test!

There's plenty of Frostfell cheer throughout Norrath this season! Gigglegibbers and Frostfell elves are busy celebrating the holiday within the player cities, and encouraging everyone to visit the Frostfell Wonderland Village, accessed through the Magic Closets in Qeynos Province District, Freeport, Haven, Kelethin, Neriak, Gorowyn and New Halas. There you can assist Jarith Icewing and Frestishan with their holiday challenges, or help Candice Cheriweth, Gardy Ex-Giftgiver, Mr. McScroogle, Queen Bunny, and Snarf Frostfoot with some holiday tasks, but only after you release them from their deep freeze! For those that have a talent for crafting, you can help Sogs Frostfoot, or gather presents to craft wondrous new Frostfell goodies for yourself. Don't forget to log in each day and claim your extra-special Frostfell present from everyone's favorite Frostfell Gigglegibber, Santa Glug!

New Features for '15!
New Quest series – "Deepice Dreams" plus four follow up quests, see walkthroughs below for details. Quest starter is offered to people with Terrors of Thalumbra by Jarith _ in Frostfell Wonderland Village.
Santa Glug, a gigglegibber goblin in a very bad Santa disguise in Frostfell Wonderland Village, is back and has 15 tradable gifts (7 new) to give everyone that asks once a day (18 hours)!
Gerbi Frostfoot, the permafrostfell merchant in Frostfell Wonderland Village, has 6 new items for sale for everyone and 28 new armor pieces for players level 100.
Tradeskillers can create NEW house items, clothing and equipment in the Frostfell Wonderland Village. They can buy the new crafting books from Giddlenerf, Guhtosle, Giggawat, and Garsleblat.

"Frostfell Outfits You Can Make VIII"
"Frostfell Feasts and Decorative Crafts VIII"
"Scholarly Pursuits for a Festive Frostfell VIII"

Giggawat, and Garsleblat now also sell 2 new items.
As for when Frostfell will appear on live servers?
This event content is currently set to run 12/10/15 at 8am PST* through 0 /7/16 at 7am PST* on the live (non-TLE) servers. (*Corresponding with a live game update)
Trackback from your site.