Daybreak CEO To Convicted Lizard Squad Hacker: 'I'm Coming For You'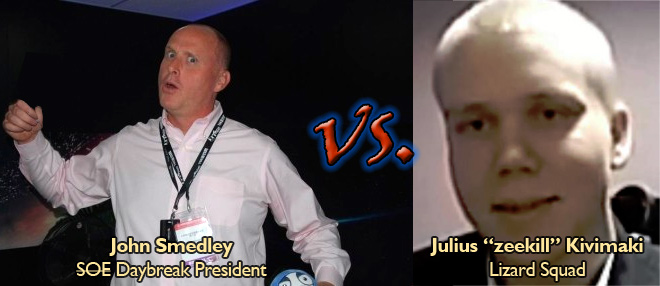 It's been nearly a year since DDoS crew Lizard Squad flooded the servers of Sony Online Entertainment, Blizzard Entertainment, PlayStation Network, etc. to a degree that games such as EverQuest II, Planetside 2, League of Legends, and World of Warcraft became inaccessible for several hours. The lizards then doubled down on their felonious amusement by calling in a bomb threat on an American Airlines flight bearing SOE president John Smedley. The flight was diverted to a military Phoenix Sky Harbor airport where the plane was searched and passengers interrogated. Smedley was also doxxed, with personal details including banking information laid bare to the public. This all played out as a war of words on Twitter, followed by local and nationwide coverage on television news.
It was expected that those responsible for these activities would face serious legal repercussions, but it seems the exact opposite has occurred. 17-year old Julius "Zeekill" Kivimäki pleaded out to 50,700 counts of fraud and harassment charges, receiving just two years of deferred adjudication (similar to probation but with the charges being expunged from one's record after they complete their conditions). He will face few restrictions, specifically he will have full internet access unlike probationers in the United States who face an outright ban on Internet and Smartphone access if their crimes are even remotely internet- or sex-related.
The Ars Technica article continues that "According to Finnish law, the teen could not be extradited to face prosecution in America for any computer-related crimes he committed against American people or companies". This is in spite of taking personal responsibility in Twitter posts, in recorded XBox Live conversations, and in an unrepentant interview granted to Sky News last December:
Lizard Squad has mocked those who have spoken against them, declaring that they are essentially untouchable…
All the people that said we would rot in prison don't want to comprehend what we've been saying since the beginning, we have free passes.

— Lizard Squad (@LizardLands) July 8, 2015
And no zeekill will not be extradited. Finnish citizens have the right to refuse extradition regardless of any treaty.

— Lizard Squad (@LizardLands) July 8, 2015
Lizard Squad also made a point of reminding the world that Scandinavian prisons are some of the most comfortable in the world, favoring rehabilitation over punishment, which I'm all in favor of, except when criminals commit their crimes with the foreknowledge that they can look forward to a resort stay after they are caught for their offenses…
For the people mad about him not getting prison time, you realize that Finland has some of the most luxurious prisons in the world right?

— Lizard Squad (@LizardLands) July 7, 2015
In response to the news that Julius got off nearly scot-free for making terroristic threats towards a passenger airline and infiltrating and disrupting the internet service of major US companies, Daybreak President John Smedley took to twitter to post his intentions to bring Lizard Squad members to justice…
Interesting day for the good guys – http://t.co/J44lKLI0Tm

— John Smedley (@j_smedley) July 8, 2015
that was the piece of garbage that brought my plane down, leaked my information and did all kinds of other crap to me.

— John Smedley (@j_smedley) July 8, 2015
and he still has 15 other criminal cases awaiting prosecution in Finland. I may go after his parents in Civil court too. Little dirtbag

— John Smedley (@j_smedley) July 8, 2015
so stay tuned because @what_security – Here's his Twitter address. He's a sociopath and will get what's coming to him.

— John Smedley (@j_smedley) July 8, 2015
what they won't tell you is he did time in jail already and got his ass kicked hard inside. @what_security – tell us that story Julius.

— John Smedley (@j_smedley) July 8, 2015
The FBI nailed this guy literally immediately. It took the Finnish government a long time to catch up.

— John Smedley (@j_smedley) July 8, 2015
I got to talk to this dirtbag once when he called and pretended to be someone else.

— John Smedley (@j_smedley) July 8, 2015
I also got to listen to the entire conversation between him and American Airlines the day he called in the bomb threat.

— John Smedley (@j_smedley) July 8, 2015
His parents need to be held accountable for his actions in addition to his going to jail. @what_security – So I'm coming for you Julius.

— John Smedley (@j_smedley) July 8, 2015
Update! Here's Smed's longer form response which he posted on the Planetside 2 Reddit:
I normally don't weigh in on subjects relating to me personally, but I will this time.
I'm extremely angry that the Finnish justice system chose to let Julius Kivimaki off with a 2 year suspended sentence. This guy is the worst kind of bad news.

He's been involved for years in every kind of terrible thing you can imagine including Carding, hacking, swatting people all over the world. He's also participated in a major way in DDOS attacks that caused a lot of grief for gamers and a lot of economic damage to the companies that make and run games.

He was the guy that brought down my flight with a bomb threat. I've heard the entire recording where he convinced an airline customer service agent there was a bomb on the plane. He also in conjunction with others has sent me pictures of my father's grave with nasty stuff on it. I've had my entire credit history put out on the internet including my SSN and my families info. We've had multiple social networks and other things hacked and had my family members called.

I've also been swatted (multiple times) and had over 50 false credit applications submitted in my name and had to deal with the ramifications of what happens to your credit when this kind of thing happens. It's not good. And to top it all off they decided to submit false tax returns.

So to put this bluntly – I want this kind in jail for a long time. You shouldn't be able to do crap like this without any hint of a consequence. I plan on doing everything in my power to see him get what's coming to him in court one way or another. What he just got convicted of were over 50,000 separate incidents of hacking and other nastiness. This has nothing to do with the downing of the plane or the DDOS stuff he did or the things he did to me (not just me btw he did this to a lot of other people too). Those cases are still pending, but they have him dead to rights.

So you guys can debate this.. and that's all well and good, but meanwhile this shit is real to my life and my family's life and I'm sure as hell not lying down for it for a second. I've been working with law enforcement to put him and others into jail where they belong. Some of them are minors which makes it tough. Most of them are outside the US, which makes it tougher. But I'm patient and I'm going to be relentless about this.

Smed
Smedley's strong words were picked up by gaming media:
Now, H1Z1 and other Daybreak games are experiencing outages as the war of words continues, with Smedley confirming a DDoS on twitter:
Getting a minor DDOS. We're working on it. should be back up soon. #annoying

— John Smedley (@j_smedley) July 9, 2015
At this point we're left with the continued fearlessness of the Lizard Squad group. Clearly they have read the landscape and feel they are beyond the reach of any justice despite disrupting large providers of internet services…
Getting reports that the attack is affecting all Daybreak Game Company games. Hope you like our present John Smedley (the CEO).

— Lizard Squad (@LizardLands) July 9, 2015
stay mad @j_smedley, btw when's your next flight? Just curious.

— Lizard Squad (@LizardLands) July 8, 2015
Trackback from your site.