Here are our recent updates to our EQ2U Players site which are all about keeping up with the Joneses!!
Gemmed Gear Gadget
The Altar of Malice expansion builds upon the itemization changes begun with Tears of Veeshan. The number of "stat packages" gives players more choices in their gear selections, especially for fighters and certain priest classes. Also with the introduction of upgrade gems, it's more important than ever to keep all the sets of gear straight! To respond to this need, we've introduced a "Gemmed Gear Gadget" page to EQ2U.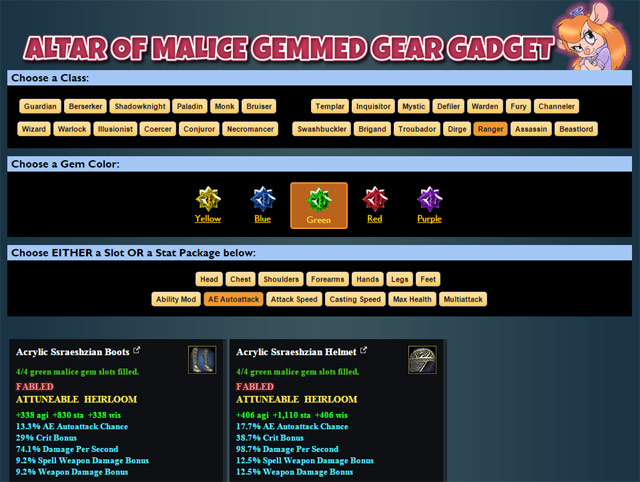 This new Gemmed Gear Gadget page lets you pick a Class, an AoM Gem Color, and either a Slot or a Stat Package and then see all the matching item examine windows for all the max gemmed gear. The Stat Package buttons change based on which archetype you choose. As soon as matching armor pieces are discovered by players, they'll be added to this page.
NOTE: Dethdlr is not to blame for the banner graphic or naming of this feature. That would fall to me and my fond memories of a certain Disney afternoon TV show.

After the jump Gear Sets and Gear Report updates…