EQ2U: Introducing the Tradeskill Report!

In its eleven year history, EverQuest II has accumulated a large cache of Tradeskill content. Over the years, various Spreadsheets have been created to track player progress in these quest lines. Even with these tools, a lot of tedious back-and-forth between the in-game Quest Journal and sites like EQ2 ZAM and Wikia is necessary to ensure that every quest has been completed. Until now.
For the last two days, EQ2 decorating maven "Jazabelle" of Homes and Tomes and I have developed a new Tradeskill Report feature which allows crafters to track the progress of all their characters on over 270 tradeskill quests at the touch of a button.
To access this new feature, simply search for an EQ2 character and then click the new "TS Report" tab on the far right side. If you are a registered user of EQ2U, then you may click the "TS Report" button under any character group on the front page of the site.

The Details feature gives you a breakdown of every Tradeskill quest that a character has done with quick links to EQ2U, ZAM, and Wikia so you can work towards the completion of your checklist.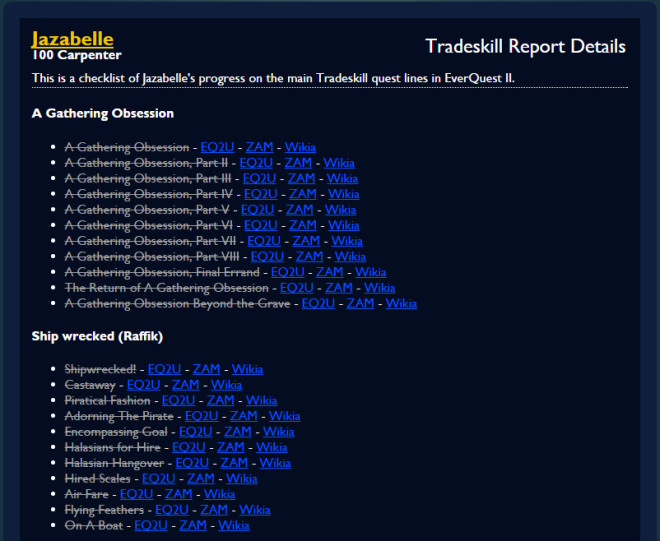 Here are some notes about the site:
The Tradeskill Report feature requires a lot of horizontal screen space to show all 22 (and counting) categories of quests. You can use Tabs to hide/show certain columns to make the list more manageable.
A few tradeskill classes have Class-Restricted tradeskill quests. To avoid confusion, we don't count this column towards the total.
Carpenters are able to complete a collection quest in Mara, however we're not able to track collections at this time.
The New Halas questline has both good and evil versions of every quest.
If you want a detailed checklist of every tradeskill quest for a character, click the "Details" button.
The Details page shows every possible quest your character can complete. At this time, we do not filter out the opposite alignment or class-specific quests you cannot pickup.
Trackback from your site.