Dethdlr's Adornment Calculator Rises From the Ashes!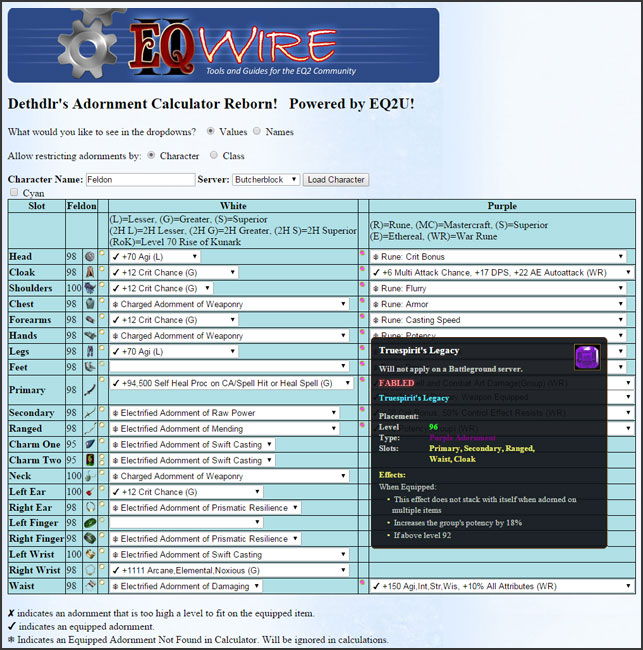 In 2011, Dethdlr launched his powerful Adornment Calculator for EQ2. Not only did this tool allow players to see all the adornments applicable to their equipment slots, but it also enabled them to pick their desired adornments in white, red, and yellow and then produce a shopping/crafting list of everything needed to craft, earn, and buy those adornments! The development of the Adornment Calculator also fostered a partnership between Feldon and Dethdlr that eventually led to the development of EQ2U.
Dethdlr's Adornment Calculator v2
Because Adornments in EQ2 can come from so many different zones and places, and because crafting them requires a variety of tokens, components, and specialty fuels, trying to keep them all straight without some kind of Excel spreadsheet or website is all but impossible. This complexity is ultimately what motivated Dethdlr to come back and resurrect the calculator. So after four years and much prodding, Dethdlr has gone back to a white piece of paper and rewritten the Adornment Calculator for a new era of White, Purple, and Cyan adornments. It's not only been built from the ground up, but it is now database-driven, solving one of the biggest problems with the original version. The new calculator can be extended as new adornments, colors, and types are added.
As an added bonus, the new Adornment Calculator is now integrated with EQ2U and allows loading your EQ2 character and pre-populating all the adornment choices with what you've got equipped, and filtering what adornments are available based on your character class! So without further ado, here's what Dethdlr has been tying up his brain in knots for the last few weeks working on… Dethdlr's Adornment Calculator v2

We're also in the process of integrating the Adornment Calculator right into the EQ2U character tabs so it's always just one click away.
How Do I Use the Adornment Calculator?
1. Make sure you are seated comfortably with your choice of beverage at the ready.
2. Load the Adornment Calculator.
3. If you wish, load a character. Otherwise choose a character Class to filter adornments by:

4. Choose adornments in the White and Purple columns. If you have access to Cyan adornments, tick the "Cyan" checkbox to show this column as well: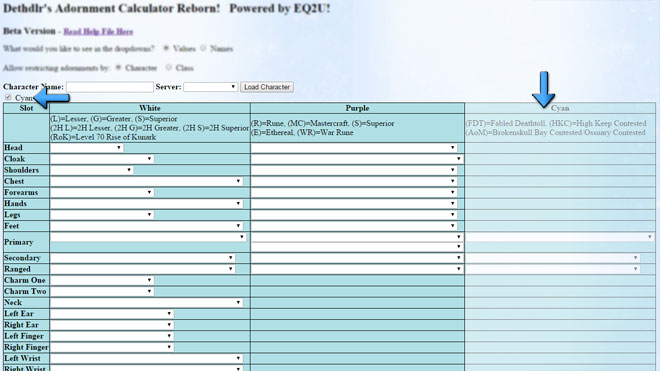 5. See the help key at the bottom to see what the snowflake, checkmark, and X icons mean on your equipped adornments.
6. Once you are satisfied with your choices, click "Calculate". If you loaded an existing character, you'll want to tick the "Skip already equipped adornments when performing calculations" checkbox so that the Recipes/Components list doesn't include adornments you've already equipped.
7. Copy the contents of the "Copy/Paste List of Adorns" box to your friendly neighborhood Adorner to craft the adornments for you. You may alternately send them the "Link to these chosen adornments" URL and they'll see the same page but without your Character Details included.
8. If you need more information about how to acquire/craft Purple adornments, scroll down and read the help sections on these adornment types after you've clicked Calculate. You may also want to read our "Let's Get Serious About Adornments!" guide on EQ2Wire.
Where do I get Help or post Feedback/Bugs?
If you want to squeeze the most benefit out of the new calculator, I recommend reading Dethdlr's detailed "How Do I Use the Adornment Calculator" help page. If you have any feedback or bug reports about the new calculator, please make use of our EQ2U Feedback Form!
Trackback from your site.