Destiny of Velious Flying Mount Options
Your questions answered about the Destiny of Velious Flying Mount:
The Flying Gryphon is a level 86+ solo adventure or tradeskill quest with a 5 day timesink. Cloud of Bats is a level 86+ solo quest available to Freeblood characters to allow flight as a swarm of bats.
You do not need to Pre-Order or meet any special requirement to get the mount, just buy Destiny of Velious, complete the quest, do the 5 day training of your gryphon, and then presto you have a choice of 3 colors of Flying Gryphon. The options are Snow Gryphon, Highland Gryphon, and Tundra Gryphon. The Highland is a brownish color, while the other choices are between a bluish white and more of a grey color.
The color of the gryphons actually changed substantially during Beta. The original was more of a pearlescent gold color. Hopefully it gets added as another color option down the road.
As we've previously reported, the Destiny of Velious Collector's Edition includes a Stormfeather Brood Guardian Gryphon mount which starts out as a standard ground mount but gains the ability to fly once you complete the in-game Flying Mount quest.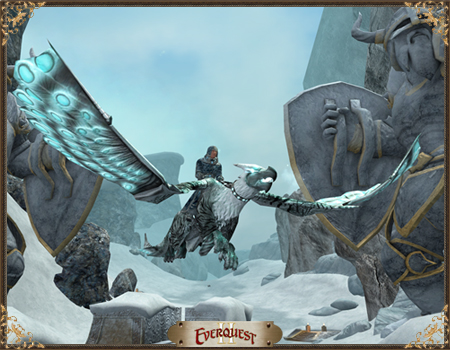 Stormfeather's Brood Guardian Appearance
Other Mounts?
It's already been stated that on March 1st, EVERY PLAYER will be able to fly on a Tinkered Disc in certain zones as part of a Live Event and that some participants will get to keep that disc as an appearance flying mount (once they complete the level 86 quest).
No doubt they will eventually add carpets, clouds, and other appearance flying mounts (which will be usable once you complete the level 86 quest).
And yes, eventually, maybe 3-6 months from now, you will be able to buy a Flying Mount off of the StationCash Marketplace. And I'm making an educated guess that THIS is when the level requirement will be lowered.
Here's another screen shot of the Gryphon Flying Mount: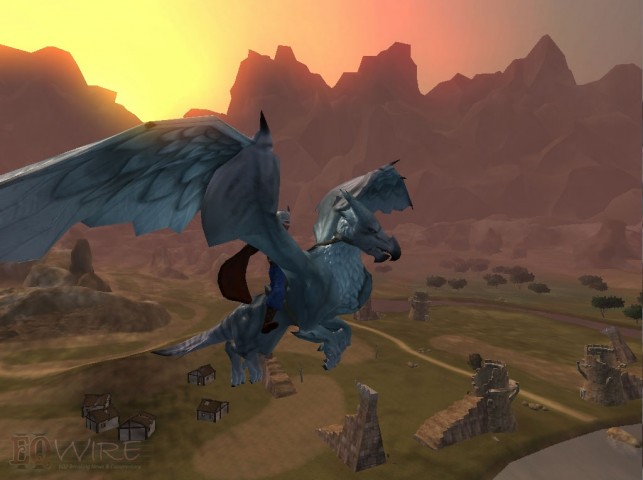 What else can you do with your gryphon?
One thing that was added was dark blue shinies that can only be reached via flying. There are some cliffs and other areas you can only reach with flight.
Tags: destiny of velious, flying mount
Trackback from your site.