EQ2Wire's Tears of Veeshan Frequently Asked Questions
Here are some of the most Frequently Asked Questions we are seeing about the new EverQuest II expansion Tears of Veeshan. This article will be updated as more details are found!
How do I get started in Tears of Veeshan?

The Tears of Veeshan expansion begins with the Tears of Veeshan: The Eternal Broodlands Signature quest, which you will receive an in-game mail about, and which you can pick up in either Qeynos or Freeport. Once on the quest, you will begin a path that takes you to the Vesspyr Isles.
How to travel directly to the new zones without doing the quest lines?
If you are in a guild hall, you may travel by Druid Ring to Vesspyr Isles. Player-summoned druid rings may or may not show Vesspyr Isles as a travel option. This has been reported as a bug. Tinkerers may also craft a [eq2u]Wormhole Generator: Obol Plains[/eq2u] and then fly to the druid ring there to travel to Vesspyr Isles.
There is a new overland zone, Vesspyr Isles which is the dragon version of the Ethernere (afterlife). It is based on Barren Sky but completely transformed.
There are 9 new dungeons, which you can read more about in our Tears of Veeshan Heroic Zones Preview:

 The Fractured Hive
 Nexus Core

 High Keep
 High Keep: The Pickclaw Depths
 Stratum of the Protectors
 Ssrez'Ras: Chamber of Stasis
 Temple of Veeshan: Laboratory of Mutation
 Temple of Veeshan: Halls of the Betrayer
  Temple of Veeshan: Vulak'Aerr's Dominion

There are 2 new raid zones:

Accursed Sanctum a Shissar temple, is inclusive of the group zones Stratum of the Protectors + Chamber of Stasis.
Temple of Veeshan
Do I have to do all the subquests around the Signature quest to complete it?

Yes, most of the subquests must be completed to progress the Signature quest. Some of the subquests (especially for Harla Dar) are quite engaging and tie in storylines with other iconic dragons from Norrath's history including Lord Vyemm, Wuoshi, as well as a surprise (and unwelcome) guest.
EQ2 ZAM has updated their quest writeup for the ToV Signature quest to very clearly explain how you pick up the subquests and in what order.
How can I travel back to Vesspyr Isles more quickly? Is there a whisper column?

In the process of completing overland quests for a drakota near the Dragon Ring, you will receive a [eq2u]Vesspyr Isles Whisper Column[/eq2u] that will port you straight from your house to Vesspyr Isles.
The overland Quests are rewarding just a single armor piece, usually not even usable for my class, can I exchange it?

Due to the itemization changes, there are now at eight different sets of armor available to players, including DPS, health, autoattack, and tank sets. Rather than requiring players to make snap decisions about each quest reward without knowing what armor choices there would be in the whole quest series, a new mechanism was added that allows you to take exchange quest rewards for an [eq2u]Veasna's Item Exchange[/eq2u] token which then lets you buy a more appropriate quest reward.
These are available from an NPC named Veasna. Located at /waypoint 34, 197, 22 near Falinpol on the central Daarspire Island.
Kander responded to concerns that the new system is confusing with this comment:
The majority of feedback from beta was that people were overwhelmed by the choices offered directly from the quest reward. We opted to give you a usable set of gear and give you the opportunity to switch it and shop at the merchant. So to answer your question, no we are not putting the choices back in the quest rewards. Yes, the merchant is there and back in-game. At the end of the quest lines we will send you an in-game mail to alert you of the trade merchants existence.
What are the tiers of armor in Tears of Veeshan?

Arcane and Potent gear is awarded in an Ornate Crate of Goods for completing the dungeon missions. These items are all upgradeable with Etyma-purchased (or player-crafted for less Etyma) gems.
Cryptic – Advanced Solo (up to 4 yellow gems)
Arcane – Tier 1 Heroic (up to 4 blue gems)
Potent – Tier 2 Heroic (up to 3 green gems)
Energized – Tier 1 Raid (1 red gem)
Mystical – Tier 2 Raid (1 purple gem)
What else can you tell me about the Heroic zones?

All of the Heroic zones in Tears of Veeshan are accessible from the Vesspyr Isles overland zone. Each heroic zone has at least four mini bosses and one main boss. The subbosses drop the same items as the Advanced Solo zones, the Cryptic armor set.
The main bosses of the first Completing missions for the first six heroic zones in the expansion rewards Arcane armor.
The main bosses in Completing missions in the Temple of Veeshan zones rewards Potent armor.
Heroic zones also drop jewelry, cloaks, weapons, purple adornments, Spirit Stone (green adornment) recipes, as well as rare, powerful items including some best-in-slot items. Heroic zones also perplexingly drop versions of the Arcane and Potent items with no Stamina or Gem slots.
What loot comes from Advanced Solo zones? Why are we back to mystery crates?

So, in Chains of Eternity, Advanced Solo loot was changed to a standard drop. This caused the Auction channel to be flooded 24/7 with players Selling Loot Rights (SLR) to the rare drops in Solo zones. This was never intended.
Completing Advanced Solo missions awards weapons and jewelry and/or a Cryptic armor item. It would behoove players who were running Heroic zones in Chains of Eternity and Siren's Grotto to run the Advanced Solo zones a few times before plunging into the challenging Tears of Veeshan group zones.
Advanced Solo zones also rarely drop one of the purple adornment boxes which lets you pick one. They are VERY nice adornments.
What's the quickest way to get [eq2u]Draconic Etyma[/eq2u], the expansion's new heroic token?

Heroic: Each of the nine dungeons have a daily (18 hr) mission: 3 [eq2u]Draconic Etyma[/eq2u]
Heroic: Daily mission to a random zone: 3 Etyma
Heroic: Weekly mission to two specific zones: 15 Etyma
Heroic: Daily mission to kill the "Pillar" bonus heroic named in each zone. Available after completing the Tears of Veeshan signature quest. 5 Etyma.
Adv Solo: Dungeon (18 hr repeat) mission: 1 Etyma
Adv Solo: Daily mission that rewards: 1 Etyma
Adv Solo: Weekly mission to two specific zones: 10 Etyma
Tradeskill: Daily tradeskill mission: 1 Etyma
Tradeskill: Weekly tradeskill mission: 10 Etyma
Overland Shiny Collections in Vesspyr Isles: 3 Etyma
overland solo names award 1 Etyma This has been changed as these mobs would be permacamped.
Are there Shiny collections in Tears of Veeshan?

Absolutely! There are at least 80 new shiny collections in Tears of Veeshan. Instead of the typical rewards, overland collections in the Vesspyr Isles reward 3 Draconic Etyma when turned in.
As you are flying between the islands of Vesspyr, you'll notice three different kinds of floating orbs in the sky. They are:
Light Mote: 300% flying speed buff (12 seconds)
Ether Web: Flying collection shinies. There are a number of sets.
Dark Mote: These have a random effect. They either Cancel all flight speed bonuses, Give you a Flying Collection Shiny, or increase your flight speed to 300%.
All the new gear seems to have these gem slots. Where do we get Gems from?

[eq2u]Glimmering Yellow Gemstone[/eq2u], [eq2u]Brilliant Blue Gemstone[/eq2u], [eq2u]Deep Green Gemstone[/eq2u] all can be purchased with [eq2u]Draconic Etyma[/eq2u].
[eq2u]Shining Red Gemstone[/eq2u] drop from zone bosses and avatars
[eq2u]Mystical Purple Gemstone[/eq2u] – trade in 3 red gems
How can crafters create Yellow, Green, and Blue gems?

Crafters who have earned enough Draconic Etyma from Adv Solo and Group zones may purchase recipes to craft Yellow, Green, and Blue gems with a reduced amount of Etyma.
Can I do anything with a 4-gem Cryptic or 4-gem Arcane armor piece when I get the Arcane or Potent upgrade?

Yes! You may now buy an item from the Etyma vendor to take a 4-gem Cryptic or 4-gem Arcane armor piece and turn it into a Blue or Green gem, giving you a step into the next armor tier. This item also pops off ALL adornments.
Where can I read about the Itemization changes?

Itemization in Tears of Veeshan has changed substantially, with the intention of giving players choices, rather than a linear progression path. Here are some links to read more about the changes:
Can you give me a TL;DR version of the Itemization changes?

No (or Few) Armor Class Restrictions – Armor is no longer tagged Mage, Scout, Priest, or Fighter. Instead, armor is restricted by material (Cloth, Leather, Chain, or Plate). This allows Chain Healers and Scouts to possibly use each other's armor sets. The same goes for the other armor types.
Armor Sets by Purpose – Instead of most armor falling into one of 7 categories (Scout, Mage, Chain/Leather/Plate Fitghter, Leather Fighter, and Plate Fighter), armor is now broken up into accomplishing different goals. Some armor increases damage, some increases casting speed, some increases health and mitigation. There are several different sets.
Purple Adornments have replaced Yellow and Red Adornments. Purple adorns can be acquired in a variety of ways, in all tiers of content from Solo to the top raids.
Before Tears of Veeshan, Multiattack, AOE Autoattack, and Flurry compounded in such a way that a single weapon swing could account for 100 or more attacks being triggered, many of them also firing off Proc effects. This has been crushing the servers and also clogging the pipes of players' internet connections.
To resolve this problem, Multiattack and DPS have been switched. Now, players will do fewer bigger hits, rather than lots of small hits. Scouts and Fighters who were running 700+ Multiattack and 200 DPS will want to swap out gear, add adornments, and reforge their gear until eventually they reach about 200 Multiattack and 700+ DPS. The conversion charts showing the soft and hard caps are here.
Shuffling Stats – Items don't necessarily have the stats you are used to. Potency and Crit Chance can be hard to find. You may get an item that has a stat you aren't too excited about, but it may reforge into one you need.
Upgradeable Items – Most of the Armor in ToV has gem slots, which can be upgraded with gems!
I'm unable to see the new Merc window, Channeler hotbars, etc. I have a custom UI, do I need to update?

As with every expansion, changes are made to the UI, which UI developers need to update to support. It is our understanding that ProfitUI, DarqUI, and DrumsUI have all updated. Please use the updaters for those!
Do we have to buy Mercenaries for 100SC each now?

No! The new Merc UI window is a little confusing as the "Return" button is at the very bottom. You can always re-summon your suspended merc with the command /merc resume.
Ok, so what are Merc Unlocks?
As a completely optional convenience feature, players may now purchase an unlock for their favorite Mercenaries and be able to summon them anytime, rather than having to travel back to their home city or find those mercs out in the world. This will allow you to have the game remember more than one merc for a character.
What's up with Alternate Advancement changes?

You can now earn up to 340 AA points.
There is a new "Dragon" tree for each of the four Archetypes (Priest, Scout, Fighter, and Mage). There are Solo, DPS, and archetype-appropriate lines.
The Heroic tree now allows you to spend 100 points, however buying a 2nd Heroic endline now costs 20 AA points, while a 3rd Heroic endline costs 30 AA points.
NOTE: EQ2U has been fully updated to support the new Dragon AAs as well as saving AA specs to a file which you can then load into the game!
It seems the cost of Reforging increased fourfold. Is this intended?

Yes.
Where do we acquire Platinum in the expansion?

Most of the overland quests now award at least 1 platinum piece.
There are twenty (20) repeatable overland quests which award plat and can be repeated every 90 minutes.
Each of the heroic zones has at least one repeatable plat quest.
The daily Loyalty Reward tokens can be used to acquire 75 platinum every 5 3 days.
What gear is awarded from which Advanced Solo zones?

Hive – Bracers
Nexus Core – Weapons
High Keep – Shoulders
Pickclaw– Gloves
Stasis – Helm
Stratum – Boots
ToV Halls – Legs
ToV Labs – Chest
What gear is awarded from which Heroic zones?

Hive: Arcane Boots or Arcane Gloves
Nexus: Arcane Shoulders or Arcane Bracers
High Keep: Arcane Helm or Arcane Legs
Pickclaw: Arcane Helm or Arcane Legs
Stratum: Arcane Chest, Potent Forearms
Stasis: Arcane Chest, Potent Forearms, or Cloak
ToV Halls: Potent Boots, Potent Gloves or Belt
ToV Labs: Potent Boots, Potent Gloves, Potent Helm, Potent Shoulders
ToV Vulak'Aeer: Potent Chest or Potent Legs
What are these bonus "column" named at the end of the heroic zones? What do they drop?

Players who have completed the Tears of Veeshan signature quest will be able to see a clickable column after defeating the final boss of each Heroic zone. Clicking the column spawns a random bonus named. These names have a high amount of hitpoints (Hierophant has been bug reported for having 3.9 billion HP), but award a tradeskill material such as:

[eq2u]Ancestral Blade Fragment[/eq2u]
[eq2u]Ancestral Globe of Manifestation[/eq2u]
[eq2u]Spectral Residue[/eq2u]
[eq2u]Shard of Spectral Light[/eq2u]
I heard that the Raid zones will have flagging like back in Kunark days, is this true?

 This was considered in Beta, but in recognition of raid encounters that require specific raid setups, this requirement has been dropped. The only patterns that drop in raid zones which require flagging are the new Pirate Kings raid patterns.
What's this "Revive here"? option in the Revive window?

You can read more about this in our article, but this gives players the choice to revive, even in-combat, This is only intended for soloing and the option will not appear if you are grouped or in a raid.
How much does the last boss in the third Temple of Veeshan group zone hurt?
This much: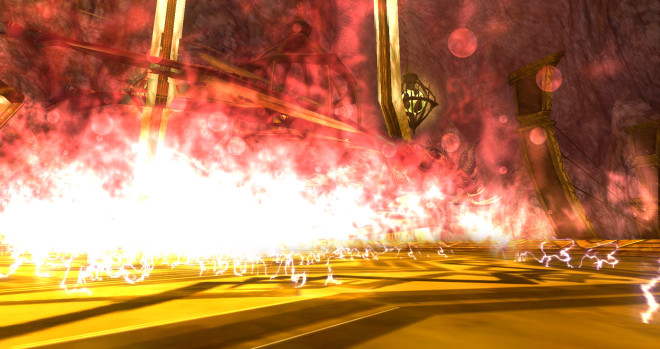 Tags: Game Update 68, tears of veeshan
Trackback from your site.