Destiny of Velious Preview: Public Quests
Destiny of Velious introduces Public Quests. These are interactive battles between NPCs that players can join in and receive a variety of rewards. Drawing inspiration from Warhammer (and possibly Rift, although we don't know the creative timeline here), these are the opposite of Contested content because everyone who participates receives a reward. If your gear is really limited, then you can even click on NPCs and coordinate fighting with them and use their abilities instead. All those present and participating in the battle gain access to a Loot Chest which can contain a piece of armor commeasurate with the level of the encounter when it was completed, as well as other items including:
Velium shard — An item that can be turned in for faction
Potions that instantly grant AA XP
Relics that you can sacrifice to your Deity
Trinkets that you can Transmute
At the end of each battle, players will also see green shinies which can be harvested for rewards.
There are two Public Quests going live with Destiny of Velious:
The Battle of Storm Gorge: The Coldain dwarves need your help fending off the attacks of the Order of Rime
The Battle of Thurgadin (Echoes of the Ring War): The kromrif army and the defenders of Thurgadin have been slain but their ghosts remain locked in battle. This is the site of the Ring War from EQ1 and also where the 10th War Ring Heritage Quest starts.
When you wander into the active area, you will be automatically offered a quest in your Quest Journal which does not count towards your quest total. The quest will show a timer of when the next Public Quest is going to begin and you can stick around (or go do other things and then come back at the appropriate time) and then jump into the battle.
You do not need to be grouped or have formed a raid to participate in a Public Quest. Anyone can enter the battle and contribute. Each Public Quest has specific goals or tasks and will update if anyone in the area completes them. The number of players in the area, and how quickly you defeat the mobs all have an effect on the difficulty of the encounter, and the quality of the loot achieved. According to Windslasher, up to 80 enemies can be spawned at different times depending on how many players show up.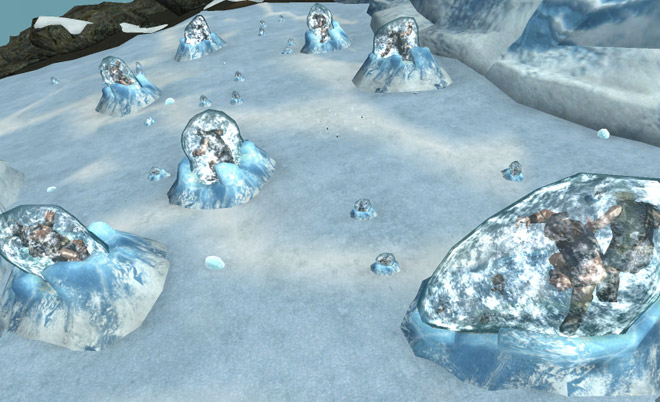 Image Courtesy EQ2 ZAM
Windslasher who was instrumental in the creation of Public Quests has chimed in with some comments today about them on the EQ2 Forums:
In Warhammer, if you went up to a public quest solo, you could often make progress on the early soloable stages and make the event advance, only to find yourself up against a hopelessly difficult group-oriented opponent. The dynamic scaling of EQII public quests eliminates that problem completely. You can do either of the public quests solo, and still have a chance at legendary armor drops.

You'll notice I said 'a chance' because the rewards are partly randomized, not static. Everyone finishing the same event at the same difficulty will roll on the same drop table, but there are common, uncommon and (sometimes) rare drops on that table. If you go in solo & can only challenge the easy mode, then armor pieces drop about 25% of the time.

On top of that, loot scales with difficulty in a pretty dramatic way. Your regular solo armor is a slight upgrade from overland quests with white adornments, but clearing a public quest at the tough heroic or epic difficulty lets you get more powerful dungeon-equivalent items with yellow slots, and sometimes even fabled rare drops!

This highlights another major difference between our public quests and the ones that came before. Since you're not competing with other players, and the drop tables get better at harder difficulty, everyone benefits from a larger turnout. You'll never get a situation where a raid's worth of people roll in and make your odds of getting the good drop plummet. It's much to the contrary. If a raid rolls in and you join them, you will get significantly better loot thanks to them (provided that you can pull your own weight!)
An Answer to Rift?
Public Quests are scripted, timed events that provide some additional game play to some players. The rewards are not going to compete with any of the Destiny of Velious raid gear or even the harder instance gear.
There are clear differences between EQ2's Public Quests and Rift's live world events which are a core aspect of that game. Public Quests have a fixed location, a scheduled arrival time, and do not go too far outside some tight parameters. Rift's own events can physically change the geometry and makeup of the zones they impact, spawn in different locations, and can even interact, resulting in two rifts fighting each other. Rift's events are clearly much more dynamic.
Longevity?
It's worth noting that history has not been too kind to EQ2 in its past inroads into public/contested content. It's hard for us to look at how much effort has gone into developing content in the past which was so quickly abandoned by players, such as Karnor's Castle and The Hole. One of two things usually happens with this kind of content:
Players participate in this content to such an extensive degree, and the rewards are so powerful and plentiful (or XP so abundant), that eventually SOE will reduce the frequency and effectiveness of the rewards or just plain nerf the experience so drastically that nobody wants to play it anymore.
Players will find the rewards to be of such limited value that they don't even try it.
Of course we remain hopeful that Public Quests can be balanced (the time schedule and drop rates will help to control this somewhat).
With indications that a third Public Quest is in development (possibly the Sleeper?) and even more planned beyond that, hopefully they will continue to get the attention needed to have staying power as we saw with Battlegrounds.
Your Feedback
if you participated in Public Quests on the Destiny of Velious Beta, we are looking for your feedback, opinions, and experiences! Please post comments or send us an e-mail!
Tags: destiny of velious, public quests
Trackback from your site.