GU67: Saved AA Profiles & Character Advancement Templates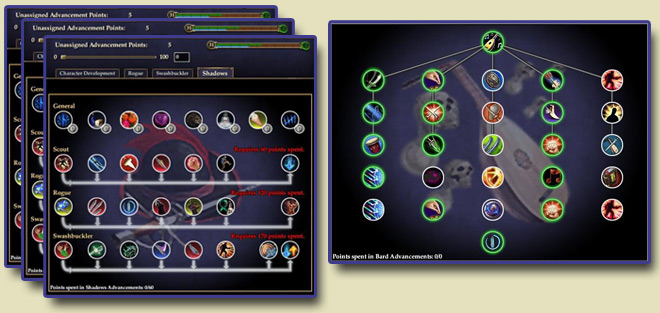 EQ2Wire Mockup — not indicative of how these will appear in-game
If you haven't read last night's EverQuest "What's Next" Show transcript, then you missed out on a number of announcements for EQ2's as-yet-unannounced Game Update 67.
Two items of note:
Character Advancement Templates — For players who don't want to spend 320 AA points one-at-a-time, there will be certain templates which are recommended AA setups for each class. You can click a button and have it spend the points for you, and if you don't have enough points to get everything suggested by the template, it will remember and keep those AA bubbles highlighted.
Alternate Advancement Profiles — You will now be able to store up to 3 Alternate Advancement setups or "profiles" on your character and access them anywhere. No more kludgy AA mirrors. You will also be able to load/save your AA setup to an XML file.
EQ2U intends to support AA Profiles on day one, as well as offer the ability to export a character's AA setup from EQ2U as an XML file which you can then import into your own character!
Tags: game update 67
Trackback from your site.