Posts Tagged 'game update 67'
From EverQuest2.com:
Game Update 67, Darkness Dawns, is now live!

The oracles still see chaos and uncertainty on the horizon even with victory for the New Combine army in Cobalt Scar. Join Field Marshal Vishra at Scarstone as he tirelessly guards the newly found Tear of Veeshan – an artifact that could turn the tides of war forever in this time of delicate peace. Is it the key to preventing the end of the world foretold in the Ages End prophecy? Those that have completed "Tear in the Grotto" are being summoned to find out!

Darkness Dawns includes:

Fabled Dungeons
New Contested Avatars
Arena of the Gods
Character Advancement Templates (CATs)
New Daily Objective Sysytem
And more!

Remember, if you're a Gold member, activate your "Gold Rush" buff when you log in to experience boosts in experience, coin drops, and mount speed!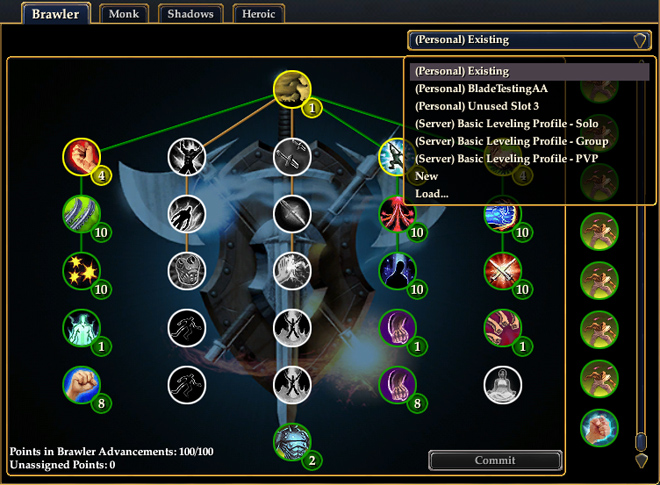 Game Update 67: Darkness Dawns greatly improves the process by which characters can store, retrieve, and share their Alternate Advancement profiles.
Store up to 3 AA Profiles
First up, characters can now store up to 3 AA profiles on their character and access them from anywhere in Norrath, without calling to their house where the correct Mirror of Reflected Achievements is stored. Now, you can switch between up to 3 AA profiles for each of your characters. You can also name them appropriately.
Load & Save your AA Profiles
Even cooler, you can now Load and Save your AA setup as an .aa file (a specially formatted XML file) to your computer, which you can share with friends and guildmates by e-mail or other means. Eventually, this feature will also allow you to search for characters on EQ2U and Dragon's Armory with desirable AA profiles, download them, and try them out on your character!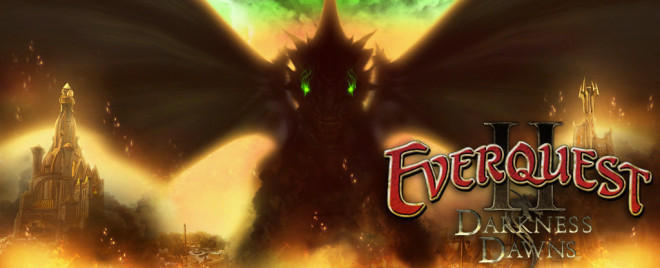 Surprisingly, it's 1:46am EDT and Game Update 67's Update Notes have yet to appear on the EQ2 Forums. Here's the downtime announcement…
All EQ2 Servers will come down on Tuesday, July 23, at 6:00 am Pacific Time* for Game Update 67, Darkness Dawns. The expected downtime is four hours.
Time Zone Conversions
PDT: July 23 @ 6:00am-10:00am
EDT: July 23 @ 9:00am-1:00pm
BST: July 23 @ 14:00-18:00
CET: July 23 @ 15:00-19:00
AEST: July 23 @ 11:00pm-July 24 @ 3:00am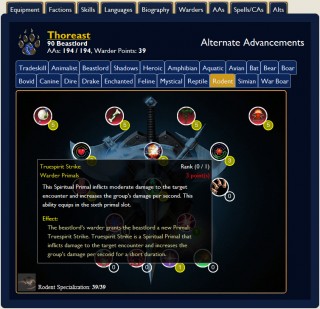 So a number of players have been raising Cain about various deficiencies and choices made in the "off the shelf" Character Advancement Templates which will be available to players after Game Update 67 goes live.
I've always believed that players who are interested in trying out different AA specs could avail themselves of Beetny's AA Calculator to try out different patterns, as well as looking up known characters on either EQ2U or Dragon's Armory. This leaves players who might not read EQ2Wire (the horror!), might not read the EQ2 forums, and may not be familiar with addon websites like ours. This would of course apply to new players who might be overwhelmed when greeted with six pages of over 100 AA choices.
From Caith on the EQ2 Forums:
The Server templates are…specifically set up for new characters, and more specifically for new players. I tried to design them to avoid adding complexity, while still performing their role. They are designed to add a respectable setup while leveling.
At one time, Mounts in EQ2 increased your run speed, oh and they looked nice. Over the years, faster mounts were introduced, then we began to see mounts with some very minor stat boosts to harvesting or weapon skills. Nowadays, it is just expected that ground, leaper, glider, and flying mounts all have some sort of buff which is beneficial in combat situations. Essentially, mounts have become a 25th item slot.
With Game Update 67: Darkness Dawns, we will see the ability for players to store up to three Alternate Advancement profiles on their character and swap between them immediately. The concern raised by certain players was, switching AA Profiles causes all buffs to drop, including mounts. While the buffs from mounts persist after zoning, most zones do not permit re-casting your mount once you're inside the zone.
Players who wanted to switch their AA spec and retain the benefits of the mount would then need to zone out, re-cast their mount, and then zone back in, which is really not any more convenient than zoning to their home, using an AA mirror, and then recasting their mount. Over time, we've seen more flexibility on how mounts are cast, specifically hiding mounts (even flying ones) when grounded. My suggestion was to simply allow casting any mount anywhere, and just hide its appearance if you are inside a zone that does not permit mounts.
To address this concern, Lyndro has posted this update:
In an upcoming beta update (Next couple days), mounts will be castable in any zone. You just won't get the mount/speed portion.
https://forums.station.sony.com/eq2/index.php?threads/gu67-cat-feedback-thread.537088/page-6#post-5943150
From EverQuest2.com:
He patted the envelope in his left breast pocket. It was still there, as it always was, but old habits die hard.

The letter within was penned what felt like ages ago. It was looking likely that he would take as long to send it as he did to write it. There was always something—the wrong time, the wrong place, the wrong mood, the wrong company.

Satisfied that the letter was still safe in its envelope, albeit more weathered and wrinkled than it was the day before, Vishra began the process of strapping on his armor. Greaves first. Left, then right. His hafling squire orbited around him like a dutiful moon. The best squires were shadows, always present, always near, but never in the way. Tipple was one of the best.

His plate hung heavier today than it usually did. Truthfully, it wasn't just the plate. It was weight of the years, the weight of the coming battle, the weight of the damn letter. He'd faced the worst Norrath could throw at him and here he was, a nervous little boy too meek to tell a woman the truth. This was one of those things that time never made easier—except to make excuses.
Game Update 67: Darkness Dawns has now hit the EQ2 Beta server and here are the Update Notes. Game Update 67 is expected to go live July 23, 2013.
Fabled Dungeons

Fabled Clefts of Rujark (accessed from Sinking Sands)
Fabled Scornfeather's Roost (accessed from within Fabled Clefts of Rujark)
Fabled Djinn Masters Prism (accessed from the 'Fabled Dungeon Portal' in Pillars of Flame)
Fabled Pedestal of Sky (accessed from the 'Fabled Dungeon Portal' in Pillars of Flame)
Three New Contested Avatar Raids: Pit yourself against three new contested avatars in the overlands – Prexus, Solusek Ro, and Drinal!

Arena of the Gods

The Arena of the Gods is a raid instance that allows 24 players to challenge any of the 9 avatars that are in game (includes the new contested avatars released in this GU). Once you kill an avatar and are rewarded, you can continue to practice the encounters as much as you want (there is a 3-day lockout timer for rewards).
From the EQ2 Forums:
To all beloved Norrathians!

We are happy to announce that we are almost ready with GU67: Darkness Dawns, so much so that we decided to launch a week early on Tuesday, July 23! We also thought this would give everyone a chance to play the content before SOE Live (soe.com/soelive) on August 1-4!

Not only that, but the once-mentioned Loyalty/Rewards program we were working on earlier in the year is finally where we want it. We expect to be launching that with GU67 if not very soon afterward. That has become a Daily Objectives system that will reward you for doing the types of content most players do in every play session, be it adventure, quest, tradeskill, and PvP. In this system, we will reward tokens that you can spend on reasonably priced merchants in Freeport and Qeynos that will carry reasonable priced items – some of them veteran's rewards — and mystery crates with chances to really great loot. We'll give you more details on this closer to launch!

Also, as I expect someone will ask, this new system is ultimately an addition to veteran's rewards we give each year for account age. We will still continue to offer a commemorative veteran's item each year in November for players.

We'll see you in game the day Darkness Dawns on July 23!

Holly Longdale
Senior Producer, EQII
From Holly "Windstalker" Longdale's twitter:
Want to help out? We are updating our Test server with GU67 content next Monday, July 8! #EQ2

— Holly Longdale (@WindstalkerEQ2) July 2, 2013
Looks like I'm not the only one who was concerned about Game Update 67: Darkness Dawns bumping up against SOE Live. As a fan site operator, I had a number of concerns about trying to report on and cover a Game Update while also trying to keep up with EverQuest II's 10th expansion and EverQuest Next which will both be making a splash in Vegas on August 1st through 4th, just 2 days after GU67 was slated to hit. Also, last time we had a Game Update just hours before SOE Live, there were some game issues that couldn't easily be fixed as most of the EQ2 team were in Vegas.
GU67: Darkness Dawns is coming early on July 23! Also, we're adding Daily Objectives to the features! See http://t.co/bApH6gJbcO. #EQ2

— Holly Longdale (@WindstalkerEQ2) July 2, 2013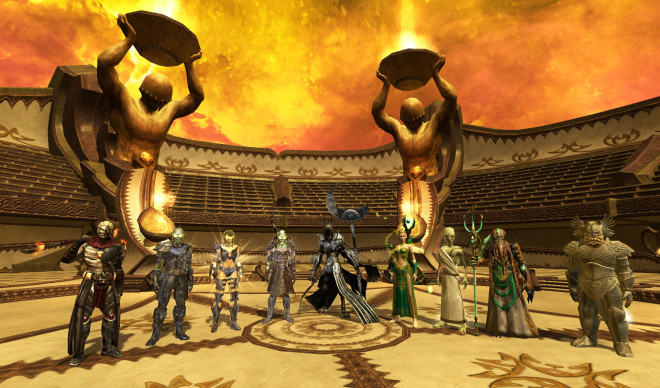 Game Update 67: Darkness Dawns, expected to launch just hours before SOE Live 2013 officially begins, will introduce an indoor "Arena of the Gods" featuring instanced versions of the nine Avatars which have been roaming Norrath since Avatars returned as contested content. These avatars will be of the same difficulty as the open world equivalents, but provide rewards of a reduced quality. Presumably you'll only be able to defeat one avatar per trip, although it would certainly be amusing if you could do all of them on one visit.
What can we expect in the upcoming Fabled dungeons in Game Update 67? You'll recall this announcement from Holly "Windstalker" Longdale on the EQ2 Forums about Game Update 67: Darkness Dawns which included a list of dungeons:
1. Fabled Dungeons: We've taken some dungeon favorites from the very first EQII expansion "Desert of Flames" and created additional versions of them with current high-level content and loot. You can experience Clefts of Rujark, The Djinn Masters Prism, Scornfeather's Roost, and Pedestal of Sky at a high level range!
As posted by Kander on the EQ2 Forums:
The Fabled zones have been raised to current level and re-itemized with new current versions of everything that used to drop in them, with some surprises. There are items of all tiers for all play styles in the Fabled zones.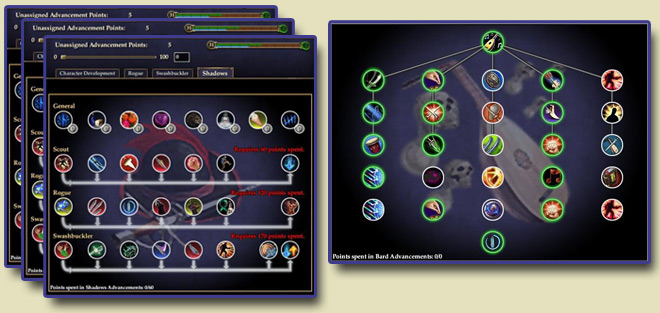 EQ2Wire Mockup — not indicative of how these will appear in-game
If you haven't read last night's EverQuest "What's Next" Show transcript, then you missed out on a number of announcements for EQ2's as-yet-unannounced Game Update 67.
Two items of note:
Character Advancement Templates — For players who don't want to spend 320 AA points one-at-a-time, there will be certain templates which are recommended AA setups for each class. You can click a button and have it spend the points for you, and if you don't have enough points to get everything suggested by the template, it will remember and keep those AA bubbles highlighted.
Alternate Advancement Profiles — You will now be able to store up to 3 Alternate Advancement setups or "profiles" on your character and access them anywhere. No more kludgy AA mirrors. You will also be able to load/save your AA setup to an XML file.
EQ2U intends to support AA Profiles on day one, as well as offer the ability to export a character's AA setup from EQ2U as an XML file which you can then import into your own character!