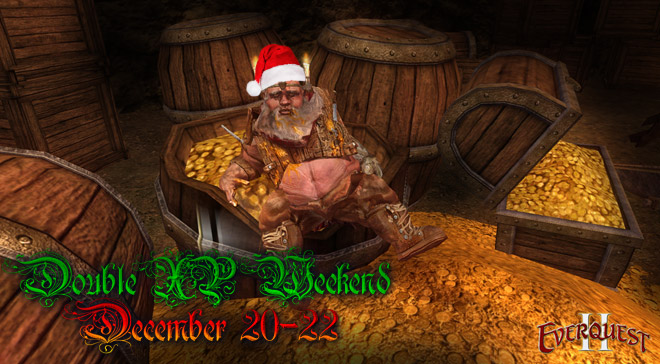 From RadarX on the EQ2 Forums:
Finish up your holiday shopping and clear your calendar as this weekend starting Friday, December 20th at 12:00 PM PT you'll get double experience from Adventure, Tradeskill, Alternate Achievement, and Guild Experience! This event will run through Sunday, December 22nd at 11:59 PT.

Also, to help everyone ring in the new year and finish out Frostfell, we will have a 50% Rebate Sale on many of our items on Tuesday, December 31st at 12:00 AM PT to Wednesday, January 1st, 11:59pm PT. You only have two days so don't miss out on this great opportunity!
Double XP Time Zone Conversions
PST: December 20 @ Noon ~ December 22 @ 11:59pm
EST: December 20 @ 3:00pm ~ December 23 @ 2:59am
GMT: December 20 @ 20:00 ~ December 23 @ 7:59
CET: December 20 @ 21:00 ~ December 23 @ 8:59
AEST: December 21 @ 5:00am~ December 23 @ 4:59pm
StationCash 50% Rebate Time Zone Conversions
UPDATE: As per the revised announcement, this is a TWO day event.
PST: December 31 @ 12:00am ~ January 1 @ 11:59pm
EST: December 31 @ 3:00am ~ January 2 @ 2:59am
GMT: December 31 @ 8:00 ~ January 2 @ 7:59
CET: December 31 @ 9:00 ~ January 2 @ 8:59
AEST: December 31 @ 5:00pm ~ January 2 @ 4:59pm