Takeback: StationCash Funding of EQ2 Subs Comes to an End
UPDATE
According to SOE President John Smedley, EQ2 Subscriptions will reappear on the Marketplace for 1 week to allow players to buy their subscriptions.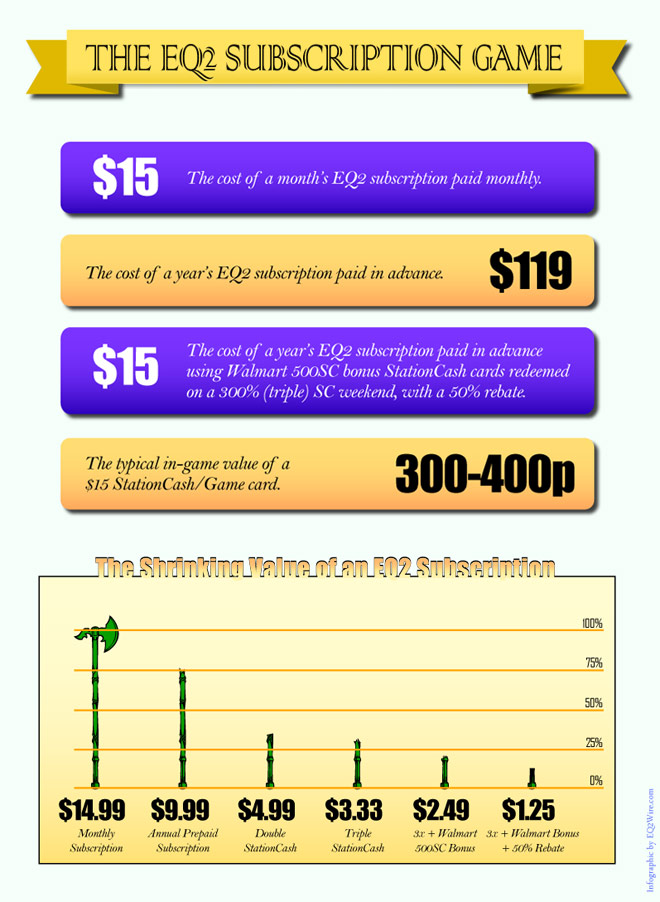 EverQuest 2 subscriptions unceremoniously disappeared from the StationCash marketplace yesterday, and players have had plenty to say on the subject. The removal was not unanticipated, but doing so without advanced warning, an announcement, or even an acknowledgment, is yet another betrayal of player's trust in SOE.
An Untenable Situation
Not too long ago, $14.99 a month drawn monthly from a credit card was the only choice for funding an EverQuest II account. Sure there were discounts for prepaying 3 months or a year, and later on we got 30 day game cards in retail stores. But it was not until the introduction of StationCash that we started down a path of ever-cheaper EQ2 subscriptions for which one day there would have to be a reckoning.
At first, $15 worth of StationCash equalled 1,500SC, which equalled a single month of EQ2 subscription. Nice and simple.
Double and Triple StationCash weekends may have led to dizzying sales of StationCash to players who had previously never considered buying the currency. But these bonanza weekends also had the unintended consequence of driving down EQ2 subscriptions to $7.50, $4.99, and eventually just $3.33 a month. Players quickly noticed that the 500SC bonus on Walmart-exclusive StationCash cards tripled during those events, further reducing the EQ2 subscription cost to a paltry $2.49.
But the tipping point was obviously reached this last weekend, when a 50% Rebate was offered on all StationCash items including non-recurring subscriptions. A single $15 StationCash card purchased at Walmart, and tripled to 6,000SC, was now worth a whopping 12,000SC, or one year's EQ2 subscription.
EverQuest II may be Free-to-Play, but buying expansions for $5 and paying just $1.25 a month for a Gold subscription is probably not what they had in mind.
Truly Free-to-Play
A forum discussion was launched asking players on different servers to report the exchange rates they've seen between StationCash and Platinum. Before the thread was unexpectedly closed by SOE-MOD-02 for an invented rules violation (in fact, SmokeJumper has indicated that the exchange of Platinum for StationCash is perfectly legal), several players reported prices ranging from 350 to 500 platinum for a $15 StationCash/game card.
Earning Platinum in EverQuest II has become exceptionally easy over the years. Several The Shadow Odyssey group zones which can be soloed reward 8-15 platinum per run. Shinies from level 80-92 dungeons routinely sell for 5-50 platinum. And who can forget Kunark raid zones which net players upwards of 150 platinum for a successful run? With every quest from Kunark and beyond offering a reward of at least 29 gold per quest, platinum positively flows into the game.
It should then come as no surprise that many players have been financing their EQ2 subscriptions entirely by gameplay. If you can get your hands on 400 platinum, sell it to the right person who gives you a SC card, and you redeem it on the right weekend, you could fund your EQ2 subscription without spending a nickel. Again, probably not what SOE intended.
Without Notice
So it was just a matter of time before this race-to-the-bottom came to an end. But there were several reasonable approaches which could have been taken. EQ2 subscriptions could have been removed from the Marketplace during Rebate weekends. They could have had their prices increased. A number of solutions have been presented. However the bluntest road was taken — completely removing the subscriptions without prior notice.
This seems to defy past precedent, as Linda "Brasse" Carlson has previously posted that whenever possible, SOE will provide 30 days notice before any change that might affect accounts. From the EQ2 Forums:
We always endeavor to provide 30 days notice of any action affecting accounts.
How many players out there purchased StationCash at Double or Triple (or more) not to purchase StationCash fluff items, but to get discounted EQ2 subscriptions? Based on the outrage from players, no small amount. Remember, SOE gets paid not when you buy items, but when you fund your StationCash wallet. So SOE has no idea why players bought their StationCash, only what they spend it on.
Were We Just Lied To?

EQ2 Community Manager Eric "Piestro" took a moment to post on the EverQuest forums (he has yet to comment on this issue on the EQ2 forums) suggesting a very different motivation for removing EQ1 Subscriptions from the StationCash Marketplace. According to his comments , they're underused.
Hey folks,

Just jumping in to let you know this was indeed an intentional change. This decision was partially based on the very limited utilization of this feature.

Regards,
Considering how many players we have personally heard from on this issue, and the amount of forum traffic being generated, the number of players who use StationCash to fund their EQ2 subscriptions is not inconsequential.
We're left asking — Why does SOE fail to predict these issues early on, and then take heavy-handed steps to deal with them? Itemization, zone difficulty, avatar loot, Najena's ring, and dozens of other examples show that SOE has often been late to identify problems, and then over-reacts.
Were $1.25 monthly EQ2 Gold Subscriptions untenable? Yes.
Should a more thoughtful approach have been taken to address this problem? Absolutely.
Trackback from your site.