Heroic Characters FAQ – Free Trial or Buy an 85/280AA Char for 3500SC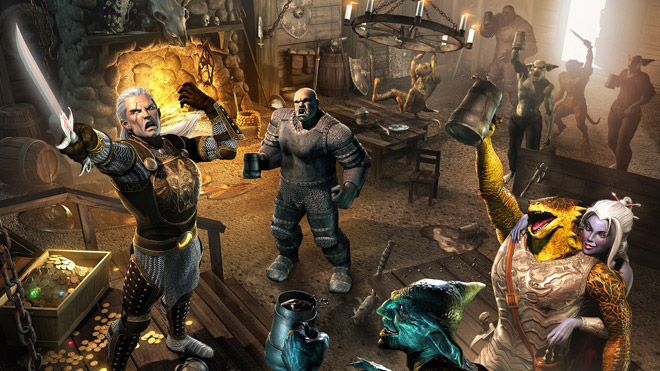 In a perfect world, SOE would have the vast resources it would take to go back through EverQuest II's 9 years of content and rework it so that it's all fresh, challenging, and relevant again.
But we live in the real world, and for many new and returning players who want to play with their friends, level 1-85 is now a relic, a reminder of days when heroic bands of gnolls traveled the Antonican countryside flattening all who stood in their way. The meaningful, perilous, and team-building adventure in that challenging content has faded with the passage of time and increase in stats. Today, levels 1-85 still have a great story to tell for those who wish to take things slowly, but for many new and returning players, they stand as a contextless roadblock between them and playing with their friends.
3 years ago, Dave "SmokeJumper" Georgeson publicly floated the idea of Insta-85 characters. He was shouted down, and clearly the EQ2 community wasn't ready. But in the intervening years, it seems players have come around and recognized that level 1-85 has become a solo tutorial at best which ill-prepares players for playing their characters in any kind of challenging setting, whether that's advanced solo, grouping OR raiding.
So fast foward to today, and the exact details of Heroic Characters — aka Insta-85 Characters — have been posted on EverQuest2.com for all to read. My impression of the program is positive and, at first blush, SOE has clearly learned from past "Winback" programs.
Heroic Characters are open to all players!
whether you're…
an established player who wants to try out your 10th alt
considering returning to the game after a year or two off and don't want to spend hours solo questing to catch up with your friends
a newish player wanting to really try out the game without having to first grind thousands of mobs or solo quests.
That this is open to all players should go a long way towards eliminating the past ill feelings as some players were showered with rewards, while veterans were left out. This isn't the first such turn, as we've seen an increasing appreciation of Subscribers with programs such as "Gold Rush". Those players who pay $15 month-in and month-out may not splurge for big ticket Marketplace items, but they're here year-after-year, supporting SOE.
After the jump, Holly's producer's letter and the Heroic Characters FAQ…
Holly's Producer Letter from the EQ2 Forums:
Calling all heroes!

We are putting in the final touches for Heroic Characters and we're excited to be able to give you some news about them.

Before we get to how Heroic Characters work, let's talk about why we are doing it. Primarily, we created this new feature because you asked us for it! At SOE Live, on forums, in one-on-one conversations, and lots of other ways, we've heard variations on similar ideas.

Former players don't want to play catch-up to Level 95, existing players don't want to start over at Level 1 with their friends, and some players just want to get into high-end guilds and raids because that's what they love to do. There's been a lot of great feedback that led us to create Heroic Characters.

The goal is to provide a fun and easy option for existing and returning players to play or experiment with our characters and have immediate access to high-level content. And we think we've created a great program for everyone!

First, for a limited time, players can create a Heroic Character for free. Oct. 1 until Oct. 15 is our "Hero's Call" event which invites new players to create one free new Heroic Character per household. Existing accounts can create or upgrade to a Heroic Character for free too!

Additionally, Heroic Characters can be purchased at any time from our store. The options include: Try Before You Buy, New Heroic Character, and Upgrade Existing Character.

1) Try Before You Buy: This option offers one full level of play from Level 85 to 86 – which takes a typical player several hours – with 100 Alternate Advancement (AA) points to test out a class of your choice at a high level. The Free Trial includes a flying mount, armor, consumables, and a few restrictions.

2) New Heroic Character: A full Heroic Character can be purchased at Character Select or while playing as a Free Trial character. It includes level 85, 280 AAs, all items included in the Free Trial, and is unrestricted.

3) Upgrade Existing Character: The Upgrade option allows you to select any existing character at any level and upgrade it to a Heroic Character. All upgraded characters receive level 85 and are increased to 280 AAs, but not beyond. If you are above level 85 and have more than 280 AAs, you won't receive additional levels or points, but will get a bundle of items that includes the flying mount, armor, and consumables.

For more details on each option, click here.

HOW TO ACCESS HEROIC CHARACTERS

Access to "Try Before You Buy" and new Heroic Characters can be found at the Character Select screen. The "Create Level 85 Heroic" button opens a window showing the benefits of the Free Trial and New Heroic Character options.

Existing characters, as well as Try Before You Buy ones, can be upgraded to a Heroic Character from the "Select Character" list by clicking on an upgrade icon next to each character. (I'd show you this, but we're still putting the final UI together now!).

In addition to that, an in-game Marketplace item can be bought (and gifted) to upgrade an existing character to a Heroic Character. The Character window also has an icon you can use to upgrade too.

HEROIC HOTBARS!

We also have a new mode for Heroic Character hotbars to help returning players adjust to the number of combat arts/spells. It starts with one hotbar of core spells and/or combat arts to help you quickly learn and get into the swing of things. We add hotbars one at a time soon thereafter after to help you ramp up. Expert players can quickly get out of this mode at any time by modifying their UI.

MORE NEWS TO COME

So that's the majority of the details for the Heroic Character feature. We've got a lot more to talk about too. Next week we'll get into our Age of Discovery expansion changes as well as the 280AA bauble being available for sale on our marketplace for SC. Then, of course, we'll jump into ToV details!
We hope to see you in game on Oct. 1! We will all be playing!

Holly Longdale
Sr. Producer
EverQuest II
The Heroic Characters FAQ from EverQuest2.com:
What are Heroic Characters?

Heroic characters are an exciting new feature for EverQuest II that will allow returning players quicker access to high level areas and existing players the ability to try out different classes or avoid content they've completed many times. Players may select any class to begin at level 85 with a full complement of gear, food, drink, and ammo to get you started.

What are my options for Heroic Characters?

TRY BEFORE YOU BUY

"Try Before You Buy" characters start at Level 85 with a flying Pegasus mount, Level 85 armor, food, drink, ammo and a few potions. Beginning in Iceclad in Velious,there is a new quest which gives an update on the world storyline and prepares the hero for adventures ahead. To support this, EverQuest II: Destiny of Velious expansion content will be included free for all players when Heroic Characters launch.

These Characters start with 100 AAs already assigned using a Solo Character Advancement template. Also, each class will have many of its iconic buffs pre-cast upon arriving in Velious. Easy- peasy, lemon-squeezy.

There are a few restrictions however. After a full level of Try Before You Buy, these characters will stop earning combat experience when they reach level 86. Once they are logged off after reaching level 86, they are locked and can't be logged in again unless they are upgraded to a full Heroic Character at the Character Select screen.

Some restrictions for the Try Before You Buy characters are in place to prevent issues for the community at large. These characters can't trade, use shared banks, mentor, duel bet, send or receive attachments in emails, and a few other things, like combat experience being set at 100%. We are still defining some of those finer details to maintain a fun experience for everyone.

NEW HEROIC CHARACTER (3500 SC)

If you already know the class you want to play and want to bypass the Try Before you Buy option, you can acquire a Heroic Characterand start at Level 85 with 280AAs assigned through a Solo Character Advancement Template, the Pegasus flying mount, armor, food, drink, and potions, and start in Iceclad in Velious. Full Heroic Characters are not limited by level provided you have the expansions required to reach maximum level.

UPGRADING EXISTING CHARACTERS (3500 SC)

Existing characters can upgrade to a Heroic Character instantly no matter what their level or AA points and be set to Level 85 and 280AAs (unless the character is already above those). All upgraded characters will receive the mount, armor, food, drink, and potions in their inventory.

Can I upgrade an existing character? 

You can absolutely upgrade an existing character.  Once you've done so you'll be granted level 85 and your AA's will be raised to 280 not to mention receive handy items to help you along.

What equipment comes with the "Try Before you Buy" Heroic Character?

A lot more than a wooden training sword!  Your level 85 character will be ready to go with the following:

A set of Level 85 weapons
Level 85 jewelry
Level 85 armor
20 Food and Drink
Ammunition for Fighter and Scount Ranged Weapons
6 24-slot bags
Variety of Potions
A Pegasus Mount
Renaming potion for your character, just in case!

How long can I play my Try Before You Buy character?

Your character can be played as much as you want until level 86 at which point it will become "locked" until the Heroic Character purchase is made.  If you decide you don't like the class, you can always start up a trial with a new class until you find one that fits your play style!

Are there limitations on AA's?

With a "Try Before" you Buy Heroic Character your will have access immediately to 100 AA's already assigned using the Solo Character Advancement template.

Once you purchase or upgrade an existing character to a Heroic character, you will have 280 AA available and the ability to earn a maximum of 320 AA.

How much do Heroic Characters cost?

You have the option to create a "Try Before you Buy" character at no cost.  Creating a Heroic Character without any level or AA restrictions or upgrading an existing character is available for 3500 SC.

I have received a free Heroic Character as a new or existing customer.  How does that work? 

Players with a free Heroic Character will see all options to create or upgrade a full Heroic Character flagged with "free" text in the Character Select screen.

Do I get the same items when I upgrade as I would if I made a new Heroic Character?

When you upgrade an existing character to a Heroic Character you will receive all gear, abilities, and the flying mount.

Where can I access the Heroic Characters?

Access to the "Try Before You Buy" and full Heroic Characters can be found on the Character Select screen.  There are new "Create Level 1" and "Create Level 85 Heroic" buttons available which will allow you to create your choice of character.  You may also access the upgrade option for your existing character in the Select Character list or through buying a Heroic Character upgrade item from the Marketplace.

Why are you adding Heroic Characters to the game anyway? 

In response to both former and current player feedback, we wanted to provide an opportunity for players to return to EQII without worrying about an overwhelming level gap.  We've also been asked by all kinds of players for a way to try out high-level classes before committing valuable time to leveling one.

Ultimately we want a fun and easy option for everyone to play or experiment with our various classes and have immediate access to high-level content.

When will Heroic Characters be Available for Purchase?

You will be able to purchase a Heroic Character beginning October 1st.

Won't a new or returning player be overwhelmed at 85?

This is certainly not our goal!  To counter this potential issue, we've added "Heroic Hotbars" which will help returning players adjust to the number of combat arts/spells.  It will start with one hotbar of core abilities and add more to help progress players into everything their class has to offer.

I know how to play EverQuest II Already.  Do I have to use these Heroic Hotbars?

No you do not!  You can disable the hotbars whenever you want and go into our standard UI by modifying the UI and confirming that you are ready to switch.

Will I be able to play the Channeler as a Heroic Character when Tears of Veeshan launches? 

The Channeler will not be available as a Heroic Character when the expansion launches but will be made available at a later date.

How many Heroic Characters can I have?  

You are not limited on how many Heroic Characters you can own on your account!
Trackback from your site.