EverQuest II: Chains of Eternity Pre-Order

I just received an e-mail indicating that the new Chains of Eternity expansion is available for pre-order at EverQuest2.com.
Introducing Everquest II: Chains of Eternity™!

This is the 9th expansion of the revolutionary EverQuest II franchise. This expansion contains must-have features such as level increases, prestige abilities and new game items only available with this expansion, such as adornments that become more powerful with your character. Also, explore new content in two overlands in the spirit realm, and experience adventure with new dungeons and quests. Put right the imbalance in the Ethernere!
Standard Digital Version $39.99

Cloak of Mourning (Only Available with Pre-Order)
Drinal's Scythe Replica – Mounted
2 x Scroll of Resurrection

Collector's Digital Version $59.99 ($89.99)

Hero's Blessing of Experience
1x 6 hour 100% XP potion
2 x Portal Globe of Swift Travel
2 x Health Potion
2 x Power Potion
Firiona Vie Memorial Tapestry
Krivix Honorclaw – Werewolf Mercenary

Features:

Prestige Abilities – Each subclass will get access to new Prestige Abilities!

Prestige Tradeskills – Your crafting will shine like never before with Prestige Tradeskills.

Spirit Stones – New adornments that gain experience with you and grow in power.

All level caps raised to 95 – Whether you are a Guild, Adventurer or Tradeskiller you are now able to experience Norrath at the highest level possible.

New Content:

Obol Plains – Discover the realm of Ethernere and the mysterious Obol Plains where an imbalance in the realm of the afterlife is apparent in all the surroundings and its inhabitants.

The Eidolon Jungle – Every area of Norrath has its own home in Ethernere. Adventure through the amazing, transformed lands of the Feerrott as it exists in the afterlife.

9 New Instanced Dungeons – All new dungeons with unique, exciting encounters…and loot!

All New Quest Lines – Experience the story of this unique realm in any play style you choose. There is plenty for everyone!
No word on raid zones or whether the expansion will include prior expansions.
Key Art: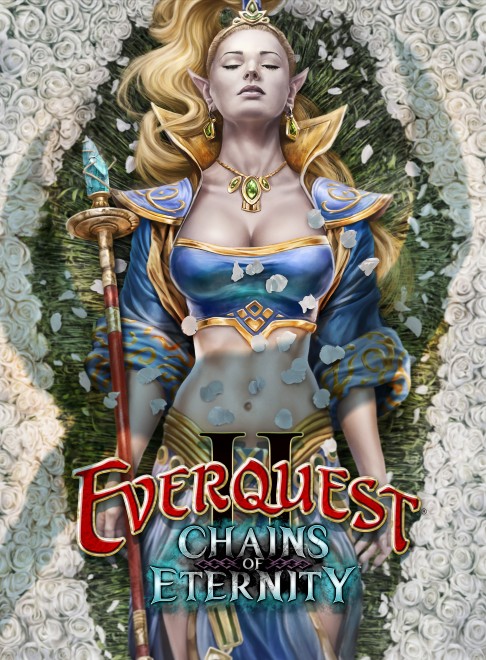 Tags: chains of eternity
Trackback from your site.