Chains of Eternity Expansion A Return to Content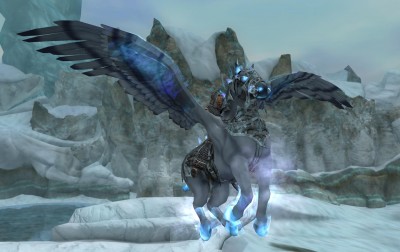 Nearly every EverQuest II expansion has included some kind of new feature, yet we tend to associate expansions with their content. Think of any EQ2 expansion and our recollections are of the continents, solo quests, group and raid zones, and level cap raises contained within each update. So what happened with Age of Discovery?
It's no secret that the original plan was to release two expansions — Velious I and Velious II — and charge for both of them. However it must have been felt that players would react negatively to a "Velious double-dip". So Age of Discovery was envisioned as an a la carte features bundle which would still offer the side benefit of funding continual Velious development.
Yet despite Herculean efforts by SmokeJumper to get players on board with the benefits of Features vs. Content Expansions, players remained skeptical.
So why even release Destiny of Velious and Age of Discovery in the same year?
We can only speculate, but it seems likely that SOE wanted to get back on a November/December release cycle for EverQuest II expansions. Consumers tend to spend freely in December and then go through a round of belt-tightening in January and February. We also know that Age of Discovery was planned out approximately one month before Fan Faire. There's only so much that can get squeezed into a product you're shipping in 4 1/2 months.
So what did we get for our money by buying Destiny of Velious? Actually quite a bit in hindsight. For $40, we get:
Destiny of Velious expansion (Feb 2011)
The "Children of War" (Drunder) update(June 2011)
The War of Zek update (August 2011)
Skyshrine guspansion with level cap raise (April 2012)
untitled Velious content update (February 2013)
This is not to mention Qeynos and Freeport which were both revamped.
As for Age of Discovery for a one-off features expansion, we got:
Beastlords
Mercenaries
Item Reforging
Dungeon Maker
Tradeskill Apprentices
So is the grand experiment of Features Expansions over? Time will tell. I wouldn't be surprised to see individual features make an appearance on the Marketplace for $5 or $10, but the chances of another pure features expansion like Age of Discovery seem unlikely. You can argue whether Age of Discovery was a good value, but many players found more than enough enjoyment in Mercenaries, Beastlords, and Item Reforging.
EverQuest II: Chains of Eternity is expected to be released late this November 2012. And no, it won't be free.
Trackback from your site.