Making EQ2X a Real Choice
The announcement of EverQuest 2 Extended (EQ2X Free-to-Play) to the world was not a complete surprise to everyone. In addition to the various individuals within the EQ2 team and SOE involved in its planning and implementation, a few players were notified and their feedback solicited. What would be the community reaction? Should the services stay separate? There were many questions.
At last year's Fan Faire, once the EQ2X cat was out of the bag, I spoke to Dave "SmokeJumper" Georgeson about the future of EQ2 and EQ2X, and how the latter might choke off the former. My feedback was simple:
If the website promoting EQ2/EQ2X gives the two services equal weight, and if players are given a REAL choice between the two games, then I think your best bet is to keep the 2 services separate.
Georgeson assured me and many others that both EQ2 and EQ2X would be equally marketed, with a 'fair' choice between the two games. On that representation, having the two services separate made sense. And yet, when EQ2X went live, this is the first thing I noticed on EverQuest2.com: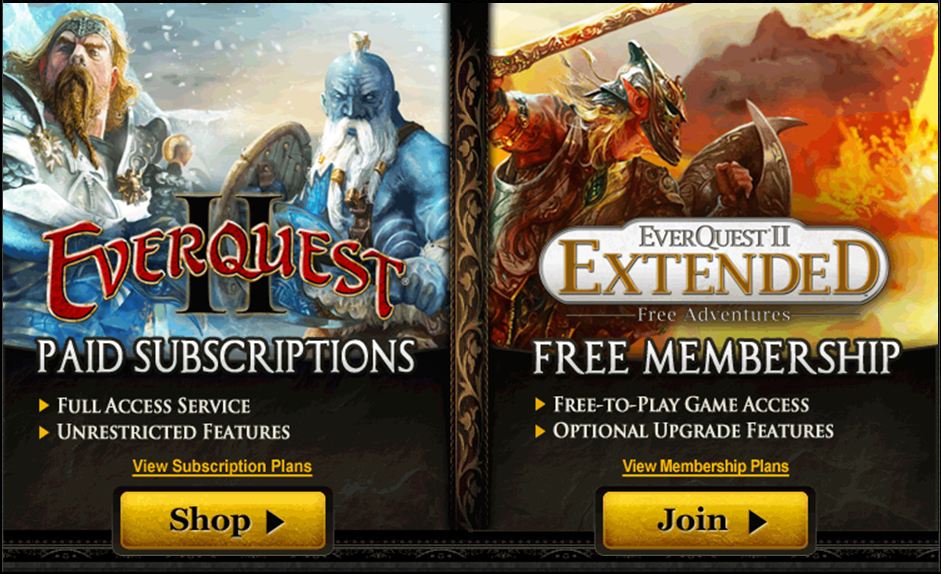 Once I passed the splash "choice" screen, these buttons on the left side of EverQuest2.com were even more damning: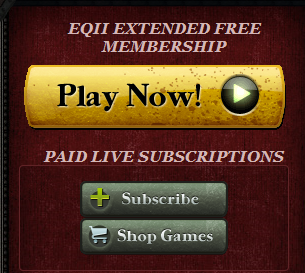 The graphics shown above didn't put the paid and free EQ2 games on a level playing field. Only a fool would click on a small 'Subscribe' button when presented with a much larger, more attractive button labeled 'Play Now!' When I saw these graphics, I and many others cried foul. At the very least, I felt that the two services be differentiated akin to cell phone service:
EverQuest 2 – Low Monthly Rate, Experience thousands of hours of content and all that EverQuest 2 has to offer!
EverQuest 2 Extended — Pay-as-you-Go, Experience a ton of EverQuest 2 content for free, only buy the features and content you need!
I also made a point that players should be able to transfer off of EQ2X to EQ2 as otherwise, there would be no new players coming to EQ2 (the announcement of EQ2X coincided with the discontinuation of the Free Trial.
Fast forward a few months and I waited for the promised 'advertising blitz' to begin, which would supposedly benefit both EQ2 and EQ2X. Well, fooled me once, shame on me. Fooled me twice, shame on Marketing. The advertising which eventually appeared steered visitors to the EQ2X website, completely bypassing the already unbalanced EverQuest2.com 'choice' screen. When we brought this to SmokeJumper's attention, he admitted that budget priorities had changed and EQ2X was the first push with EQ2 advertising to 'come later'.
It's one year after the introduction of EQ2X, and maybe the realization that EQ2X is cannibalizing rather than supporting the EQ2 subscription game has finally dawned. The following quote from SmokeJumper suggests that we may finally see the EverQuest2.com website take a more egalitarian approach to both games in the future. For all those players who never gave up the fight for EQ2 to retain its downloadable Free Trial, today's note brings some small vindication as well:
The Trial is coming back very soon. There are also some good revamps of the website coming that will help steer people to the Live side (by pointing out the advantages of playing here).
and:
I think, at this point, both communities are pretty happy where they're at. I'm not saying nothing will ever change…but at this time, I have no idea why they would change.

The Trial will be back soon now and I think marketing did a great job of making web changes to show a player why they would be interested in starting with Live (vs. EQ2X).

Both sides of the "fence" are nicely healthy. There's no reason to redraw property lines.
Trackback from your site.