SOE Prez John Smedley Makes Right Half-Price EQ2 Subs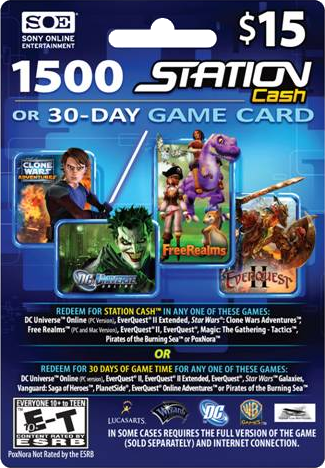 One month ago (May 20th, 2012), SOE offered a 50% Rebate on the entire StationCash Marketplace. When compounded with Triple StationCash weekends and Walmart 500SC Bonus cards, this meant $15 could buy one year's EQ2 subscription.
On June 8th, EQ2 Subscriptions vanished from the StationCash Marketplace. After an outcry, SOE President John Smedley stepped in and admitted that the pricing of EQ2 Subscriptions was being impacted by various SC discounts and sales, and then announced that EQ2 Subscriptions would be restored to the Marketplace for a one week grace period so players who wanted to fund EQ2 Subscriptions with StationCash could do so. Mischief managed, or so we thought.
On late Thursday June 15th, a 50% Off StationCash deal was announced for the June 16-18 weekend, along with the news that EQ2 Subscriptions would stay on the Marketplace over this 50% Off weekend. Players who had already divested their StationCash during the "grace period" (which had an unknown end date) to fund EQ2 Subscriptions were unsurprisingly infuriated.
Cratoh illustrated the point:
SOE – 'Hey guys, you've got a week to spend your SC, then we are taking away non-recurring subs.'

Customers 'Ah, thanks SOE, when does this week you talk of begin'

SOE '………….silence……………'

Customers 'Oh snap, we better assume it started when he posted. *buys SC subs*

1 week later….

Customer. 'Phew I've managed to spend all my SC, bought more SC i wouldn't otherwise have bought to make up my existing SC into 3 or 6 or 12 months subs.'

The very next day!

SOE – 'Hey guys, we leaving the sale of non recurring subs up for another 3 days until the 18th – AND WE'RE GOING TO SELL EVERYTHING< INCLUDING NON-RECURRING SUBS, FOR 50% OFF!!!!!!!

Customers '………silence……….'
Perhaps sensing that the EQ2 player community's trust in its Community Team is in tatters, John Smedley has again responded to players on the EQ2 forums and extended a personal invitation to contact him if we have concerns:
If anyone feels like that was done to them email me at [email protected] and I'll personally make sure they get refunded so they can participate in the sale. I guess I was only trying to show that there was another way it could have gone. 'oh I bet he made sure that week the subs were up ended right before the sale so SOE made more money'.

Hence my comment about the rock and the hard place on this. Seriously though if anyone that bought a sub with SC this week feels in any way upset that we included them in the sale please let me know at [email protected] and I will personally make sure you get a refund. This was only ever intended to help make up for pulling the sku with bad communication on short notice. That's all.
We have received reports from several players whose SC balances have already been adjusted accordingly.
In case you didn't catch the hint, this weekend is the last time, for the foreseeable future, to fund an EQ2 subscription with StationCash.
Trackback from your site.