Gninja Talks New and Old Mercenaries, Mechanics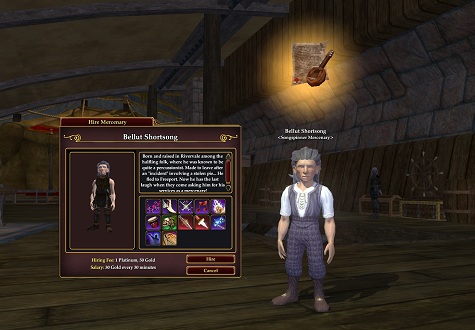 In a stream of responses to two threads discussing Mercenaries, Gninja answered several questions and provided useful information about the current and next waves of mercenaries. With a recent update, the number of mercenaries has increased to twenty (20) and mercenaries are now avilable in all 6 cities. Although they lack some of the innovative features and options of EverQuest Mercenaries, they are still one of the more popular features of the recently released Age of Discovery features expansion.
Mercenaries New & Old
Let's take a look at the list of Mercenaries by class. This was posted by Slayacissa of Permafrost:
Qeynos Harbor – wizard, paladin, troubador, swashbuckler, templar, monk
Freeport – warlock, assassin, brigand, dirge, inquisitor, guardian
Neriak (near DLW) – shadowknight, necromancer
Gorowyn (near crafting) – Berserker, Defiler
Kelethin (Jysolin Pub) – ranger, warden
Halas (Coldwind Hall) – conjuror, mystic
That leaves just Beastlord, Bruiser, Fury, Coercer, and Illusionist with no mercenary.
After the jump, we talk about Mercenary Confidence, the "In Over Their Head" debuff, mercenary types, and where you can post your feedback on getting different types of mercenaries added.
Merc Confidence: "In Over Their Head"
One of the most talked about limits placed on non-fighter Mercenaries in EQ2 is the "In Over Their Head" mechanic.  Mercenaries will fight for you, but the pay isn't necessarily worth dying for! If too many (or too powerful) enemies are wailing on your hired merc, they will cower in the corner and lose much effectiveness until the situation changes.
According to Gninja:
[Confidence] is a threshold value they have. Tank mercs can take on close to epic encounters(x4) but not quite so if the total number of creatures being fought equals up to that number with higher tier creatures costing more points then they will cower.

Tank mercs have much higher threshold than other mercs, and the [Shadowknight] merc has the same confidence as the other tank mercs.

[Mercs] should only get in over their head when creatures are targetting them. If they are getting in over their head with nothing targetting them it is a bug but I have yet to see that happen when I use them.
This came up in the context of the Forgotten Pools where Stamper, the inquisitor mercenary, stopped helping on the first named that drops noxious "goo" which players must avoid.
Ah that makes sense actually… The piles of goo that named summons are creatures casting spells so they were likely targetting him and there was nothing you could do about it. I will take a look at that situation and see if I can fix that.
Players have noted that mercenaries under this effect seem to stop all other actions and just stand there cowering. According to Gninja, they don't stop fighting, healing, or curing, but instead their effectiveness is reduced:
Just because they cower does not mean they stop doing everything it just lowers their effectiveness.

The largest thing [In Over Their Head] affects is potency. Cures would not be affected by the "In over their head" debuff they gain when they hit their confidence threshold.
Gninja opened up the idea of adding other types of mercs that focus on certain tasks or roles in a group:
If there are certain roles you want a merc to fill and that doesn't mean "Can do everything better than all other mercs" then I can take a look at adding new mercs in the future.
Player Response
Not everyone is impressed with the Mercenary AI. kahonen had this comment:
If mercs are meant to be like players (hence taking a split of the plat from mobs + chests) then why on earth are they cowering in the first place? When a pull goes bad our real tank players dont sit at home cowering in front of their keyboards do they? No, they knuckle down and try to make the best of it and end up with those "omg how did we survive that?" or "Wow that was rough but we got a couple of them at least!" moments. It seems its a "feature" for the sake of a feature that serves no real purpose.
LuckyPSD had a similar response:
Mercs are a waste of time and money as they are currently implemented.  Clearly, someone, somewhere has forgotten that the "I" in "AI" stands for INTELLIGENCE.  Think about it for a second:  if a healer merc realised we had a problem would he simply stand and watch me die while he did nothing?  Of course not!  If there are only 2 of us there, I'd suggest the fact that if I die, he's gonna be next would play a large part in his reasoning
A few Frequently Asked Questions
When asked about Mercenaries using Area of Effect (AoE) attacks which tend to attract the attention of nearby enemies, Gninja had this response:
None of the mercs should have blue AEs at all. They were all changed into encounter AEs.
Even though mercenaries are now spread out to all 6 cities (excluding Maj'dul), remember you only have to track them down in their home city once. Thereafter, they will make an appearance in your home city when needed. From Gninja:
If you hire them from say Kelethin the next time you need to hire them you can go to Qeynos and they will be there. You only have to hire them the first time from their original city. I know its not quite as convenient as in a house or guildhall but at least they end up being centrally located.
Some players had drawn rather conspiratorial conclusions about how EQ2's developers view wardens from the fact that the Warden mercenary heals from range and does not use any melee attacks. Gninja sought to debunk that:
In regards to the Warden merc being ranged vs. up close and personal: It is emulating a warden with no AAs and is meant to be a pure healer that doesn't intentionally put itself in harms way and take ripostes etc. It is strictly a survivability mercenary. It has nothing to do with how players can play that class if they so choose.
Further:
The warden merc can cure but it has full priority given to healing over curing so they will likely only cure if your health is at a reasonable level or their heal spells are in refresh.

The warden mercenary is a ranged healer. She will not try to stand toe to toe and do any sort of damage. I have heard rumblings about her not healing if told to attack things but I havent been able to reproduce it thus far. But you can try to set her to assist none and that might help for the time being.
On the subject of mercs pulling agro or attacking too soon, Gninja had advice for fighters who have summoned mercenaries:
Using the assist drop down means he will attack what you attack so if you throw an arrow at something to pull it they will engage as well. I would suggest if you are the tank using a merc you should set them to follow another group member and assist someone else in group that way they dont engage till that person does and you are free to pull at will.
Tags: mercenaries
Trackback from your site.