Wal-Mart Exclusive StationCash Card Yields 6,000SC for $15
If you are in the US and were planning to stock up on and redeem a bunch of StationCash cards this weekend, you might not be aware that the Wal-Mart exclusive StationCash cards, which reward not 1500SC but 2000SC for $15, have been confirmed to triple in value when redeemed during this weekend's Triple StationCash event.
Between 12:01 AM PDT May 27, 2011 and 11:59 PM PDT May 30, 2011, redeem any SOE Pre-Paid Game Card and get TRIPLE Station Cash for a limited time only!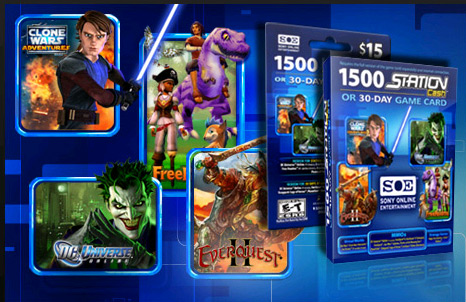 While any StationCash card can be redeemed for StationCash in EQ2, even cards branded for DCUO or FreeRealms, Krakus of Butcherblock has confirmed that the $15 Wal-Mart StationCash card will yield 6,000SC when redeemed this weekend.
Trackback from your site.