Broker Broken by Today's Update – Culprit to Remain Nameless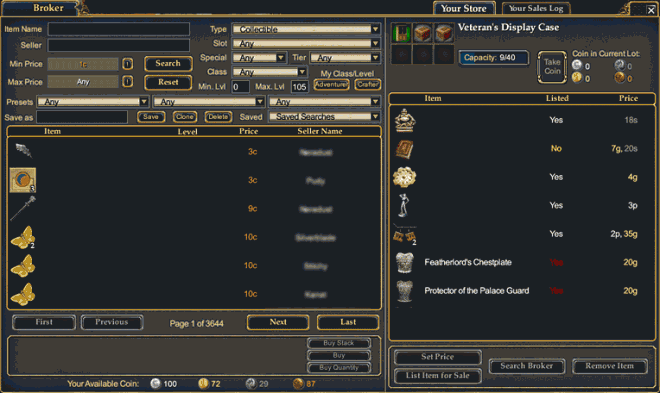 Despite alarm bells being raised by the EQ2 Testing community on the EQ2 Forums, in /bug, and on Facebook, Monday's Test Update has been pushed to the live EQ2 servers with a show-stopping bug:
Any item which cannot be equipped is now nameless on the Broker and cannot be searched for.
Items which you have listed for sale on the Broker that cannot be equipped are shown as having no name.
This means you cannot search for Dungeon Maker items, Raw Materials, Collectibles, Consumables, basically anything that you cannot equip. You can use Category filters (as shown above), but you cannot refine the search. Every affected item just shows the icon without its name. If you do not have a custom UI, you can roll over the item to see details. An unannounced change to tooltips has been made that breaks them in ProfitUI, DrumsUI, DarqUI, etc.
Your items for sale are also affected: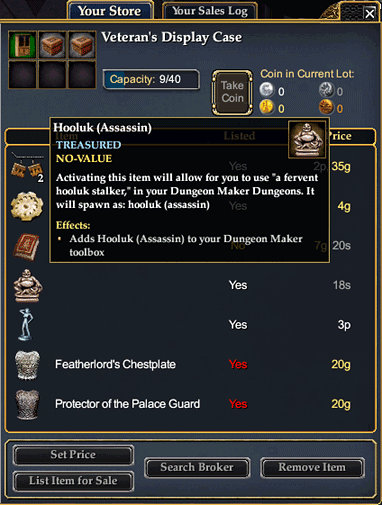 Update:
We are looking into the broker issue and the 90-95 chat channel that isn't working…sad face 🙁 that it slipped by us. #EQ2

— Holly Longdale (@WindstalkerEQ2) November 29, 2012
Players searching for [eq2u]Krono[/eq2u] will get no respect: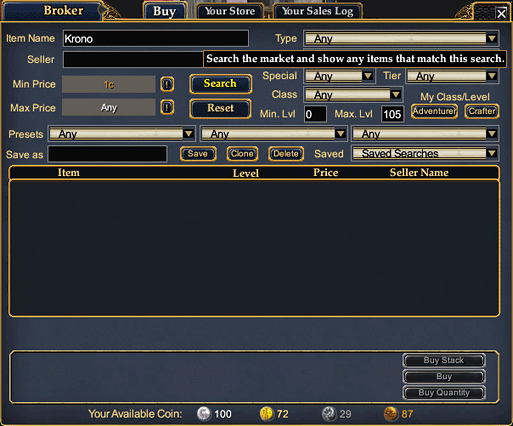 NOTE: Before someone comments, yes I am using a custom UI for my Broker — ProfitUI's Market Window. But this problem is being seen gamewide in all UIs including the Default.
Commentary
I really have to ask what is the chain of command here on Test vs. Live?
Hero's Festival went live despite announcements from Kaitheel and a Producer all saying the event was delayed.
Now this show-stopping Broker bug goes Live despite /bug, threads, and Facebook posts saying DO NOT push this Live.
It's like the Platform guy who pushes things from Test to Live has absolutely no communication with anyone on the game team and just pushes the button on the time/date specified. It's like Desmond on Lost. He keeps pushing the button but has no idea why.
Trackback from your site.