Chains of Eternity Pre-Order Ends Nov 12, New Welcome Screen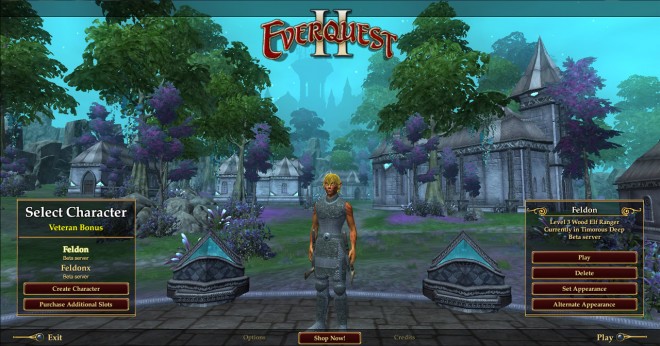 Showcased above is the new EQ2 Character Select screen set in Eidolon Plains.
Screenshots of the two Chains of Eternity: Collector's Edition mercenaries (your choice of Templar or Paladin for each of your characters), as well as the SOE Live mercenary (a Vampire Shadowknight) which became available early this week can be seen in our previous article EverQuest II: Chains of Eternity CE Items, AoD, and SOE Live. We've also posted a screenshot of the Collector's Edition exclusive Wyvern Flying Mount in Ethernere colors.
From Dexella on the EQ2 Forums:
(1) The pre-order goes through 11:59pm PST on Monday, November 12th.

(2) The mount is one per character.

(3) Dashenti Lasheris (the mercenary that SOE Live attendees received for coming to the event) is an SK only. As explained by Iadas (thank you!), you first need to "/claim" your SOE Live item, then examine the token, and then head to hire.

(4) Players who buy the Collector's Edition will have access to BOTH Lujien (werewolf) mercenaries – Krivix Honorclaw (Paladin) and Krivok Honorclaw (Templar).

~Dexella
Tags: chains of eternity
Trackback from your site.