EverQuest II: Chains of Eternity CE Items, AoD, and SOE Live
When the Chains of Eternity expansion was announced, the Collector's Edition goodies were revealed to include Krivix Honorclaw, a Werewolf Mercenary, a healer. Then at SOE Live, players suggested that it would be great to have a choice of healer or tank for the CE, and so the decision was made on the spot to offer a choice of Paladin or Templar for each person who claims the merc.
Today, Holly "Windstalker" tweeted a screenshot of Krivok Honorclaw the Templar, who is a new Werewolf-like race, the Lujien: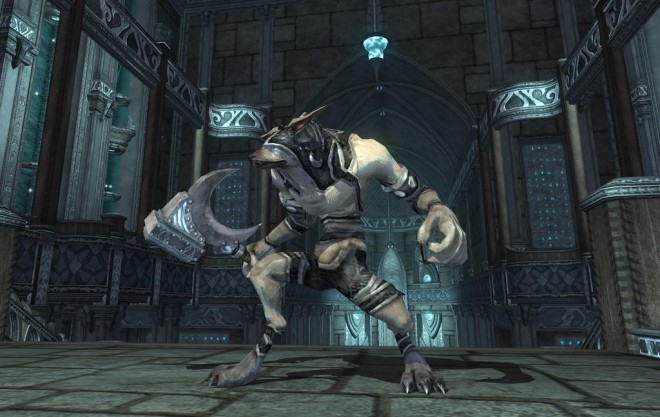 Before SOE Live we had received a screenshot of his brother cousin relative Krivix Honorclaw, who is a Paladin: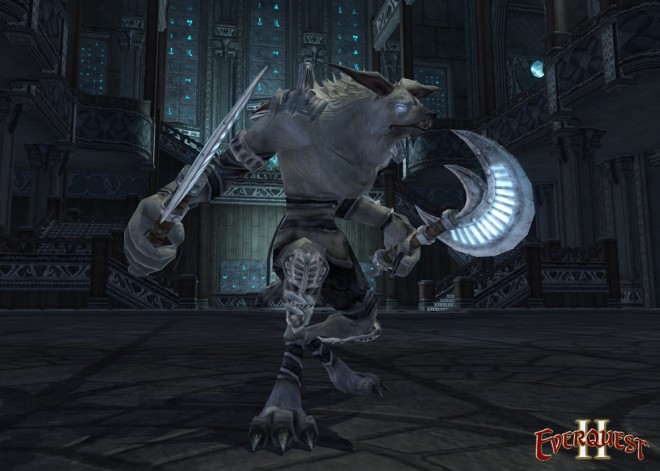 These mercenaries could make for an interesting Collector's Edition choice, especially in light of Holly's further tweet:
Our CoE Collector's Edition mercs (Templar & Paladin) are significantly "better" than the mercs in Freeport and Qeynos, but cost the same.
One player has already expressed concern about "pay to win" with the idea of CE purchasers have a leg up over other players. I suggested Elite mercs which are, admittedly extremely rare, but which are still the top dogs in player power and as long as you only Suspend them but never Dismiss them, you can keep them forever. The Ancient mercs in Skyshrine provide further choices, but they are, for the most part, a different body for existing merc classes.
Over the weekend, Holly tweeted a picture of the Chains of Eternity: CE Tapestry of Firiona Vie: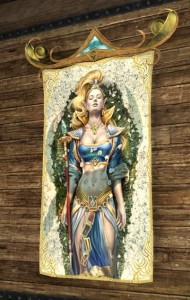 SOE Live Upgrade to CE?
As with last year's Fan Faire, it looks like attendees will be able to upgrade their free Chains of Eternity expansions to the CE for a fee. From Windstalker's tweet:
Just wanted to verify that at launch you will be able to upgrade the standard Chains of Eternity to Collectors for #EQ2 .
Age of Discovery?
Finally on a point that has painted the EQ2 team into a bit of a corner, Age of Discovery is required to use any of these Mercenaries. So is it included in Chains of Eternity? From Dexella's tweet:
Chains of Eternity includes Destiny of Velious. Age of Discovery will be sold separately.
Perhaps we'll see a discount on Age of Discovery after the release of Chains of Eternity. Considering it contains Beastlords and Mercenaries, it's a good value at $20, if not $40.
SOE Live In-Game Merc
Also if you'll recall in the SOE Livecast just prior to SOE Live, the in-game item for event attendees was announced. Since then, we have gotten more details about this Vampire merc. It's a Shadowknight named Dashenti Lasheris which can be picked up in either Qeynos or Freeport. Here's a screenshot: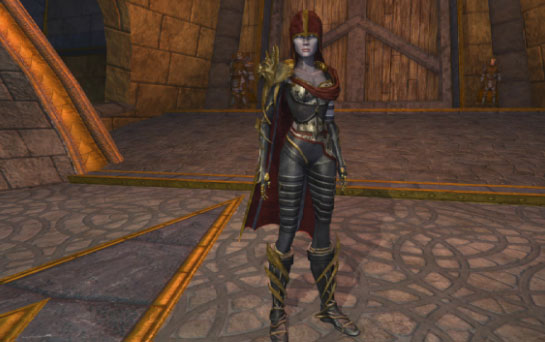 Trackback from your site.