Krono In-Game Currency Going Live Today!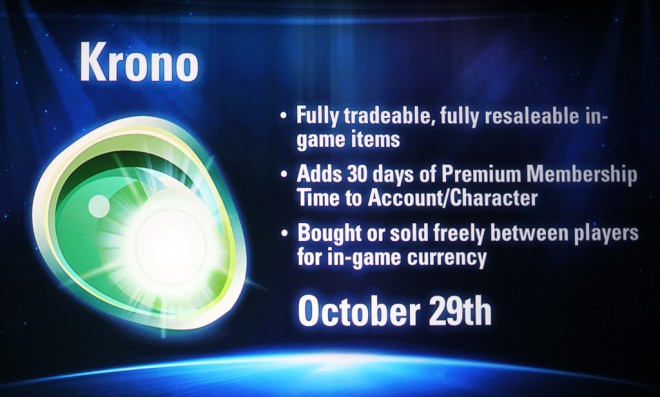 If you watched the SOE Live Keynote/Welcome Reception, or read our notes, you know that today October 29th is the day that Krono are being added to EQ2. This Plex-like currency allows players to trade platinum for a 30-day All Access Subscription (a $17.99 value).
At the Business of EverQuest Franchise panel (read our notes), Dave "SmokeJumper" Georgeson indicated that this new currency would be a safer option for players to bypass the whole nail-biting "handoff" associated with the current SC-for-Plat trading scheme. It would also help cut out gold farmers and fraud.
The addition of some kind of way to buy Subscriptions other than StationCash was almost inevitable. Georgeson confirmed that SOE were "losing their shirts" selling subscriptions for StationCash due to all the discounts and rebates which had been offered.
Buying and Selling Plat?
But what about the fact that this is now an "official" way to buy plat in-game?
No doubt some players still feel strongly on this subject of RMT. Some are against it because it means some players are able to "buy" their success and progress in the game and the addition of Krono won't assuage their concerns. However for those whose trepidation about SC-for-Plat trading is rooted in the shady aspects of hoping someone doesn't take your plat and logoff without having completed their end of the bargain, the Krono should go a long way to clean up that dark corner of the game economy.
It will be interesting to see how the game economy reacts to this new outlet for the abundance of in-game platinum.
Read the Krono are coming to EverQuest II FAQ or at EverQuest2.com
Tags: krono
Trackback from your site.