SOE Live 2012 Welcome Reception Notes
Just left the EQ2Wire get-together at the Burger Brasserie. Dethdlr, Uberfuzzy and Kodia from EQ2I, Dellmon of EQ2Talk, and 2 other players joined us, as well as Calthine of EQ2 Zam and later, Zoltaroth. 🙂
Getting ready for the SOE Live 2012 Welcome Reception.
23 minutes late and no sign of starting…
[Cyliena] i stole Feldon's keyboard, hi!!
7:26pm Brasse is on stage.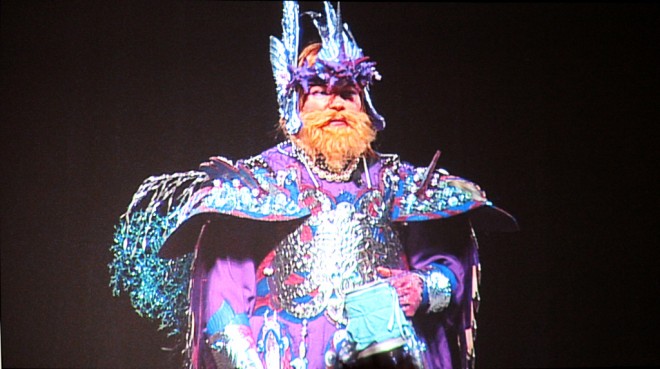 Showing our rebellious Fan Faire Forever T-shirts.
Ten Commandments of SOE Live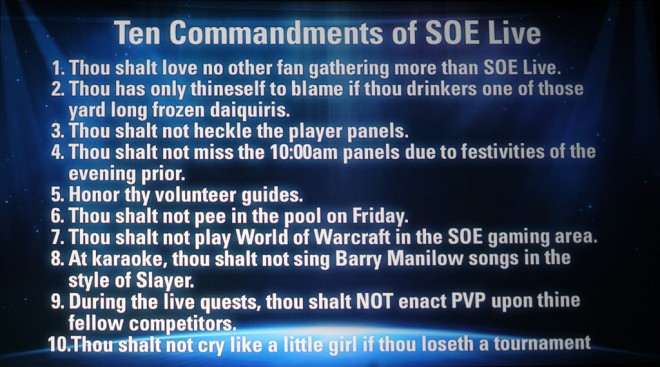 Promo video with devs and SOE team members talking about what they are looking forward to doing at Fan Faire. Now youtube-submitted player videos.
Brasse: Getting the schedule together for SOE Live took special tools (pics of a turkey baster, hammer, Crisco, and duct tape). Some of the Player Panel submissions were more detailed than Dev submissions. 😉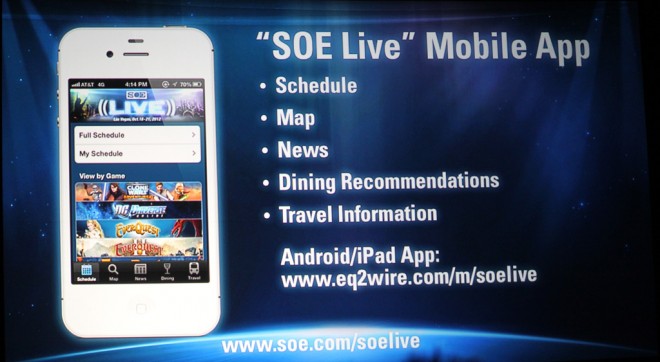 SOE Live Mobile App — iPhone app by Greg Spence, Android app by Dethdlr and Feldon (yes, our names said on stage)
Thanking Vendors and Partners.
First year we are doing Player Panels. Each one will have a Community Representative in case of issues.
Introducing SOE President John Smedley.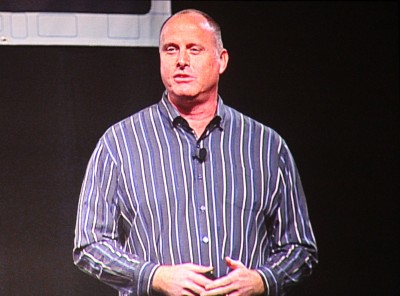 Tonight's keynote about newer things, PlanetSide 2 and its launch date.
Talking about Free to Play. Your Way.
The New Ecosystem
All Initiated by Users
* eSports
* Livecasting
* Marketing
* Global Community
* Users Make Items to Sell
* Business Models
Emergent Gameplay is the Foundation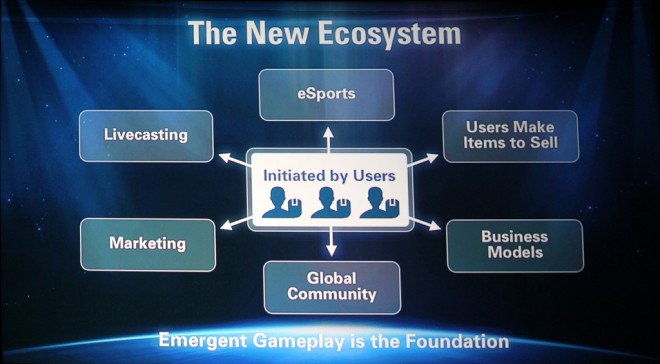 Our recent announcement that SOE players can stay with us, or go to our partner ProSieben.
12.4 million minutes of Planetside 2 were livecast on TwitchTV. Livecasting is something that is coming to all of our games. On November 1st we release a TwitchTV client in Planetside 2. This functionality will come to our other games.
Emergent Gameplay
FreeRealms — houses/structures
EQ2 and EQ – housing, in-game events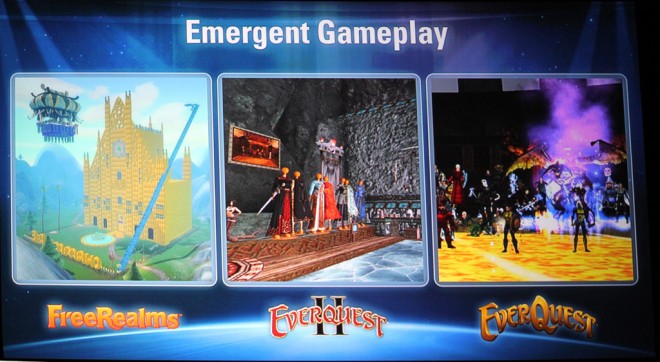 We do not believe the current method of making these games is sustainable. Look at the games in the last 3 years. SWTOR. The Secret World. Rift. Every one declines after release.
Now look at League of Legends. It continues to increase.
We need to add emergent gameplay to our content pipeline.
Focus on Emergent & Sandbox Style Play
Does this mean we stop making EQ and EQ2 content? No. You can expect those things to continue. But some games will see more emergent gameplay.
(video of Planetside 2)
PlayerStudio – Players Creating in-game items
Tomorrow the PS submission page goes live.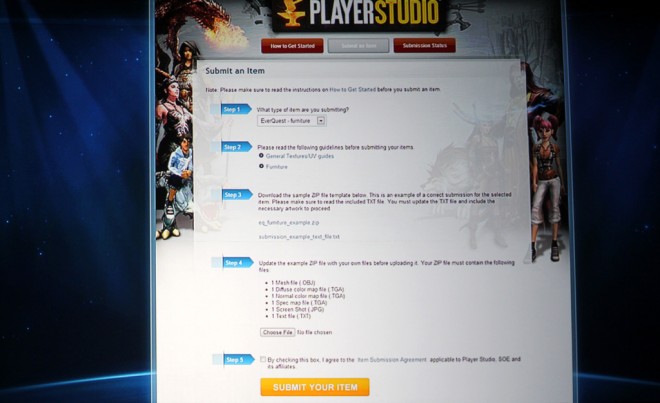 screenshots of some items that have already been submitted.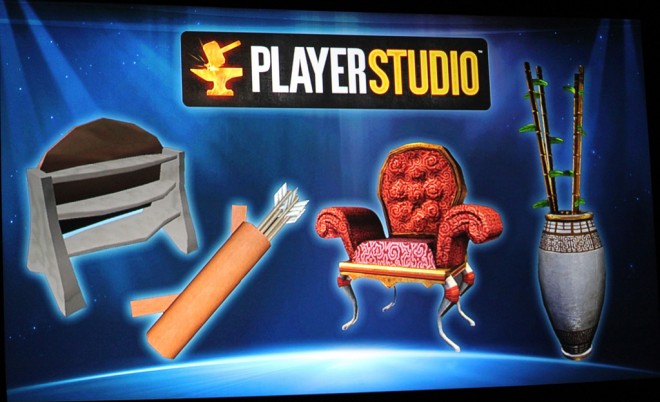 Introducing Krono. Fully tradeable, fully resaleable in-game item. Add 30 days of premium membership time to an account.character. Bought or sold freely between players for in-game currency. (Plex) First to EQ2. Later to other games. October 29th. Everyone who came to SOE Live gets 1 Krono.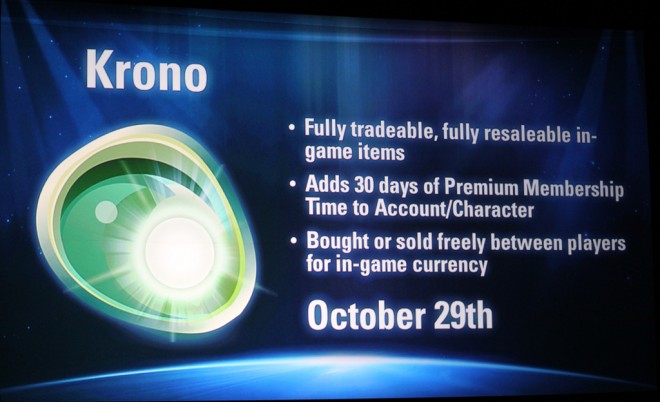 Official Wikias.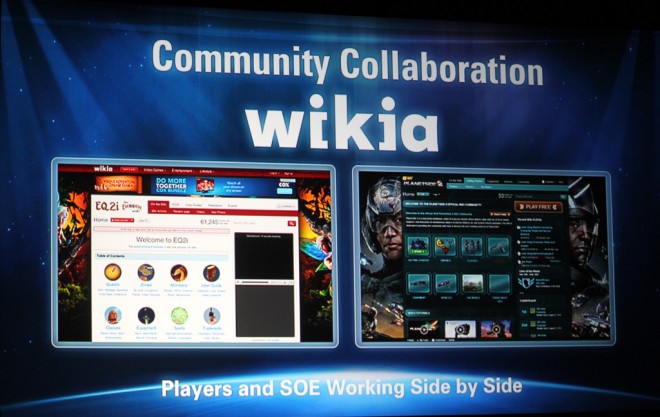 What's on the Horizon.
* Wizardry Online – beta opens Oct 29
(showing in-game footage/trailer)
It has permadeath!
But Wait There's More
* SOE partnership with Runewaker makers of Runes of Magic
* Dragon's Prophet – coming 2013
(showing trailer)
[Editor's Note: Don't think there's going to be much EQ2 news tonight folks.]
John Tang, CEO of Runewaker Entertainment coming to the stage.
A Look at What's Coming Soon…
DC Universe Online slide.
* Biggest DLC to date
* Lairs system — housing system
– Lair Battles – PvP/Duels
* New Missions
* New Open World Solo Content
EverQuest: Rain of Fear slide
November 28, 2012
EverQuest II: Chains of Eternity
November 13, 2012
EverQuest Next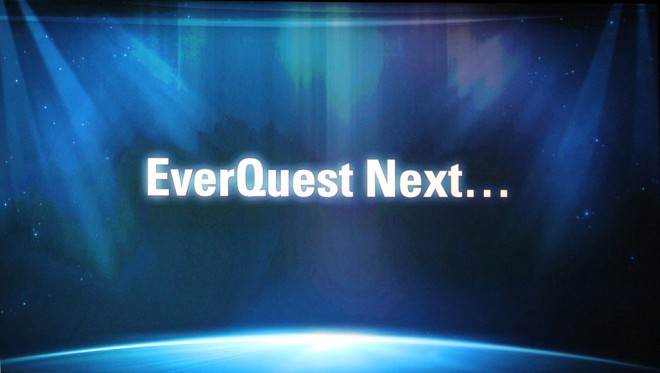 Remember those screenshots?
(slide: Kelethin in EQNext shown 2 years ago)
(slide: 'bald man' shown last year)
Gone.
What are we showing tonight?
(crickets)
"I have to be honest with you. We have completely blown up the design of EverQuest Next. For the last year and a half we have been working on something we are not ready to show. Why did we blow up the design? The design was evolutionary. It was EverQuest III. It was something that was slightly better that what had come before it. IT was slightly better. What we are building is something that we will be very proud to call EverQuest. It will be the largest sandbox style MMO ever designed. The same exciting content delivered in a new way. Something you've never seen before. The MMO world has never seen before. We didn't want more Kill 10 Rats quests. We didn't want more of the same. If you look at the MMOs out there, they're delivering the same content over and over again. So are we. We need to change that. When we released EverQuest, we changed the world. We want to do that again with a different type of game.
What I will commit to is, at the next Fan Faire, not only will you get to see it but you will get to touch it. Most of the EQNext devs are in this room. If you get them drunk enough they might tell you. They're led by Dave Georgeson. Terry Michaels. Vets from EQ and EQ2. We are remaking Norrath unlike anything you've ever seen, but you'll recognize it. I'm sorry we don't have anything to show for it, but I wanted to be honest with you and tell you a little bit about it. Keep the faith."
[Rumor: Could the EQ2 expac release date be soft?]
Planetside 2 slides and info. Planetside lead designers to the stage. Videos, talking.
still going… nothing outlasts the Energizer…
Smedley coming back to the stage.
To the audience: Do you care when we release this game?
Planetside 2 launch:
November 20, 2012. [Ed note: Gonna be a busy month.]
END of KEYNOTE
This was livecast by EQ2Wire from SOE Live 2012 in Las Vegas, NV.
Trackback from your site.