Worried About the AA Reset? EQ2U Has You Covered
With the EverQuest II: Chains of Eternity expansion comes new Prestige abilities, and that means an AA reset. In years past, news of an AA reset has seen players scrambling to capture screenshots of their AA tabs or scribbling down notes about where you've spent points (and how many) on each tree.
This year, we have a better suggestion: Sit back, relax, and let EQ2U do the work for you!
On October 28-29th, Dethdlr wrote and ran a script to Backup the AAs of every followed character on EQ2U, plus every single level 90, 91, and 92 EQ2 character ever looked up on EQ2U. Since 96% of level 92 characters have been looked up on our site, you're probably covered!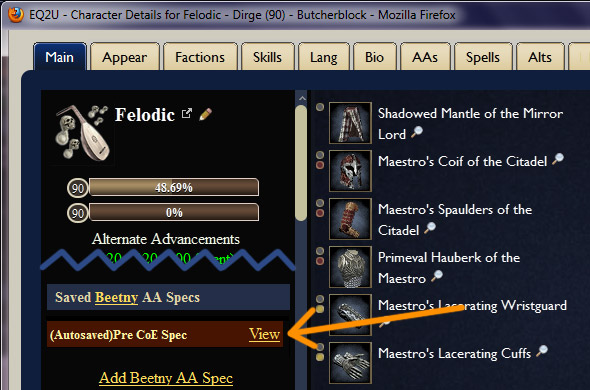 UPDATE
: We did one better and have backed up EVERY character who has ever been looked up on EQ2U. That's over
400,000 characters
. Just look up your character on EQ2U, click the
AAs
tab, and then click "
Look For My AA Backup @ EQ2U
".
Read More

Where's the Backup?
We've backed up over 150,000 character AAs, but it is certainly possible that we missed a few, so please check out your characters on EQ2U (you don't even have to login) and click on the "(Autosaved)Pre-COE Spec" link near the bottom of the left sidebar. The first link takes you to our AA Backup page. If that doesn't work, take the second link and you'll be directed to Beetny's AA Calculator with your AAs already filled in.
What If I Was Missed?
If it looks like we missed backing up your AAs, or you were wearing crafting or appearance gear when we grabbed your backup, don't fret. You can click on "Add Beetny AA Spec", type in a name and description on the next page, and make a backup of your AAs anytime you want. If you have never used this feature, it's great if you want to juggle a Crafting spec, or Raiding vs. Solo spec.
Privacy
EQ2U uses Character, Item, and Guild data which is published by Sony Online Entertainment. If you want to Opt-Out (hide) your characters, please check out our EQ2U Help page.
Trackback from your site.