Updated SOE Live iPhone/iPad App Available
In time for SOE Live 2012, Greg "Rothgar" Spence has updated his Fan Faire iPhone/iPad app with a new name and updated schedule. New this year are support for the iPhone 5 longer display, retina displays, and iPad.  From the Apple Store's product page:
SOELive is your official guide to Sony Online Entertainment's SOE Live convention. Access the full list of panels and events and even build your own custom schedule. View maps of the convention floor, keep up-to-date with a live news feed, view a list of nearby dining options and access important travel i0nformation.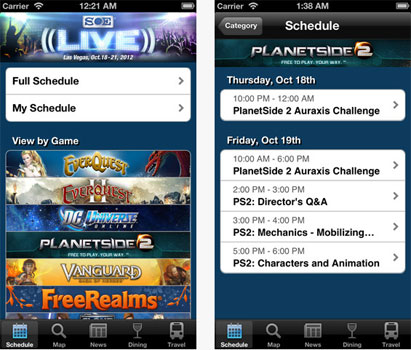 What About Android and Windows Mobile 7?
If you are familiar with Android or Windows Mobile 7 software development, the SOELive app pulls its data from this special URL in JSON format. Each event is hand-copied by Greg from the official SOE Live Schedule website and then tagged with categories like EverQuest 2, Business and Game Support, etc.
If you develop an Android or Windows Mobile 7 app for SOE Live, I will be happy to feature it on EQ2Wire and I can also bring it to SOE's attention so they'll mention it on their SOELive twitter feeds.
It's important to remember that this app was developed by Greg in his limited spare time and is not an official app developed by SOE.
SOE Live takes place October 18 – 21, 2012
Trackback from your site.