SOE Live 2012 Day Pass Qualifies for EQ1, EQ2 Expacs, In-Game Items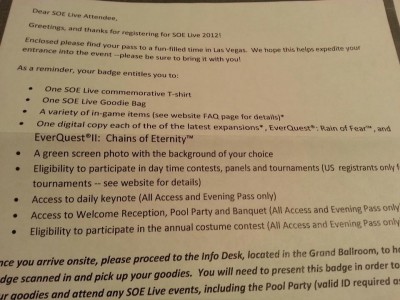 Here's one of those things that would have been great to know before SOE Live 2012 Registration closed. 😉
It turns out that attendees of the upcoming SOE Live 2012 who purchased a Day Pass ($40) to attend either Friday or Saturday events in Las Vegas will get not only the EverQuest: Rain of Fear and EverQuest II: Chains of Eternity expansions, but also the in-game items. This is unusual compared to past years where only the $140 All Access Pass option granted said items.
Since the trend today seems to be complaining about free stuff, let's complain about players ponying up $40 and getting two expansions, in-game items, the SOE Live T-shirt and Goodie Bags. And no this was not an oversight. When Brasse was asked, she replied with:
One day passes get free expansions. On purpose. =)
Trackback from your site.