Commentary: 10 Ways to Save Dungeon Finder

"All level 90 characters are created equal, but some are more equal than others."
Nobody likes to be picked last for a team, yet the days where any player with level-appropriate gear could contribute in a meaningful way to the majority of dungeons introduced in an EverQuest II expansion are long gone. The straightforward turn-and-burn fights up to and including Kunark zones have given way to heavily scripted 6-person mini-raids. All but the easiest Velious dungeons have substantial checks on Gear, Alternate Advancements, and Skill.
I've talked to several players over the last week about Dungeon Finder and the recurring theme has been — Players who have normally been skittish about asking to join a group are queueing themselves up for Dungeon Finder, regardless of Gear, AAs, or Skill. They seem to figure 'What have I got to lose?'
Quetzl: "Did you run any Dungeon Finder groups this weekend?"
Confundus: "Yeah."
Quetzl: "Cool. What have you gotten so far?"
Confundus: "Lockouts."

While that player may not have anything to lose, the rest of the group most certainly does. While we haven't had Group XP debt in a long time, one thing we do still have is Zone Lockouts. If even one named is killed during an unsuccessful attempt at a Velious dungeon, it still results in a persistent instance or "lockout" which cannot be cleared for 18 hours.
The sad reality is, this has become the strongest discouragement from using Dungeon Finder at level 90, as an unsuccessful group doesn't just eat up time, ammo, food/drink, and a mender bill; it often means you cannot remount a group to complete the zone for 18 hours.
We've got some ideas on how to fix Dungeon Finder…
10. Allow players to list Alts.
It is rare that I am logged into the character I actually want to run dungeons with.
I am usually questing, crafting, or otherwise working to improve my alts. But when the opportunity to group opens up, I want to bring my strongest character to ensure the best chance of success in that dungeon. Since almost all gear is tagged HEIRLOOM, I am assured that I can bring any character I want to a dungeon and my alt characters will still benefit.
If the Dungeon Finder matches up a group with one of our alts, we will receive a prompt telling us:
"Dungeon Finder would like to invite your alt character 'Felkrim' to a group in the dungeon 'Fortress Spire'. Would you like to join this group?"
[ Accept (Switch to Felkrim) ] [ Decline ]
Your character would be insta-camped, and then the Dungeon Finder would add your alt's name to that group and you would be auto-invited you when that character logs in. The technology to handle this already exists using the same code that auto-rejoins you to groups if you go Linkdead.
Solution: Extend the Dungeon Finder to allow us to list Alt characters.
9. Narrow the level range for dynamic dungeons.
Last week, a level 81 healer reported being grouped with five level 90 characters in one of the new Dynamic Dungeons. As a result, the enemy mobs were level 89 and bosses were level 91. Suffice it to say, keeping everyone healed was impossible.
Solution: Dungeon Finder should add players to the Dynamic Dungeon groups based on the average level of the members so far. If it starts with a level 90 character, no characters under level 86 should be added. if it starts with a level 81 character, no characters under 78 or over level 84 should be added.
8. Restore Critical Mitigation checks.
It is a commonly-held myth within the EverQuest II community that removing Critical Mitigation from Velious dungeons would make them more accessible to lesser-geared players. In reality, Velious dungeons ramp up from medium to extreme difficulty, regardless of the presence or absence of Crit Mit.
Since Critical Mitigation was removed as a needed stat from Velious dungeons, I haven't seen any evidence that groups are more successful in the harder Dungeons (Kael and Drunder). In fact, I've heard the opposite. it seems that more groups are attempting in these zones but then failing due to the same Gear, AA, or Skill limitations present before the change.
It's true that the Critical Mitigation requirements were excessively high at launch, with a developer famously saying that the only Yellow adornment any player should consider was an increase to Critical Mitigation. Lowering this number by 20 points across the board would give players the freedom to choose Yellow Adornments other than Critical Mitigation, yet still ensure that they are wearing gear that has a chance of keeping them alive.
Removing Critical Mitigation entirely created a false sense of security, as well as a belief that anyone, in any gear, could attempt most Velious dungeons. This couldn't be further from the truth.
Solution: Restore Critical Mitigation checks to all Velious dungeons, but reduced by 30% from their original numbers.
7. Add Critical Chance checks.
The elephant in the room when it comes to Velious dungeon difficulty is Critical Chance. Originally a rarely encountered stat, Critical Chance reached 100% for most players by the end of The Shadow Odyssey and became a forgotten stat. Destiny of Velious introduced the controversial Critical Avoidance mechanic, a sort of Critical Mitigation for enemies.
As players reach harder Velious zones, they find that their Critical Chance is being debuffed or "subtracted" by certain mobs or even the entire zone. Kael Drakkel zones, for instance, reduce your Critical Chance by 70-100%, while the hardest Drunder instances sap a whopping 170% from this crucial stat.
Being unable to reach 100% effective Critical Chance is a bummer for DPS and Fighter classes, slowing your DPS, but it is literally a matter of life-and-death for Healers.
Solution: Add a Critical Chance check to the Dungeon Finder for Velious zones to ensure that each player has at least 50% Critical Chance after debuffs.
6. Support Mentoring
One of the most compelling uses of Dungeon Finder for me was going to be revisiting older dungeons on alternate characters for AA. When the feature list of Dungeon Finder was announced, the EQ2 community issued a collective sigh when we all read that Dungeon Finder would not support Mentoring.
We get it.
Mentored characters are extremely powerful. Stats like Multiattack, Potency, and Critical Bonus didn't even EXIST until Echoes of Faydwer, Rise of Kunark, and the Shadow Odyssey respectively, and yet they barely scale down for mentored characters. It's no secret that level 90 characters mentored down in level 20-70 dungeons are absolute killing machines.
We would hate to see Mentoring undergo the kind of nerfs it would take to make a level 90 character mentored down to level 20 have roughly the same power as a level 20 character. It would remove a lot of enjoyment from players revisiting old dungeons. However, for Dungeon Finder, I propose a compromise.
Solution: Specifically within Dungeon Finder, when a higher level character joins a Dungeon Finder group, auto-mentor them down to the average level of the group, and then put a debuff on them that reduces Critical Chance, Critical Bonus, Potency, and Multiattack by 15% for each 10 levels tbey are mentored below their own level.
5. Be smarter about classes.
Just in the last week, we have heard (and witnessed) some of the most bizarre, randomly selected groupings imagineable. We've seen groups with 3 Wizards, or 2 Rangers, or two Clerics, or two Druids, or two Shamans. In the case of DPS and Utility classes, buffs aren't exactly complementary and may overlap. The problem for healers is even bigger, as their buffs and wards within their own class tend to conflict, even with players of two different subclasses (ie. Warden, Fury).
Solution: Don't put 2 of the same class, or 2 healers of the same class/subclass in a Dungeon Finder group.
4. Be more selective about classes.
Although established guild groups, as well as exceptionally well-geared pickup groups can manage just fine in the more challenging Velious dungeons, Dungeon Finder should be a bit pickier about which classes are needed.
These restrictions could be relaxed over time, as people get more gear or zones are nerfed, but for the time being, Dungeon Finder shouldn't just grab a Tank, Healer, and any 4 classes as it does now.
Naturally this suggestion (as with all our suggestions) would not affect anyone forming a group outside of the Dungeon Finder.
Solution: Be more stringent on the Dungeon Finder group formula than Tank, Healer, and any 4 classes. The 'average' Iceshard Keep group ought to have an Enchanter. The 'average' Throne of Storms party really needs an Enchanter or Bard. The 'average' Temple of Rallos Zek group should have 2 healers not of the same Class. All Drunder zones formed by DF should have a Bard or Enchanter and probably a second healer.
3. Spell/Gear Reality Check
The solo quest lines in Rise of Kunark, Sentinel's Fate, and Velious collectively award over 200 platinum to each player that completes them. With the abundance of plat in EQ2, there is no excuse for level 90 characters to be attempting to run Velious dungeons with Apprentice spells, Treasured, or Low-level gear.
Of course there are a few pointless spells that go ignored by each class, and sometimes due to Reitemization, a Treasured item or lower-level item may be useful. But there has to be a threshold somewhere. I joined a Dungeon Finder group for Iceshard Keep that had a level 90 Inquisitor with level 79 Kunark quest gear that had powerleveled to 90.
Solution: A character with more than 4 Apprentice spells, 4 pieces of Treasured gear, or 4 pieces of gear below level 80 should get a message "Your gear/spells are insufficient to run a Velious dungeon. Are you sure you want to Queue anyway?"
2. Survivability Score
Three expansions ago, any character in Treasured or Mastercrafted armor and a modicum of AAs could join a group and contribute. It might have taken a bit longer to kill things, and it might have taken a few tries on certain bosses, but being a little short on gear didn't sabotage your group's chances.
After seeing the mostly negative ramifications of the introduction of "Gear Score" to WoW, I would not like to see a similar stat added to EverQuest II. A "Gear Points" value for each equipped item appeared and then was removed during both the Sentinel's Fate and Destiny of Velious betas.
But we aren't against the idea of a "Survivability Score" which tallies your character's Health, Power, Mitigation, Avoidance, Critical Mitigation, and other stats and using some logic, prompt players who may fall short if they really want to queue up for a Dungeon Finder group.
Many players don't realize that since the introduction of Velious, they should re-spec their Character page to their main stat (AGI for Scouts, WIS for Priests, STR for Fighters, and INT for Mages), choose Physical Mitigation for resists, and increase Max Health wherever possible.
Solution: Introduce an unpublished Survivability Score for each archetype. If a player falls below it, prompt them before queueing them for a Dungeon Finder group.
1. Remake Dungeon Finder as a Group Builder.
Expecting Dungeon Finder to put together groups as well as a human is foolhardy.
The antiquated LFG tool wasn't successful because it required initiative on the part of a player, and it lacked the ability to include Alts. It was also no help in finding players with suitable gear to run specific zones. It was intimidating for group leaders as they were expected to handle all communication about getting to a zone, getting the quests, and often knowing the strategy for the zone.
Solution: Rebuild the Dungeon Finder as a Group Builder. Upgrade the underused /LFG tool from mere 'shower singer' to the level of 'rock star'.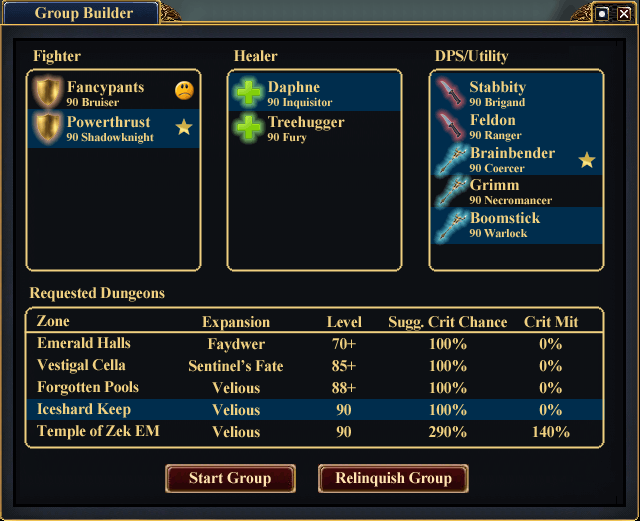 Artist's Mockup
Conclusion
If you have read this article and are left with a feeling of horror, well, I'm afraid you're viewing the rolling snowball post-avalanche. The as-implemented Dungeon Finder is a function of EQ2 management's blind spot to seeing just how difficult Velious dungeons truly are. That Dungeon Finder needs to be "picky" is just a function of EQ2's current progression difficulty, which has been encouraged by players.
The days of any 6 players forming up a group and having a great time in a Dungeon are long gone. If this is your speed, then I suggest grouping up in dungeons one expansion removed. This is what many casual players who are tired of the Velious "rat race" have embraced. With the Reitemization of Sentinel's Fate gear, some of the items dropping in those dungeons are worth a second look.
I'd like to thank Dellmon of EQ2Talk for his insight during the development of this article. While he may not agree with all (or any) of my suggestions, his feedback and perspective were invaluable. Do you like multi-page articles like this? Leave us some feedback either in a Comment, or shoot us an e-mail.

Tags: dungeon finder
Trackback from your site.