EQ2 Insider Episode #3 Notes!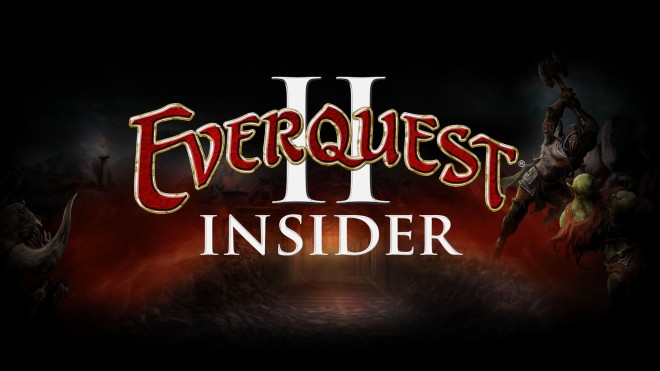 Today, Margaret "Luperza" Krohn, Akil "Lyndro" Hooper, Kyle "Kander" Vallee, and Nathan "Kaitheel" McCall took to Twitch for the third episode of the EQ2Insider video show.
Notes from Today's Show
Double Guild XP Weekend! July 18 @ Noon until July 20th at Midnight
66 Slot Bag was shown — will be given to everyone at SOE Live
A code was given out for free 500SC. Looks like I'm the only one who got to redeem it.
Tinkerfest being demoed.
Showing off the Tinkerfest house.
Q: Are Aerakyn Lore & Legend parts only dropping in overland zones?

A: This was not the intention. (later) A

nother player said they got it in dungeons.

Item Limit on the Tinkered house should be the same as other prestige houses, which is 900. The Tinkered house will cost 1350SC.
Showing off a #DevPick decorated house.

Diggin' it delight by Frogloklord of Guk which is set in the Halfling Vale house

The Ratongian Escape by Darkzephyr of Antonia Bayle
Gnomish Clockwork Workshop by Druff of Freeport

The "Summon Corpses" ability which Xelgad previewed on Twitter is not being reserved for this November's Altar of Malice expansion, but will be released in the near future once it passes QA.

Age's End

We've been telling the Age's End story basically since the beginning of the game. We're ending it this summer.
We'll be dealing with Veeshan, Kerafyrm, and some other characters that the team can't talk about just yet.
Standard and hard mode x2 raid.
(chat question) Kander talks about why it was an x2 raid rather than x4. More details here.

X2 content is something we wish we had more time to do. We want to do more in the future. 

There will be 3 lore quests related to this event which you'll need to do, as well as a repeatable mission. The quests will wrap up the storylines and gathering up all the loose threads from the years and years of storylines in EQ2. Tying together all the Lore that the team could think of (and research on the forums)!
(chat question)The "normal mode" x2 raid should be possible in a pick-up group.
(chat question) As far as procs in PvP? We are starting to talk about bringing back some procs specifically for PvP. We're still talking about it.

Loyalty Items

House items

The Vigilant flying ship from Sentinel's Fate
Many of the food items from the Vigilant will also be available as Loyalty items

We have a long list of items we want to add to Loyalty items over the next year. We're not going to "let it lie".

Challenge Duo Zones

Last year, we did a series of "Challenge Duo" zones which are designed for 2 very skilled players in very decent gear. They were really popular for those players. Now that those players have moved past them, there are a lot of players going back and doing them and enjoying them. They're less about gear and more about coordination.
The team spent many hours testing them with less-than-idea class combinations. Players have posted many videos from these zones.
This year, we're adding a Nexus Core Challenge Duo zone.
Kuulei: Mercs are disabled in Challenge Duo zones.

Q: What quality will the Age's End x2 raid gear be?
A: A little better than it should be, but we want it to be cool and useful for a while.
Question & Answers
Q: Can we look at the lag spikes in KP in the Warfields?
A: We've been looking at this and we've been working on some general backend changes which should make a big performance boost. These changes will be on Beta next week. We're doing some rewrites as far as Languages and as far as game performance on high end computers. Also looking at lower end computers.
Kander: We broke Wards on Beta, but we'll fix that.
Lyndro: Wait, so Mystics aren't supposed to be unkillable?
Kander: They're the new tanks. (kidding)
Q: Can we have triangle building blocks?
A: Yes.
Q: Public Quests?
A: We want to do Public Quests. We want to do a new version. It's on our Bucket of Awesome that we talk about almost every day. We have a plan and we're hoping to do some higher quality, less laggy, more intuitive, better reward structure PQs. We want to pull out the existing system and put in a new system. We don't want to rush it out. It's a monumental task. Proper code support and design support. When we did PQs for Velious, we didn't really have the support to do it the way we wanted.
Q: Why do Ethereals not have PvP adornment slots?
A: We didn't want PvE characters running around with an empty slot. We put enough toughness and other PvP stats on them so they would still work.
Q: Easier way to get Purple War Runes?
A: We're going to do something for the x2 zone to get purple runes easier. In the expansion, we'll have some cool ways to acquire purple war runes. There's a lot of cool stuff coming with the expansion, as well as some cool stuff coming before the expansion.
We may add another way to get Cyan adornments possibly on an Etyma Merchant. We may add some of the rare drops for Etyma.
We're going to be uncapping the 9,992 limit on earning Etyma.
We're talking about having the expansion currency Accountwide instead of per character. We'd like to do all currencies accountwide but it's not that easy.
Luperza briefly talked about the DNS Issues.
Oh and #KanderWig
Trackback from your site.