Transcript: EQ2Insider Developer Q&A – July 9, 2014 ~ 2:00pm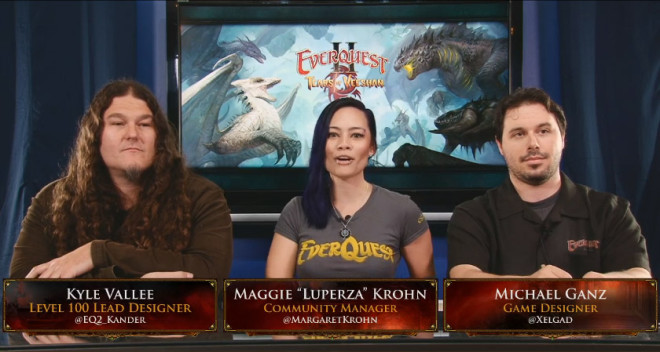 EQ2Wire is providing a running transcript of today's EQ2Insider Developer Q&A with questions posed by players on the EQ2 Forums, Facebook, Twitter, and even Google Plus. Present on the panel are EQ2 Community Manager Margaret "Luperza" Krohn, EQ2 Producer Holly "Windstalker" Longdale, EQ2 Game Designer Mike "Xelgad" Ganz, and EQ2 Lead Designer Kyle "Kander" Vallee.
Today's livecast started with a hilarious 2D animation of the Age's End story thus far.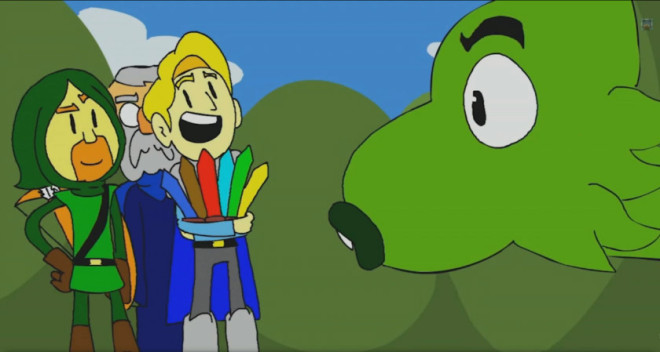 Announcing the winners of the EQ2 summer contest.
After the jump, the Dev Q&A…
Developer Question & Answer 
DISCLAIMER! Q&A is one of the hardest things to transcribe so please consider huge leeway in my transcriptions below. Any errors in transcription are my own.
Q: Would it be possible to use Blessing of Xegony as an appearance mount item so that we can use our wings when we are on a flying mount?
A: No current plans.
Q: Would you ever consider adding "Yelnar's Research Prism" to a vendor?
A: No plans at this time to change this or put them on StationCash.
Q: Any chance we can get a Nek, Charm, or Lightning Appearance Slot?
A: Unlikely. This would take a lot of work. We'd have to "split" so many things.
Q: Would it be possible to have Armatal's Ringmail Purse only show the pink circle to the group it's active on as it only affects your group and not the raid?
A: This would take major resources away and take a lot of development effort. This is probably not going to happen.
Q: Will WIS ever be reworked so it is used by your healing abilities?
A: This would require so many changes. It would be unreal and take a ton of time to do, a major game change. Currently, damage dealing is part of the gameplay for healers, so the primary attribute is still important.
Q: Could we get a channel for Guides and Events?
A: This is something we could do. It's possible.
Q: Will there be a new currency intyroduced in order to consolidate some of the plat that some players have? For instance: Ethereal items are selling for 15-20K plat on AB. It'd be great if they could be listed above 9,999p.
A: We are looking at the possibilities of eliminating copper, or adding mithril, or raising the limit for broker listings over 9,999p. Something we might actually do next year. Our code list for the expansion is a pretty vast pile, so it likely won't happen before the expansion.
Q: Can we have more ways to organize our banks, perhaps added tabs?
A: We've been talking about adding some more tabs. Nothing set in stone. We've been discussing ways to add more room and stuff for organization. It's on the list.
Q: Will we ever see more guide events and rewards added?
A: Sure. If the Guide team want more items, they should contact us through senior guides.
Q: Will we ever have in-game voting for features and specific development resources like PlanetSide 2 has adopted?
Margaret: Actually Planetside 2 is moving away from the surveys and going back to forums and development roadmaps.
Q: Will we see more Census data being added in the future for things like Quests, NPCs, Zones, Collections, AA Named lists, Leaderboards, and Loot Drops?
A: We're all hands on deck for the expansion but we know how interested Feldon (and others) are!
Q: In the future, when running a quest for the latest quested accessories, could we see the quest award not 1 ring, wrist, or earring, but pairs of them?
A: We only have a limited number of slots we can produce quests for, so we probably won't do matching sets.
Q: Can we have daily +2000 faction quests for Bathezid's Watch, Riliss, and Danak?
A: It's time consuming and not on the immediate priority but we're looking at the possibility of faction potions. For the future, we've pretty much stopped using factions. They're not super popular and they are pretty grindy. We're making a concerted effort to not make things grindy. We're thinking about some faction things for expansion 12 (yes, 2015).
Q: Would you ever consider changing rarity loot cards so that they are no longer attuneable or no-trade?
A: In the future? Maybe. No current plants.
Q: Will we see any changes coming for Conjuror pets in the future?
Xelgad: Conjuror pets are a sore subject around the office. Mage pets are probably fine. I want to rewrite the AI for summoner pets. It's one of the highest items on my "I want to do this" list. But hopefully in the next year it will be something I can get to.
Q: Will you ever consider removing the level 95 restriction on the 350AAs?
A: No. It's a balance issue. We want to give you a benefit to being level 95. There's a reason why we did the 280AA limit as well. We want to be able to balance content based on player power.
Q: Would you ever consider changing Conjuror/Summoner pets so that they share stats with gear and AA lines?
Q: Are you looking into ways to make it easier to tell what stats our pets are sharing and what stats they are not sharing with our characters?
A: They currently share many stats. We don't currently plan to change which stats are shared, but we want to do some user interface changes so you can more easily tell what's shared. We recently changed which stats are shared and are currently happy with the balance here. We would like for you to be able to see your pet stats easier.
Q: Will you ever make Petamorph Wands that persist through death?
A: This is actually a much more time-consuming process than people realize. We'd have to change the base functionality from the ground up and redesign every petamorph wand to support this. Just making summoner pets persist was a huge undertaking due to our systems.
Q: Will tinkered items ever be stackable?
A: Yes probably in early 2015.
Q: Can you consider making Etyma convertible into the new currency?
A: No because people would stockpile for the expac.
Q: Have you ever considered reducing the recast on Bloodletter? What was the reasoning for making the recast time the way it is?
A: Not to say nothing will ever change, but we don't think the current recast is excessive. (Kander: I have a really cool idea for Bloodletter maybe for a future prestige ability).
Q: Will you ever make Character Slots, Mercs, and the Research Assistants giftable items?
A: Yeah we'll look into it.
Q: Would you consider allowing Mark of Awakened as an appearance items?
Kyle: Maybe we could come up with a bauble or some way if you have completed the quest.
Holly: (my poor phrasing here) We have to be careful about getting distracted with things like this and making sure we've got our priorities in the right place.
Q: Will Erollisi Marr ever be a worshipable deity?
Kander: We have a proposed deity revamp idea. It's a plausible thing. We're thinking about doing it next year maybe summertime or maybe the next expansion. Part of the plan is to make Erollisi worshipable. If we do such a revamp, we'll add her. She's on the absolute top of our list.
Q: High end raid zones are experiencing some lag, specifically Mutagenic Outcast and Dreadcutter. Is there any way we can help?
A: We have some changes coming up in the near future which may help with performance. Mutagenic Outcast has an issue with the number of adds, which are reducing soon. We'll try to never do something like Dreadcutter again because of the lag issues.  There are so many things that contribute to latency. We're working on it. The code side has been making changes on the back end which are improving performance.
Q: How do you feel the changes implemented for Tanking/Healing in this expansion have worked or not worked? Are you looking into more changes in the future regarding these?
A: We feel that we did pretty well. Obviously nothing is perfect. (this needs to be fleshed out with a re-listen!)
Q: Would it be plausible to have an appearance tab to have an area for us to store all our appearance gear?
A: We actually have a document for a Wardrobe idea. It's something we'd like to do. We've talked about it with code. It's just finding a place to fit it. This expansion we're doing a lot with itemization and balance so there's not a lot of time for some of these other things.
Q: Will skeleton and other illusions ever stay on while we're on a mount or in a mounted zone?
A: We thought we fixed this! We were working on a fix for this so that more illusions would be maintained while mounted.
(Ttobey in chat): I got it done on my end!
Q: Would you ever consider removing NO-VALUE/NO-TRADE tags from looted equipment, moving away from Heirloom only Lore-Equip items?
A: Generally NO-VALUE has a good reason for it.
Q: Could we get a separate tab for all illusion items?
A: We probably won't add a separate tab. We just added 66 slot bags.
Kander: What you're saying is, you want more hot bars…
Q: Are sailable ships and ocean expansion something we'll see in the future?
A: No.
Q: Will we see more in-game polling? People don't come to the forums.
A: We discuss in-game polls all the time. We'll see if we can do more of them.
Q: Any plans to make PvP-centric mastercrafted gear?
A: There will mastercrafted gear that works in PvP, but not PvP-specific mastercrafted.
Q: What can we expect to see in the future regarding PvP?
A: We have a new battleground coming in Roehn Theer's platform. 6v6 deathmatch. The platforms don't drop, but there's a reason to be standing in different places. The battleground will change dynamically. It uses the same floor layout as the Challenge Duo zone.
Q: Are there any plans to further enhance the PvP Warzone? (much longer question)
A: Currently nothing on the schedule or specific plans right this second. We could do some new ones in the future. They're not incredibly hard to implement. The first one was, but now we can add more.
Q: Will jewelry and weapons ever have a cannibalizer option?
A: If you mean sacrificing health and power? Perhaps. If you mean a transmuting system? Perhaps!
Q: Will we ever see any changes to how fame works, making it harder to stay at Overlord/Warlord?
A: We recently changed this, so we don't have any plans at this point.
Q: Will we see new spells and combat arts when we level up to 100?
A: You will see the upgrades but we won't have new abilities. Those will be in the Prestige trees. 25 more points in a new tab. We'd rather give you options than give to all.
Q: Can we get Dungeon Maker spawners?
A: Probably not.
Q: Will you keep the gem system for armor?
A: We like the gem upgrade system so we intend to keep using them in the expac.
Q: Can we see more in the ways of MC Fabled armor? Though I am a raider I play all aspects of the game.
A: It will be beneficial to use all gameplay styles in the expansion. (more to this)
Q: Can tanks expect to keep seeing the proc on avoid procs on gear in the next expansion?
A: These effects give us fun ways to add tank-specific effects. We like these alot.
Q: Will we ever get triangular, spherical, etc. building blocks?
A: Sure.
Q: Will you ever consider upgrading adorning recipes to go from lower to higher?
A: (rough) We're talking about something for the future.
(re-asked the appearance gear Wardrobe question)
missed question
missed question
Q: Would it be possible to add a search option to Moving Crates?
A: It's a good idea and something we should add to our "bucket of awesome" but no current plans.
Q: With the level increase in the expansion, will tradeskill level be increased to 100 t0o?
A: Of course.
Q: Will you ever add a portal to transport from one guild hall to another to support guild alliances?
A: No.
(missed)
A: There will be items that are craftable that are comparable to raid gear in the next expansion.
Q: Will experimentation grow beyond crafted items?
A: (missed)
Q: Dungeon Maker questions
A: After the expansion is, we want to spend a little time looking more at Dungeon Maker to see if we could add things to it. We'll be talking to decorators and dungeon makers in the community to see what we can do here. We know it's pretty broken. We didn't completely abandon it but at this point we're not quite sure what to do with it.
Q: Could we get an AA system for Guild Halls to add really cool features?
A: We'll probably add new amenities with the guild level 100, but not AAs.
Q: Will there be more ways to get purple adornments (war runes)?
A: There will be more ways, but they probably won't be on a vendor. There are a lot of complaints about how tedious they are. I know a lot of people really liked the Destiny of Velious system of unlocking war runes on a vendor. That's not really possible to repeat for the expansion, but we have some ideas for purple adornments which we'll be revealing at SOE Live.
Q: Will there be any free housing items and free house items in the future?
Kander: We'll always add stuff to the existing systems like house items through content.
Margaret: I think he meant without StationCash.
A: We always add in-game rewards for houses that don't cost SC.
Q: Cross-server Grouping?
A: This is a major "we all want it" feature but it's a huge undertaking.
(missed question)
Q: Would you ever consider selling recipes on the Marketplace?
A: We might consider it. It's content. We'd rather give it to you playing the game. We had a chance to sell the recipes to make House Actors and we opted against it.
Q: New crafting stations?
A: Not at this time. Sometimes when we add new areas, the art team will make stuff that fits the area, but most of the crafting stations are pretty benign and fit anywhere. You know what it is on first glance.
Q: Can crafted gear be a step above crafted gear?
A: There will be crafted gear that's really good.
Q: Can we raise the limit for teleportation pads from 4 to 8?
A: We don't necessarily want to add a ton of new guild hall amenities, but improve the existing ones.
Q: Increase house and guild item counts?
A: Houses and Guilds with a large item count are a huge performance issue for our players. We have no plans to increase raw item counts. We recently allowed you to have more building blocks that don't count against your house limit. Houses are a performance nightmare. We always want to give you more room to add more stuff, but it's easy for a decorator to place a lot of items and crash their own or other's computers.
Q: Can you add Petamorph wands to Conjuror and Necromancer trainer vendors?
A: Not with Petamorph, but we're looking at a system where you could either store appearances or right-click on your pet and change the appearance to another stored appearance.
Double Etyma Extended through July and Double XP Weekend!
Windstalker: Double Etyma is extended through the end of July.
Windstalker: This weekend starting at noon on 7/11 through Sunday night, we're going to have Double XP.
Margaret: All Access means you get Double Double Etyma through the end of July.
Windstalker: We might do Double Guild XP the weekend after next.
Trackback from your site.