Character Blocked from EQ2U Due to Trademark Claim
UPDATE
I have removed the block of characters named "Malshandir" from EQ2U.
I believe that a series of e-mails sent from a ISP address is insufficient to warrant blocking search results from a publicly accessible API. It also sets a dangerous precedent for other websites that merely index data from a third party source.
This morning, I received an e-mail from one Thomas Freyer of Freyer Consulting in Frankfurt, Germany:
From: Thomas Freyer
Subject: Deleting of Profile
URL: http://u.eq2wire.com/soe/character_detail/446677832604

We demand by law the deleting of this profile as the owner of the trademark "Malshandir" we gave you no permission to use is.
If this profile is deleted within the next 6 hours we will not take further legal actions against you.
As I was still a little sleepy, and since I receive threatening e-mails about once a month demanding that I remove characters from EQ2U, I replied informing Mr. Freyer that Sony Online Entertainment retains ownership over characters and thus he has no grounds to sue, but if he would avail himself of the Help section on EQ2U, he could remove his character in approximately 5 minutes.
Once I was a little bit more awake, I realized he was speaking on behalf of a company. So I googled Malshandir. I did not find a registered Trademark or Patent in the USPTO records, and so I brought to Mr. Freyer's attention that European trademarks are not applicable in the US. At this time, I also noticed that Mr. Freyer had registered but allowed to expire a domain name for the name in question:
registered-domain: Malshandir.com

registrant-firstname: Thomas
registrant-lastname: Freyer
registrant-organization: Malshandir Limited
registrant-street1: Heinrich-Busold-Str. 48
registrant-pcode: 61169
registrant-city: Friedberg (Hessen)
registrant-ccode: DE
registrant-phone: +41.789492666
registrant-email: [email protected]

registration-expiration: 24-May-2012
Mr. Freyer replied with this:
As explained, we are the OWNER of the trademark "Malshandir".

So one of your users is using this illegally. You publish this on your site. So by law you have to delete it.We do not have an account with SOE.You are publishing this information so you are responsible for this and so it is your job to delete it.The misusage of a trademark is a crime and has serious consequence as civil case and criminal case. So it is up to you to avoid these consequences.

With the publishing you are violating our rights and so you are liable for this. legally you can't exclude your liability.

[email protected]arcor.de
Freyer Consulting
Unit 135, 155 Minories
EC3N 1AD London
Grossbritannien
I explained that his beef was with Sony Online Entertainment and/or ProSieben since they publish the data, to which Mr. Freyer replied:
Well, European trademarks are valid because your service is for Users in Europe too. In other cases you have to avoid that your website is availbale from all countries of the EU. The decisions of the EHC are binding too.

Additionally Prosieben is a German company. So your service is addressed to German customers. By the agreement of Lugano, is this case under the European law even if the other party has no address within the EU.

Furthermore it should be in your own interests. Even if you are not in the EU all countries have agreed in merchant cases to accept the decision of the wedish handelskammer in Stockholm.
At this point I was getting tired of the threats, so I e-mailed back with this, and hoped it would be the end of it:
First, you have a European trademark. It is not applicable in the United States.

Second, your trademark is applicable to a specific set of industries. It is not applicable to a video game character.

Third, I am publishing information provided publicly by Sony Online Entertainment. Even if I remove the website, the data is still public at SOE's API here: http://data.soe.com/xml/get/eq2/character/?name.first=Malshandir

Fourth, the character Malshandir was created January 7, 2008, which precedes your Trademark application by over 1 year.

Your claims are spurious and invalid. Please consult a trademark attorney before wasting any more of my time.
But it was not meant to be. Mr. Freyer replied with more threats:
First it doesn't matter when the account was created. It is in use means published on the site. BTW: I use this name in business since 1996.

Second European trademarks are valid. If your website is available from the EU then it is automatically under European law to avoid this you have to delist your site from nameservers within the EU and reject all requests from servers and clients from the EU. This is more than one time decided here by law.

Third it is valid for a character in an online game coz this is in class 41 and 42. BTW; The dpma is not the exact source for such an request because the application was made at the OHIM. The dpma is for the national trademark in Germany, the OHIM for Europe.

Fourth what with SOE is another case and not yours.I can not understand why do you make such trouble. The easy way is delete it. You can then tell your client that he breaks laws. What is easier for you? deleting ONE user or making your website unavailable for all European countries?BTW: I talk with a trademark lawyer. trademark attorneys doesn't exist. If you have to talk with him it becomes expensive for you.
At some point, someone has to realize that they do not have deep pockets and, despite the merits of a legal case, the reality is, any legal action can be financially debilitating. Although Mr. Freyer is in Germany (or London, who knows?), he could be part of a larger company with lawyers on retainer in the US. So it's time to fight another day and so I indicated that I would remove the character shortly:
I don't tolerate bullies, and I don't tolerate threats.

I will be removing the character soon, with a brief explanation why.
Apparently, that wasn't enough and so Mr. Freyer decided to go full Streisand:
well, the courts decided such short notices and the admin / owner etc. of a website is responsible to follow these procedure very fast.

In other cases the courts sees a responsibility. That why I gave you see opportunity to do it and not sending you a letter from a lawyer what will lead immediately to cost of around 1500 Euro paid by you. Maybe you are not happy about the law but so is the life.

And I am not threatening. if I do so then you would got after your first email a letter form my lawyer and a decision from a court within 2 hours.
Incidentially, what is Malshandir?
From public records, Malshandir Ltd was a British company which has since been dissolved as of 2010:
Malshandir used to have a website: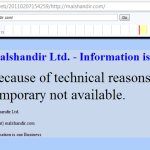 This is what I get for getting out of bed this morning. Meanwhile, somewhere on Antonia Bayle, a level 92 Dark Elf can't lookup their character on EQ2U anymore, and that makes me a sad panda.
Trackback from your site.