EQ2U Support for EQ2: Chains of Eternity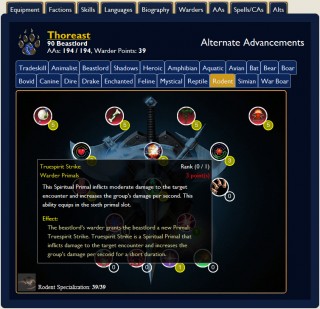 So Dethdlr and I had a heart-to-heart and we decided to take today off and sip mojitos. Just kidding. About taking the day off that is.

Dethdlr spent all morning making sure that our backups of almost everyone's Alternate Advancements worked and wouldn't be overwritten by the new data.  He then reloaded the data for 121 AA trees, 2,882 AA nodes, and 11,193 AA spells.  Also, the spell data for all classes has been added for levels 93-95.  I'm currently working on adding the Tradeskill Prestige AA tab. By the way, the in-game AA window has undergone some significant changes which make it more usable. That's great, but for the time being, we are planning to leave our AA window as-is but of course we are open to feedback on changing it.
UPDATE! We now support searching for characters up to level 95.
UPDATE! We now have Spell data for level 93-95 including what crafting rare you need.
UPDATE! Tradeskill Prestige tab has been added to EQ2U for newly-updated characters.
NOTE: The data for us to display Spirit Stones (green adornments) didn't make the cutoff, but we are hoping to get this data very soon. We are receiving some other nice data which I hope we can add soon. 😉
Trackback from your site.