SOE Live Video: "Making Data Sexah" aka the EQ2U Data Feeds Panel
Dethdlr and I were very fortunate to make it to SOE Live this year and further, to present a panel on EQ2U, including the new Achievements feature, and talk a bit about what went into creating this site, what we plan for the future, and how SOE is going to shortly be burying us in a lot more data. 😉
The panel starts with Clif Bate, Director of Commerce Services & Web Presence, and Morgan Bonar Lead Web Developer and Web Producer, PlanetSide 2, and then at the 20 minute mark, we get to the EQ2U bits.
The panel was well attended by several SOE staff and EQ2 team members — and they didn't even throw any fruit or vegetables (I had plastic sheeting on standby just in case).
Nandy "

Zoltaroth

" Szots EQ2 Lead Programmer [on stage]
Dave "

Maevianiu

" Kish EQ2 Programmer
Carlos "

Gninja

" Mora EQ2 Game Designer
Dave  "

SmokeJumper

" Georgeson EverQuest Franchise Executive Producer
Linda "

Brasse

" Carlson Director of Global Community Relations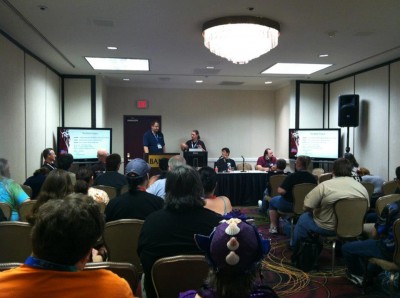 Photo Courtesy Sony Online Entertainment, LLC
It was great to talk to so many EQ2 players who use EQ2U and get their feedback! We will be adding the Powerpoint slide stack to this article soon.
We even got a little press, with Karen Bryan of Massively having this to say:
We've reported on how the site came to fruition, but at the player panel, Morgan Feldon and Dethdlr went into detail about the effort it took to build such a thorough site. This project required a collaborative effort between EQ2Wire and the EQII development team, and both groups did an amazing job not only in setting up an accurate and up-to-date data feed but presenting the information in a way that's easy to access on the site.

They exchanged over 1,000 emails and countless chat sessions to get it right, but ironically, the convention was the first time that Feldon and Dethdlr met face to face.
Trackback from your site.