SOE Live Gaming Tournaments and Prizes Announced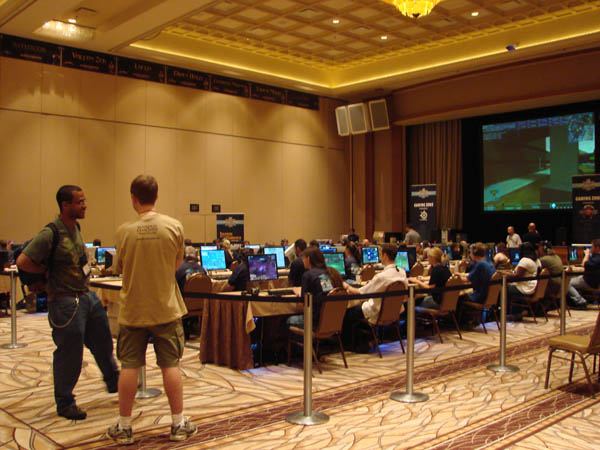 Looks like SOE is really pushing Gaming Tournaments this year.
SONY ONLINE ENTERTAINMENT ANNOUNCES
SOE LIVE GAMING TOURNAMENT LINE-UP
WITH PRIZES TOTALING MORE THAN $30,000

Attendees Invited to Compete for Bragging Rights and Thousands in Prize Money in First Ever Gaming Tournaments for PlanetSide® 2 and DC Universe™ Online; Fan Favorites EverQuest® and EverQuest® II Return for
Single and Team Challenges

SOE Live attendees have the opportunity to participate in countless events including a variety of gaming competitions, tournaments, and live quests for a chance to win thousands of dollars in prize money.

In addition to the renowned costume contest, where attendees show off handmade outfits that showcase their fanaticism for gaming franchise favorites, attendees are encouraged to compete in a range of exciting in-game and live challenges including scavenger hunts, boot camps, PvP battles and live quests. Activities will test player agility, knowledge, dedication, wit, teamwork and problem-solving abilities.
The tournament line-up after the jump…
DC Universe Online

Live Quest: Join us for the second DCUO Live Quest — spandex optional but always fashionable! Declare your allegiance by joining a live version of DCUO's Legends PvP Arenas. Groups of 10 will battle for Las Vegas as their favorite DC Heroes and Villains!

Friday, October 19th, 12:00 p.m. – 2:00 p.m. PDT
1st Place Prize: $1,000 ($100 per team member)

Legends PvP Tournament: Heroes! Villains! Pair up with a friend or forge a last-minute two-person team at the event to battle for supremacy!

Saturday, October 20th, 1:30 p.m. – 5:30 p.m. PDT
1st Place Prize: $3,000 ($1,500 for each team member)

EverQuest

Live Quest: Over a decade of EverQuest Live Quests precede this one, each one exciting and challenging in its own way. Groups of 10 will need to travel across the lands, interacting with denizens in many places to recover shards for a mysterious stranger arriving from Shard's Landing. Knowledge, skill, bravery and tenacity will all be called into play before your group emerges victorious!

Friday, October 19th, 12:00 p.m. – 2:00 p.m. PDT
1st Place Prize: $1,000 ($100 per team member)

Death, Death, Death!: We challenge all casual and hardcore EverQuest players to look death straight in the eye. Group up in teams of six and take on old-school raid mobs in a hellish progression to see which group can get the furthest.

Saturday, October 20th, 9:30am – 12:30pm
1st Place Prize: $6,000 ($1,000 per team member)

EverQuest II

Aether Races: Hone your flying skills and race to victory! The top five recorded times during the qualifying round will join in the final heat, racing against EverQuest franchise Director of Development Dave Georgeson for the win! (Don't worry, Dave isn't eligible to win.)

Friday, October 19th, 9:30 a.m. – 12:30 p.m. PDT
Total Prize Purse: $3,000

Gold (1st) $1500
Silver (2nd) $1000
Bronze (3rd) $500

Live Quest: The Nights of the Dead come to SOE Live! Can your team solve this murder mystery? In this "beyond the board game" Norrathian mystery game, your ten-person team will work through various mini-quests to uncover clues to solve the mystery.

Saturday, October 20th, 12:00 p.m. – 2:00 p.m. PDT
1st Place Prize: $1,000 ($100 per team member)

PlanetSide 2

Auraxis Showdown: Take on the challenge for the glory of your empire! All troops will start fresh with standard issue gear and certifications and compete in qualifying rounds on Thursday and Friday. The top 18 players from the qualifying rounds will compete in an 18-man Finals match on Saturday to win the first place grand prize. There will also be prizes awarded to the top nine finalists in the Finals with first, second and third place finalists taking home larger pieces of the total prize.

Qualifying Round Day 1

Thursday, October 18th, 10:00 p.m. – 12:00 a.m. PDT

Qualifying Round Day 2

Friday, October 19th, 10:00 a.m. – 6:00 p.m. PDT

Finals Round

Saturday, October 20th, 1:30 p.m. – 5:30 p.m. PDT

Total Prize Purse: $10,100

1st:  $5,000
2nd:  $3,000
3rd:  $1,500
4th – 9th:  $600 ($100 each)

Live Boot Camp: Choose your Empire and join in a live PlanetSide 2 boot camp! Earn your stripes by getting together a squad of five and going through Basic and complete training exercises to prove you have what it takes to bring victory to your Empire!

Saturday, October 20th, 12:00 p.m. – 2:00 p.m. PDT
1st Place Prize: $1,000 ($200 per team member)

SOE Live Costume Contest

Spandex, Chainmail and Fur: Calling all heroes, demons, villains, soldiers, adventurers and creatures! Anything goes in our costume contest! Go funny, go awesome, go for the gold in our longest-running annual competition!

Saturday, October 20th, 5:00 p.m. – 6:00 p.m. PDT
Prizes to be awarded for "Best of" winners

The SOE Live contests are open only to individuals who: (a) are legal residents of the fifty (50) United States (including the District of Columbia), (b) are eighteen (18) years of age or older at the time of entry, and (c) registered to attend the SOE Live event as of October 18, 2012.  Employees of Sony Online Entertainment LLC, its parent or subsidiary companies, or any other company involved in the design, implementation, or promotion of the Tournament, as well as the spouses, children, parents, grandparents, and household members of each such employee, are not eligible. The Tournament is subject to all applicable laws and regulations and is void where prohibited by law. The contests are sponsored by Sony Online Entertainment LLC, 8928 Terman Court, San Diego, CA  92121.
Trackback from your site.