May 24, 2012 Update Notes — Autoattack Setting!
As we first posted here, at long last, an Autoattack setting is being added to EQ2. This will benefit some Mages (Enchanters in particular) and virtually all Priests (Druids, Clerics, and Shamans) whose Alternate Advancement lines heavily favor Melee autoattacks. With this change, players will now be able to equip either Symbols or the newish Focus Ranged "Wand" items and still prefer Melee combat and its inherent benefits. Oh, and Rangers will now be able to set Ranged attacks at all times without the use of kludgy macros. Yay!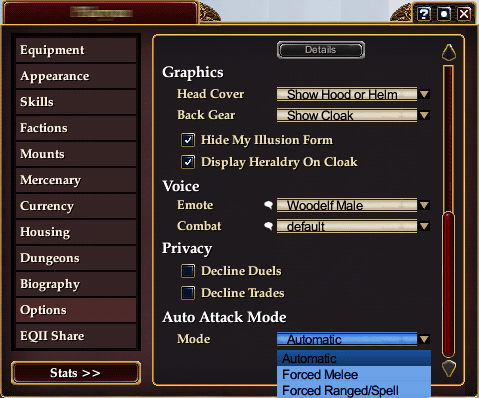 Autoattack Setting available in the Character/Persona window under Options.
Here are your Update Notes for May 24, 2012 from the EQ2 Forums:
COMBAT

Players can now select their preferred method of autoattacking using the /setautoattackmode command (0 for default, 1 for melee, 2 for spell/ranged) or by the drop-down setting in the Character UI options under ?Auto Attack Mode?.
Trackback from your site.