Autoattack Setting Coming to EQ2!
Some exciting news for players who have been wanting a setting for Autoattack during combat in EQ2! On the Test server, a new option has been added to the Character/Persona/Inventory window under the Options panel: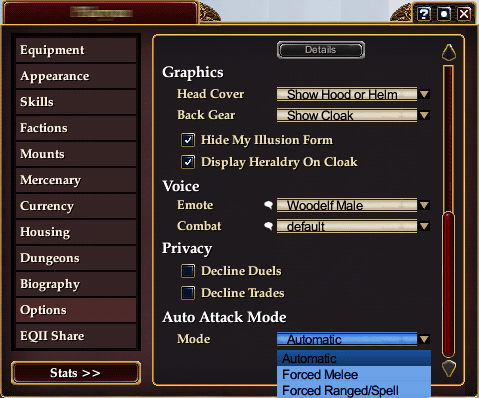 This option should allow Rangers to set "Forced Ranged" and never need to use kludgy macros to ensure they are always doing ranged autoattacks. A ranger never wants to be doing melee autoattacks and we have relied on macros with the command /auto 2 for years.
Further, this will be a sigh of relief to Mages and Priests who will now be able to use their choice of either Focus/Ranged 'Wand' items or traditional Symbol items and still choose whether they want to use the new Spell Weapon Autoattack, or stick to Melee combat. This change will be of particular benefit to Enchanters, Druids, Mystics, and Clerics, all of whom have Alternate Advancement lines that require melee combat for their best effects to apply. This will also allow healers to work around a bug with some cures and buffs which place them into 'spell combat'.
From the May 10th, 2012 Test Notes:
COMBAT

Players can now select their preferred method of autoattacking using the /setautoattackmode command (0 for default, 1 for melee, 2 for spell/ranged) or by the drop-down setting in the Character UI options under "Auto Attack Mode".
Trackback from your site.