Game Update 63: Outstanding Issue Report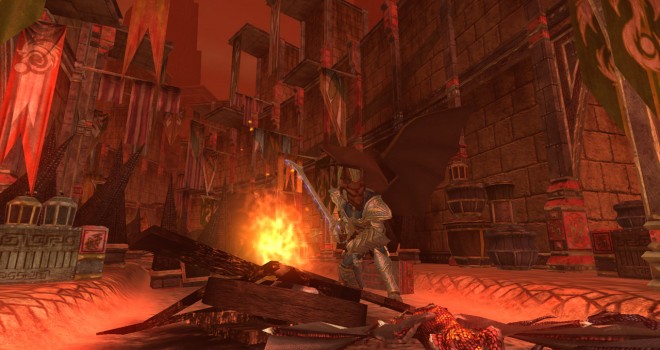 It's one week since Game Update 63: Skyshrine launched, and overall, the update was rather polished with no show-stopping bugs, especially compared to Destiny of Velious and Game Update 61. There are always going to be a few issues that slip through in an update of this size, and already we're seeing 2 big fixes today with Class Focuses and 40% Haste on Scout/Fighter/Priest gloves.
We'll update this list as they are resolved:

*NEW* Quest "First Order of Business" gets stuck on the step "Return with the medallion to Captain Val'kirr in Alivan".

Cronyn is looking into this.
*NEW* Most shields in Skyshrine are missing 20% Block Chance.
*NEW* Apprentice Overknight Deshniak's ring event in Dracur Prime (group or solo advanced) gets into a 'stuck' state and will not complete.
*POSSIBLY FIXED* Most armor pieces in Withered Lands and Skyshrine have "automagic" class focuses, meaning that a Forearm piece made for Scouts will have the correct spell effect for any scout that wears it. These effects are NOT stacking properly, such that only the last item equipped with "automagic" class focuses applies and the other effects cancel. Fixed?
*NOT FIXED* Quest "All You Need is Time" offered by Kerr Wanderroot gets into a "stuck" state where the event will not progress. Workarounds: Switching to an instance that does not have a bugged version of Kerr Wanderroot, or waiting for a server reboot/reset/update.
Brawlers do not receive any gear upgrades from the Skyshrine Heroic Access quests (Clash Within Covenenat District awards Shoulders ie. Scout shoulders, Final Item for Jorlak awards Shoes). You can petition to get these items. Fixed
Beastlords receive a ranged bow as a reward from the Skyshrine Heroic Access quests which they cannot use. They should probably get the brawler satchel as linked above.
Placing Dozekar's Head into your Currency window deletes Dozekar's Head. This item (along with 50,000 Claws of Veeshan faction) is needed to buy equipment from the Faction Merchant. Fixed
*NOT FIXED* Of the rewards from the Path of the Crusaders charm quest in the Underdepths group instance only the Scout one makes sense. The others are either the wrong stats, or a significant downgrade over solo quest rewards:
You must zone to spend each new Prestige AA point that you earn.
Some of the level 91 and 92 recipe books require wrong class reaction arts, for instance Jeweler belts require Tailor reaction arts.
Trackback from your site.