SOE Rebrands Fan Faire as "SOE Live" — Confirms October 18-21st Date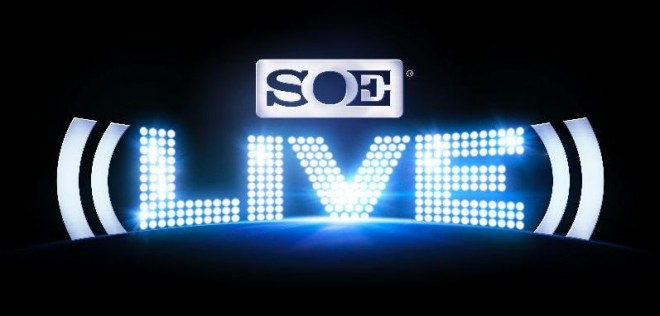 Confirming rumors we'd heard last week, Blue's News and StrategyInformer are reporting that SOE is renaming its annual fan gathering from "SOE Fan Faire" to "SOE Live".
Sony has announced the debut of a new convention devoted to Sony Online Entertainment MMOs, SOE Live. The convention will be located in Las Vegas, NV from the 18th through 21st October this year. The convention will take place at the Bally's Casino. The games that will be showcased at the convention include DC Universe Online, EverQuest, EverQuest II, Free Realms, Magic: The Gathering – Tactics, Star Wars: Clone Wars Adventures and Vanguard: Saga of Heroes. The convention will also debut PlanetSide 2.
UPDATE: SOE Live Website Online | Brasse's Blog
From the press release by Sony Online Entertainment:
Sony Online Entertainment LLC (SOE) today announced that its annual fan event will now be called SOE LIVE and will take place at Bally's in Las Vegas, October 18-21, 2012. An annual SOE-sponsored event, SOE Live is set to be the ultimate gathering for the SOE community, and provides players an opportunity to celebrate their favorite games across SOE's portfolio of titles, including: DC Universe™ Online, EverQuest®, EverQuest II, Free Realms®, Magic: The Gathering – Tactics®, PlanetSide® 2, Star Wars®: Clone Wars Adventures™ and Vanguard: Saga of Heroes®.

"The 'SOE Live' name change represents a deeper meaning behind our annual event," said Laura Naviaux, Senior Vice President of Marketing and Sales, Sony Online Entertainment. "As our game portfolio continues to expand, we wanted to better represent our diverse player base and games, including the newest additions to the SOE family, with DC Universe Online, Free Realms, Star Wars: Clone Wars Adventures, and the highly anticipated PlanetSide 2. Previous event attendees can rest assured that we are not removing any of our established activities in order to accommodate the new players; rather, they can expect even more to make this the ultimate SOE fan experience."

SOE Live reflects the belief that all SOE players are part of one extended family and presents an opportunity for fans of all ages to meet the talented people behind some of the online world's most successful games. In addition to a slew of social events, SOE will host developer panel discussions and game-themed live events, giving attendees a chance to voice their opinions of current and upcoming game content. SOE Live will also feature exclusive access to new announcements and beta programs, tournaments, premium swag and more.
Tags: fan faire
Trackback from your site.