SC: Skeletal Prowler Mounts
A few months back, the frequency of StationCash item introductions was increased from a monthly schedule to a bi-weekly schedule. If EQ2Wire reported on all of these items, then 50% of our articles would be about items that, quite frankly, a lot of our readers aren't that wild about. There was a time when $14.99 paid the bills, kept the lights on, and paid the staff. I'm not sure when we strayed from that.
But sometimes, an SC item is cool enough to warrant mentioning here, especially when it comes with cool art. There is a dearth of cool-looking mounts in EQ2. So this might help…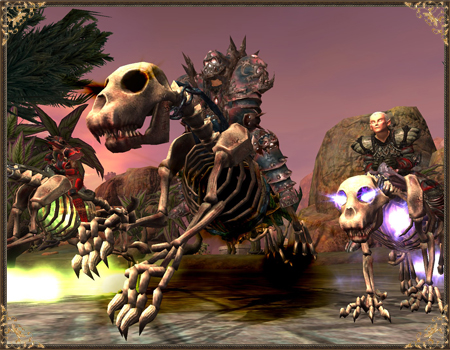 We leave it up to the reader to decide whether 2500SC (normally $25; $12.50 if you stocked up on SC during a double SC weekend) is reasonable for a large animated skeleton. 😉
Tags: Daybreak Cash, in-game mount, mount, prowler
Trackback from your site.