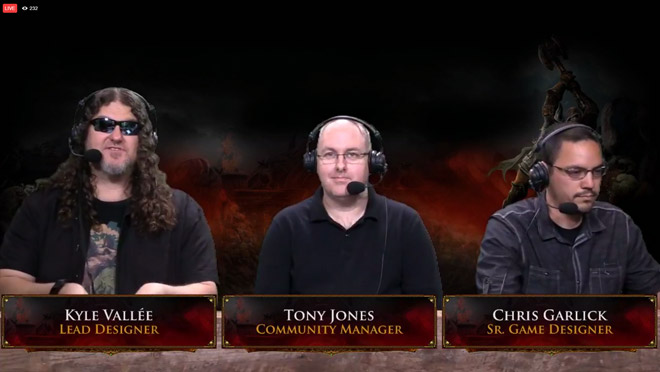 Coinciding with today's launch of Game Update 103, Kyle "Kander" Vallee, Tony "RadarX" Jones, and Chris "Chrol" Garlick held a livestream on Facebook to walk through some of what players can experience in the update going live today. This is not an exact transcription of the livestream but a rough outline. The Livestream, which requires a Facebook account, can be viewed here.
Proving Grounds
We're now seeing a demo of the new Proving Grounds which takes place in an instance of New Tunaria. As with the Battlegrounds server, characters are copied to the Proving Grounds server and participate in a group event which takes about 30 minutes depending on players' knowledge of the boss strategy. You and the opposing group do not directly interact, but you can do things that affect the other group.
1 zone to start, Battle of Felwithe
1 zone to be added later (Pirate ship themed)
Gear is equalized, should be able to "Jump in and play" as a level 100. Skill-based.
Cross-server. Group up and compete across server! Editor's Note: Proving Grounds works like Battlegrounds — characters are copied there and must wait for events to start to participate.
Will take around 30m-1hr to complete
Timed group challenge, you compete against another group. You can see the other group's progress but you can't interact.
Earn token currency, receive double if you're a member.
Each boss kill earns a token, last boss is 2 tokens, 3 tokens for winning (double for members)
Proving ground lobby is old Battleground lobby. Merchants available for gear purchases with earned tokens.
Upgraded white (wantia) adorns will be available.
New orange slotted gear (ring, pants, and more)
Proving Ground teleporters are in your home city.
Missions are available, including a weekly mission for familiar crates.