The Joke is on Norrath: Bristlebane Day Returns!

Bristlebane Day is back! From Friday, March 25th through Thursday, April 7th, enjoy one new quest, a new collection, more merchant goodies and perfectly serious items to craft, as well as content from previous years. On Friday, April 1st we'll celebrate The Highest of Silly Days in the Enchanted Lands with our good friend Imenand.
Niami has posted pictures of the new recipe and merchant items over on EQ2 Traders. TLE servers will have a special Bristlebane Day themed merchant, a Gigglegibber goblin, in both Freeport and Qeynos.
Too many alts? Get the Bristlebane Day quest tracker! Print it out or copy it to your own Google Drive by going to the File menu and choosing "Make a copy…".
---
Achievements
| | |
| --- | --- |
| A Plethora of Pranks | Craft up select Bristlebane Day items |
| Bristlebane Bunnies | Earn three achievements catching bunnies (April 1st only) |
| Conniving Confections | Cook up some quirky Bristlebane Day dishes |
| Honorary Gigglegibber | Complete several Bristlebane Day quests |
| Patchcraft Slayer | Slay Patchcraft creatures (8 total achievements) |
| Snack Attack | Score 100 points in the Snack Snatcher: Enchanted Lands event |
| You Jelly? | Score 90 points in the Bristlebane Bounce: Sinking Sands contest |
Return to Top
---
Quests
Return to Top
---
New Content

COLLECTION: Prankster's Piece of the Pie
FOUND IN: Enchanted Lands, Sinking Sands, and the quest zones for Rescuing the Princess and Gnary a Joke to Tell
REWARD: Cloak of the Grand Prankster
When you go to collect a purple shiny for this collection and fail, it multiples. This will happen twice, then you successfully collect an item and the excess shinies poof.
In Enchanted Lands the shinies are more spread out. Check around the halfling houses in Seamist Plains, at Lookout Stump, and where the Snack Snatcher contest is by the dock. In Sinking Sands the shinies are around the Bristlebane Bounce quest area, and above it near the airship dock.
QUEST: Rescuing the Princess – A Bristlebane Tale
REQUIRES: Tin Metal Protection
REWARD: Vibrant Bristlebane Banner, Fool's Gold Coin x10
TO START: Speak to The Grand Prankster (see Blat's locations in Tin Metal Protection, below).
Beastlords! There are two were-creatures that can be tamed in this quest instance if you have the Tame Exotic Warder AA.
A storybook appears nearby, click it to zone into "A Sinister Place in the Emerald Jungle" (aka an instanced zone of Sebilis)
In the big chamber, take the western stairs up (south is blocked for now)
Kill every creature upstairs and destroy the coffins at -185, 0, 196
Return to the big room downstairs and take the southern passage
Kill Danak Dhorentath. During the fight he'll become immune to damage a few times, and several shinies will pop up, which are memory sparks. Click on the sparks, which sometimes spawn an imp to kill, until they disappear and you can damage Danak again.
Take the eastern passage and follow the hall until you come to a dead-end room
Destroy all the blue vases and enjoy the pop-up text jokes
Return to Firiona Vie and click to free her
Exit the zone and speak to The Grand Prankster to complete the quest
Return to Top
---
Returning Content

April 1st only quests will be posted on March 31st.
QUEST: Tin Metal Protection
RELATED QUEST: Blat Bound
SUBQUESTS: Card Deals, Ogled Goggles, Wine for the Lady, Fribles's Fate
OPTIONAL: Speak to Garple at -374, 31, 164 in Frostfang Sea to begin Blat Bound, who directs you to Blat in Antonica or Commonlands (can only be done if you haven't begun or finished Tin Metal Protection)
TO START: Speak to Blat Berisen in one of the following locations:
In Commonlands next to one of the inner defense towers, at -1104, -60, 54
In Greater Faydark just down the main ramp on the Green Knoll, northwest of the city, at 564, 44, 22
In Antonica at 227, -14, 390, just outside the South Qeynos gate
In Darklight Wood just outside of the gates of Neriak at -624, -55, -66

In Timorous Deep on the Gorowyn Beach at 2338, 20, 948
You are sent to speak to Frethe Zizlop, who is found:
In West Freeport, near the Commonlands Gate, at 284, -4, -102
In Greater Faydark, inside Gearheart's Forge at 266, 126, 274
In Qeynos Harbor, inside Hall of Steel at 678, -21, 18
In Neriak, in the Indigo Hollow at -25, 13, -8
In Gorowyn, inside The Wards at 2822, 122, 1234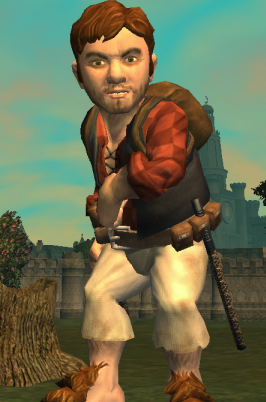 Frethe sends you to Zoe Hertzflip, who is found:
In West Freeport, near Dreadnaught's Plaza at 223, -4, 77
In Greater Faydark, in Jysolin's Pub at 197, 108, 345
In Qeynos Harbor, upstairs in the Mermaid's Lure at 943, -19, 3
In Neriak, on the dock at 16, 4, 285
In Gorowyn, standing next to Researcher Hlawen in The Grand Athenaeum at 2667, 67, 1354
Zoe sends you to Barb Islenet, who is found:
In North Freeport, by the T2 guild hall at -29, -20, -271
In Greater Faydark, inside the library at 135, 109, 178
In South Qeynos, on the balcony of The Herb Jar at 642, -12, 235
In Neriak, inside the New Foreign Quarter's broker, at 82, 24, 137
In Gorowyn, standing inside a tent in the Timorous Maw area at 2482, 33, 1348
Barb sends you to Abner Siblet, who is found:
In North Freeport, inside The Jade Tiger's Den at -101, -21, -79

In Greater Faydark, upstairs inside Joleena's Restaurant, at 538, 78, 320
In South Qeynos, inside The Lion's Mane, at 560, -10, 131
In Neriak, at the Dockside Markets bar near tradeskill area at -157, 3, 243
In Gorowyn, standing around The Dragon's Anchor at 2594, 86, 1310
Abner sends you to kill Belazzor Fribles, who is a triggered spawn found at:
In Antonica near 365, -19, 586, at a tent on top of the hill
In Commonlands: Go to the rock at -382, -45, -295, and then walk west toward the water
In Darklight Wood at -561, -51, 23
In Greater Faydark at 697, 9, 398
In Timorous Deep at 2938, 24, 1000
Now you can turn in all the quests in the reverse order that you received them.
QUEST: Plethora of Patchcraft Parts
TO START: Speak to Rakshatta at -28, 0, 50 on the dock in the Enchanted Lands
This quest requires you to collect items from various Patchcraft creatures. They can be found in Antonica, Commonlands, Darklight Woods, Frostfang Sea, Greater Faydark, and Timorous Deep.
| | | |
| --- | --- | --- |
| | | |
| Antonica | Greater Faydark | Timorous Deep |
QUEST: Gnary a Joke to Tell
TO START: Speak to Galan Jokepeddler on the docks in the Enchanted Lands at 43, 4, 117
Speak to Captain Gnoggin on the beach at -9, -4, 17. He'll zone you into The Jolly Gnoggin.
Approach the captain at -2, -2, -10
Wait a few minutes while the ship goes through its script. You'll zone into Gnoggin's Hidden Cove.
Head south to the main land. Here there be crocs!
Destroy chests and crates to collect 50 pieces of jokeship merchandise (click to collect)
Click on the rock wall at -908, -10, 263
Defeat the captain
Loot the bomb from the captain's chest drop
Click the rock wall again to blow it up (you'll get flung back)
Enter the tunnel and click the door at the end to exit
Speak to Galan to complete the quest
QUEST: Ratical
TO START: Speak to the Gigglegibber Hunt Master at -3, 4, 36 on the dock in the Enchanted Lands
You'll be asked to kill a bunch of rats, including the Rat King. Killing any rat will update any of the steps.
Suggested hunting spots: Antonica, Commonlands (south of the wizard spire), The Down Below, The Peat Bog, Thieves' Way, and Oakmyst Forest (mystail rats). In older zones such as Antonica you can wipe out possible placeholders such as snakes and hawks to raise the potential for rat spawns.
QUEST: Gigglegibber Scavenger Hunt
TO START: Right-click on the Gigglegibber Hunt Master at -3, 4, 36 on the dock in the Enchanted Lands; purchase the quest from his merchant inventory
None of the items for this "quest" exist. Just let the timer run out and your reward will be sent via in-game mail. The timer only ticks down while your character is online, but the quest will remain in your journal through logouts.
Because of how this quest is handled, it never completes and therefore never shows up in your completed quest journal.
QUEST: Bristlebane Bounce: Sinking Sands
TO START: Speak to Princess Evelynn Fadia at -1372, -225, -512 in the Sinking Sands

You have 3 minutes to get as many points as possible:
Green Baubles: 1 point
Red Baubles: 2 points
Gold Baubles: 5 points
Fish Bounce Pads: 1 point
Gelatinous bouncers will springboard you around. The fish bouncers spring you higher.
You need to hit a bauble almost directly to get credit for it. Smaller races may want to use a growth item, such as the Cloak of the Harvester or a Toadstool, to make this easier.
QUEST: Bristlebane Day Snack Snatcher: Enchanted Lands
EXTRA REWARD: Completing the race five times grants the prefix title "Snack Snatcher"
TO START: Speak to Charlotte O'Piesmasher at 53, -1, 17 near the dock in the Enchanted Lands
Step onto the race platform at 61, -1, 27
Collect snacks for points
Pies will give a speed buff, lettuce will slow you down
Speak to Charlotte to complete the race after time runs out
COLLECTION: Impossibly Rare Objects
ZONES: Antonica, Commonlands, Darklight Wood, Greater Faydark, Frostfang Sea, and Timorous Deep

Collect all the items in this collection by gathering purple shinies in any of the zones above.
Once you've completed the collection, you can take your reward to The Grand Prankster (must have completed Tin Metal Protection) to have it blessed.
COLLECTION: Bristlebane's Memories
REQUIRES: Earring of the Solstice (tradeskill epic reward)
ZONES: varies

Collect Dreak's Tin Spike from red shinies in any of these locations:
The Wards (Gorowyn)
Tunare's Pages (Kelethin)
The Down Under (Neriak)
Ravens' Roost (New Halas)
The Ironforge Exchange (Qeynos)
The Coalition of Tradesfolke (Freeport)
Collect the remainder of the items by gathering red shinies in one of these two tradeskill instances:
The Coalition of Tradesfolke Workshop at 16, -20, 85 in West Freeport
The Ironforge Exchange Workshop at 328, -21, -101 in North Qeynos
Return to Top
---
Trackback from your site.