Who Let The Ducks Out? Quack Quack Quack Quack!
Last summer, EQ2 player Errrorr created a thread championing a new type of player mount — ducks. For forty-three pages, hilarity ensued. However the thread was put to bed by lead animator Tom "ttobey" Tobey in January of this year when it became clear from higher ups that we'd likely never get such a mount. Theories were bandied about that sales of the bunny mounts had not been sufficient to justify their development effort. It may have been felt that these more frivolous and genre-bending mounts just didn't resonate with players. Personally I stick with flying appearance mounts so I don't lose the stats of my primary flying mount. Equipping a bunny mount would cost me significant benefits for my character. Further analysis of the timing of events would suggest another possible reason why duck mounts were initially shot down. But either way, fast forward three months and duck mounts are now a reality!
NOTE: Yellow duck mounts will ONLY be available for two weeks (until May 19th, 2015).
From the EQ2 Forums:
What's quackin', Norrathians?

It's been a long time coming, but the moment many of you have been waiting for has FINALLY hatched… duck mounts are now available in the Marketplace!
The Quacken (yellow), Waterfowl (mallard), Midnight Waterfowl (black), and Winter Waterfowl (white) can all be found in the EverQuest II Marketplace for 1950 Daybreak Cash.

While the three Waterfowls are permanent additions to the Marketplace, The Quacken is a special edition mount that will be flying away soon! This bird of a different feather is only available for two weeks, and will migrate away from the Marketplace at noon Pacific on Tuesday, May 19, 2015.

Want to learn more about the real cost of developing these duck mounts? It's ain't all it's quacked up to be! Take an inside peek of our studio in the video.
Commentary
Whether you like the idea of giant duck mounts in a semi-realistic high fantasy game such as EQ2 — the giant eagles in The Hobbit and Lord of the Rings being example A of readily accepted oversized avians in "serious" literature — I have to say Tom Tobey has injected as much humor as he can to cut the tension and engage players in a hilarious discussion. If only mechanics, itemization, and raid progression threads could be free of such hostilities!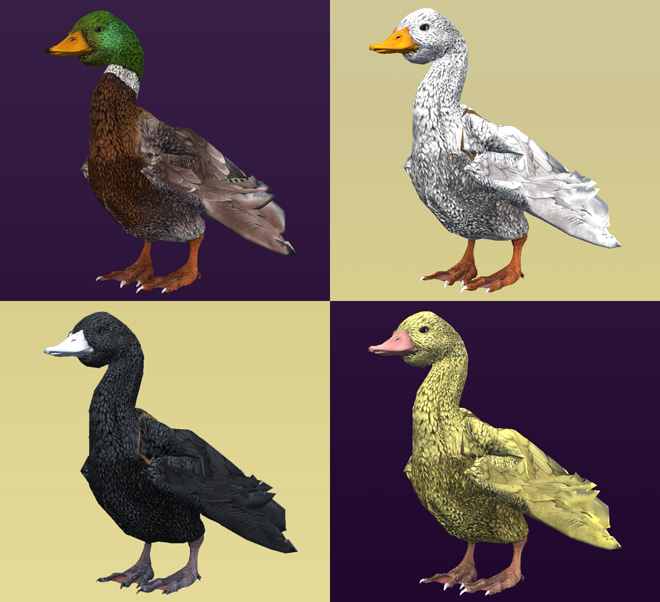 For those wondering what the next player-suggested mount will be, Tom Tobey did post that they're taking some time off from player-submitted mount ideas for now and will be introducing some of their own.
Trackback from your site.