EverQuest II Forums Undergo Streamlining — Guide, Fan Site, Lore, RP, Off-Topic, and PvP Forums Closed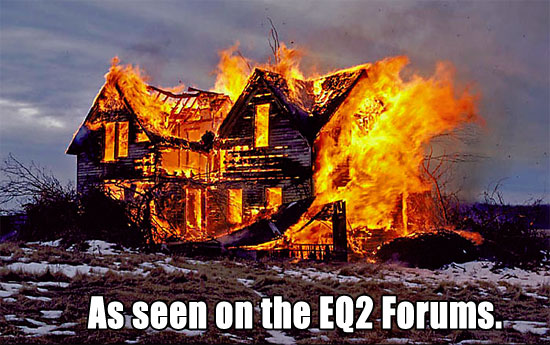 The EverQuest II forums have undergone streamlining today, with the archiving of the following forums:
The PvP & Battlegrounds forums going away is not a surprise, as EQ2 lost our last dedicated PvP developer with the August 2013 layoffs. Although I'll receive much rage and hate for saying it, I believe that at this point, further PvP/Battlegrounds development is an unaffordable luxury. The EQ2 team is down from 60 staff in the Kunark days to a quarter of that now and it's just not realistic to expect continued development for the remaining percentage of the playerbase.
However as someone who has administrated successful forums for 12 years, I find the choice of the other forums being shuttered to be completely baffling by any logic I can think of.
Guides and Fan Site operators are the most passionate, dedicated players who work day in and day out to help promote EverQuest II and provide a more enjoyable experience for players. Our subforums have little-to-no-impact on the Community team as they tend not to be controversial and thus do not generate moderation activity.
The Guides & Player Events subforums are the only place where Guides and other helpful players get to announce and discuss upcoming events. Without this forum, it will be almost impossible for players to find out when events are happening unless they watch their servers' often disagreeable Public Chat channels with an eagle eye. Guides are the most passionate, dedicated, selfless players who still love the game and are trying to help other players have a more enjoyable in-game experience. Now they've lost their one place to organize and inform players. I feel that this change will effectively end the popular long-running Guide program.
As for Fan Sites, other than Massively and ZAM, no other sites have consistently covered EverQuest II for at least half a decade. There are a few sites out there that happily accept free airfare and hotel bookings in Las Vegas to attend and report on press junkets at SOE Live. There are also a few sites that, thirsty for clicks, will attend Expansion press tours on Skype calls. But for the other 360 days a year, the only place you will find in-depth coverage of EverQuest II is Fan Sites. With this change, we've now lost our most prominent place to communicate with players.
The History & Lore and Roleplayer forums are informational in nature and again tend not to incur controversy so I can't fathom why they were closed. While I'm not personally that familiar with these forums, I cannot imagine they consumed any measurable moderator time.
Again, as someone who has administrated forums for over a decade, and someone intimately familiar with the XenForo software currently used by Daybreak, I can confidently say that it is a myth that the number of forums increases the complexity and workload of moderator work. The lion's share of moderation actions are the direct result of Reported Posts which appear in the moderator control panel and notification strip at the top of the screen. Going forum-by-forum is not necessary, and thus the number of forums is irrelevant. Again, I feel that the most positive, most constructive subforums being shuttered just makes no logical sense.
UPDATE: Players have noticed the Off-Topic Forums have been removed as well. Apparently we are now supposed to discuss anything off-topic in General Gameplay now?
In the interests of full disclosure, I should tell you that I am currently a moderator of the EQ2 Data API forums. Previously, there was just one set of forums covering Census for all the games in a centralized location. Recently, they were closed/removed without so much as a word, but after pleas from myself and other Census-driven fansite operators, new Data API forums were opened up under each game.
Daybreak Community Manager RadarX posted this in response to questions about the forum closures:
We are currently doing some consolidation of subforums in order to increase efficiency and bring our structure in line with community needs. These forums will continue to be read only in our archive so nothing will be lost. We encourage you to restart/continue any discussion you like in General Discussion.
One wonders if it's finally time for us to launch our own EQ2U forums?
Followup comments from RadarX:
The General forums on average run less than 20 active threads per day and even if this bumps up traffic to 25 a day, I'm fairly confident most of you are passionate enough to scan them.

We've done a few restructures over the last year or two and none of them were announced. We didn't announce the addition of the Data API forum here last month, it just arrived and folks who need to use it do. We've been in communication with the Guides and while I do understand folks really want to participate in those events, based on the views I'd argue we can find more effective ways to announce those.

We feel we can find a more effective way for Guides to announce events. Maybe a weekly thread listing all the servers and events. That's an ongoing discussion we are having with those folks.

The Fansite forums weren't being utilized. If folks are really interested in a news piece from Zam or an Op-Ed from Feldon there are a ton of ways to keep track of that. Those guys want you to see these articles and they are going to get them out there.

Our goal here isn't to remove things for the sake of removing them. We want to create more conversations and engagement. We've seen this work in other places and we believe it'll work here.

Absolute worst case scenario, we watch General Discussion traffic blow up over the next few months. We then put new subforums in place to break that out.
Trackback from your site.