Update Notes: Tuesday, February 24, 2015 and Daybreak-wide Maintenance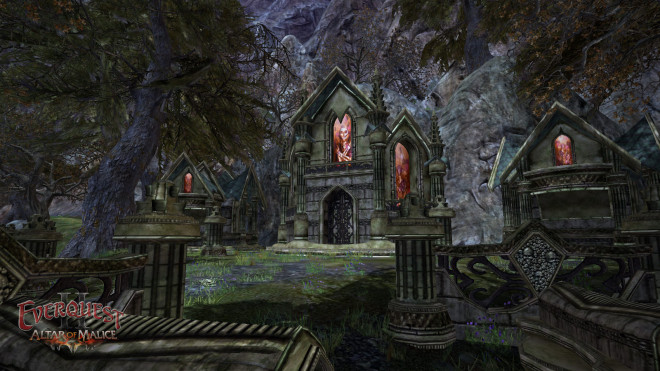 From the EQ2 Forums:
Attention players: we will perform a general maintenance beginning at 7:00AM Pacific* on Tuesday, February 24th. The current estimated downtime for this maintenance is up to three hours.

This maintenance may impact the following Daybreak services across all games:

Commerce functions, including purchases, for all games
Game logins
Web and forum logins for all Daybreak sites, including account creation
Time Zone Conversions
PST: 7:00am ~ 10:00am
EST: 10:00am ~ 1:00pm
GMT: 15:00 ~ 18:00
CET: 16:00 ~ 19:00
and from the EQ2 Forums:
POPULATION / ZONE PROGRESSION
General

Altar of Malice [Heroic] Dungeons now have a chance to spawn an extra encounter once the zone boss has been defeated.
Hit points for all Altar of Malice Solo, Heroic, and Contested zones have been slightly reduced.

Ossuary: Cathedral of Bones [Raid]

Primordial Ritualist Villandre V'Zher should gain increments of "Malice" at a slower rate when the various adds in the encounter are present.
Primordial Ritualist Villandre V'Zher's "Touch of Malice" spell should now properly apply to all engaged players as well as no longer be blocked by line of sight. Once this update has been applied to all servers she will make her return to the Cathedral.

Ossuary: Choir of T'Vyl [Event Heroic]

Ubis the Dagger will now be visible to the entire group if the target of his attack points him out to the group (targets him)
Corrected an issue that was causing the encounters within this zone to reset at random
Corrected an issue that was causing "Strength of the Legion" and "Spiritual Downfall" to not lower damage when increments lowered

Temple of Ssraeshza: Echoes in Time [Raid]

Disciples of Luclin adds in the Ka'Rah Ferun encounter should despawn if the boss is not present or is inactive.

Castle Highhold [Heroic]
Gudre Blackhand's ability, Diving Pelican, will no longer prevent targets from taunting.

ITEMS

[eq2u]Bulwark of Malice[/eq2u], [eq2u]Core of the Fanatic[/eq2u], [eq2u]Bonecaster's Focus Crystal[/eq2u] have had their bonuses re-distributed throughout their level ranges.
Bulwark of Malice, Core of the Fanatic, Bonecaster's Focus Crystal will now drop more often in Altar of Malice Raid zones.
Bonecaster's Focus Crystal has had its ability mod increased.
Quested Malice Gemstones are now correctly no-trade.
Fixed an issue that allowed Aspect of Granite to stack with Aspect of Granite II.
Corrected an issue that allowed some PvP War Runes to work on PvE servers.
More powerful cyan adornments are now available from Ossuary of Malevolence [Contested] and Brokenskull Bay: Spoils of Maraud [Contested].
A Green Malice Conversion Stone may now be purchased from Khadra the Ferrin Merchant.
A Red Malice Conversion Stone may be obtained from some raid bosses.

QUESTS

A weekly and three daily missions have been added for Brokenskull Bay: Spoils of Maraud [Contested]. Speak with the dwarf at the dock just inside the zone for these missions.
The weekly mission for Brokenskull Bay: Spoils of Maraud [Contested] can also be started in Tranquil Sea by speaking to Kraya Oararm in Sapswill's Rest on the Isle of Refuge or in Phantom Sea by speaking to Kraygon Oararm at Wanderer's Dock on Kithicor Island.
Unannounced Feature
Players who have completed the Shattered Seas signature questline can  now purchase an HEIRLOOM version of [eq2u]Adornment Reclamation[/eq2u] from Khadra in the tower nearest to the  Phantom Seas docks for 12 platinum.
Trackback from your site.