Notes from Today's EverQuest II Twitch Livestream for Feb 18, 2015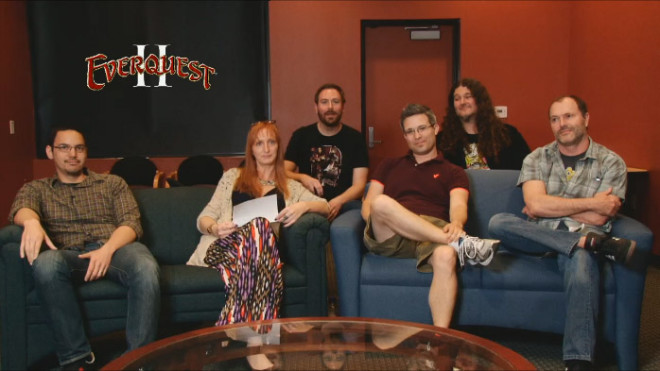 Members of the EverQuest II team took to Twitch today to reassure players about the direction and future of the game given last week's stunning takeover and layoffs. While it was great to hear some of the team's overall plans for the near future, it would have been great to start out with an acknowledgement of what happened, some high level broad strokes about how the team has pulled together to continue to give us content. I'd have also mentioned the expansion (Even if a date is unknown) as there is a doubt as to whether there will be one. For a monthly "here's what we're working on" this was perfectly fine, but with expectations as high as they were, we really needed a Home Run and this was more of a base hit.
The livestream included EQ/EQ2 Executive Producer Holly "Windstalker" Longdale, Lead Designer Kyle "Kander" Vallee, EQ2 Designer Chris "Chrol" Garlick, EQ2 Senior Designer Nathan "Kaitheel" McCall, and EQ2 Animator Tom Tobey.
First up, Holly talked about how the EnterpriseDB migration is still under way. This is a lot of back end work to upgrade EQ2's game servers which will have huge benefits once it's complete, including Cross-Server Dungeons. The servers have been getting updates this week (thus the 4 hour maintenance windows) with an OS upgrade which is part of this process.
Kaitheel is still working on Live Events such as Brewday, Tinkerfest, etc.

Holly: Last year we had weekly updates. We're not doing that anymore . (Thank God! — even Georgeson admitted in a recent MMORPG.com interview that weekly updates were hard on the dev teams). We're going to look at what's good for the game. We'll be doing fewer bigger updates, plus we'll still do weekly hotfixes as it makes sense.
Chris Garlick: New Advanced Solo, Heroic, Event Heroic content coming. He was getting razzed for how often he had been killing players in the AoM heroic zones at launch before they were tuned.
Kaitheel: Brewday on Test. Chronoportals comes after that. Also Bristlebane Day.
Kyle: Next week — Rare Heroic bosses (loot pinatas) — tons of new Weapons, Weapons will be on patterns so you can pick your poison. New rare drops. OMG we have a lot of stuff coming. Tier 4 green armor conversion to red gems. Red 2/2 gem conversion to Purple.
Kyle: Adding missions to Brokenskull Bay contested. Weekly contested missions. Tuning heroic zone difficulty.
Holly: We'll probably get to the Deity System later. We're examining the timeline.
Holly: StationCash is being renamed and rebranded but won't change otherwise.
Holly: We've been talking about server populations and we'll be sharing some ideas with you. Cross-server dungeon finder is the first step. Having a mechanism for players to group with each other. We may offer some other options. This database work is coming in phases throughout the year. We're converting our entire database system. We'll be asking you to help us on Beta to test and make sure everything still works. Some changes to how the Account system works. Getting our house in order so that we can do these kinds of features like cross-server. Handling very large character files better (some characters have so much data they cause zones to crash when they zone, which has been debugged in the last few weeks).
Kyle: We plan on seeding green adornments in upcoming content releases. We know there's a problem and we'll be adjusting things accordingly.
Kyle: We have a plan to adjust scouts. We were discussing it today. We have to fix some of the autoattack problems because players are depending too much on autoattack. CA damage increase along with a few other nifty things to bring them up in line with where we think they're supposed to be. Don't fret!
Holly: We will probably put a few more Polls in-game to get more player feedback. We did get the surveys back from the last expansion and we got good feedback. We'll have the devs focus these questions going forward so the structure of the survey is better.
Kyle: Why are Malice Gems in weekly missions NO TRADE? Because quest rewards are NO TRADE.
Kyle wants a duck mount. Holly keeps saying No. Now she's saying Maybe. Tom Tobey just flashed his duck and walked out. LOL
Editor's Note: For anyone wondering about the overall tone during the video, Dave G. had been adamantly against duck mounts (amongst other things). With the recent layoffs, the team have a new level of freedom.
At this point the Twitch stream crashed.
Holly: Public Quests was one of the things we committed to. Our code resources are dedicated right now to the server changes and back end work. Public Quests is something we really want to do, and we may be able to do it some other form, but right now it's back on the "bucket of awesome" long term list.
Holly: After cross-server dungeon finder and the database changes are up and running, we'll have a lot of options besides server merges. We know players are sensitive to server merges.
Kyle: We've talked about Progression servers a lot, and it's something that some of us would like to do. However the architecture of EQ and EQ2 are quite different.
Kyle: Just to recap, we have plans to adjust Scouts as far as autoattacks. Quality of Life changes for Tanks. More offensive stats on Tank gear. Getting rid of Reckless and rolling it into your Offensive stance. We have all kinds of things we're talking about. Summoner pet changes on Test so Conjy and Necro pets actually do what they're supposed to.
Holly: We are 150% in this thing; this is a tireless team. Expect a lot more awesome, these guys are an incredible team.
Conclusion
Thanks to Holly for giving a shoutout to EQ2 fan sites such as EQ2Wire and Norrathian Chronicles.
EQ2 ZAM editor-in-chief Cyliena produced her own liveblog of today's stream.
UPDATE
A recording of the livestream can now be viewed on Youtube:
Trackback from your site.