Altar of Malice Beta is Now Open for ALL ACCESS members
On/behind/ahead of/who knows schedule, the Altar of Malice beta is now up and running for ALL ACCESS members.
How Do I Get to Beta?
There is no Non-Disclosure Agreement to accept this year, and no separate Beta launcher to run. To access the Altar of Malice beta, simply close and reopen your EverQuest II Launcher, click on the Version link in the top left corner (US English for US players), switch the region to "Beta", click Apply, and let the patching begin!
Copying characters from live to beta is really easy now. Instead of typing /beta on the live server and hoping that an hour or two from now, your character will miraculously appear on Beta, the /beta command now takes between 10 and 15 SECONDS to copy your character over.
After the jump, a detailed pictoral of how to do these steps, and some useful time-saving info…
Step-by-Step Getting Into Beta
1. If your EverQuest II launcher is running, close and reopen it.
2. Click the Version link in the top left corner (US English for US players).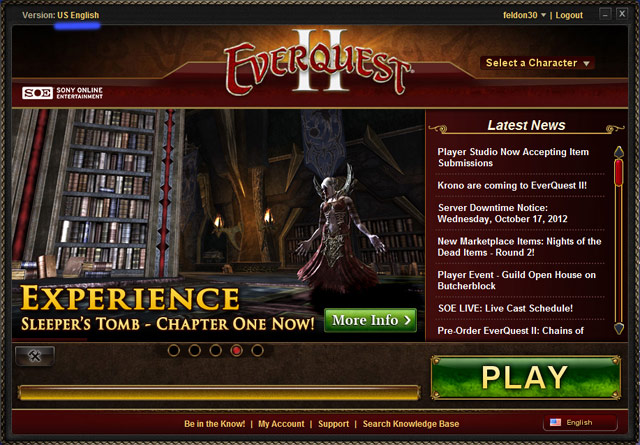 Change the Game Version to "Beta" and click "Apply".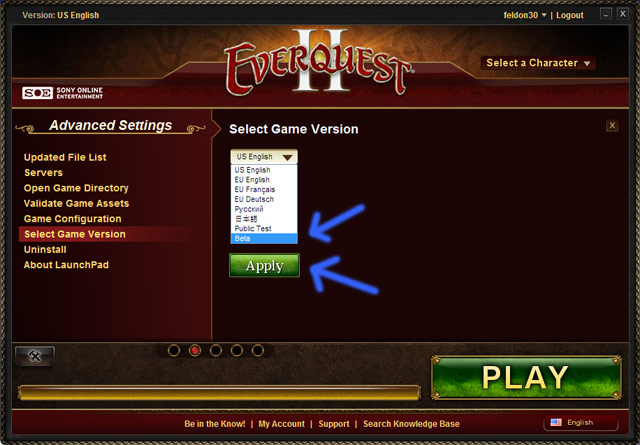 If you want, you can wait 12-16 hours for the entire EverQuest II game to be redownloaded…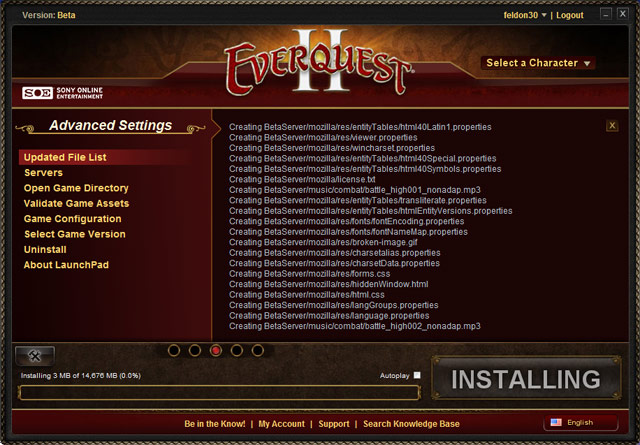 …but if that sounds like a bad idea to you, then locate your EverQuest II folder (click the "Open Game Directory" button in the Launcher to do so) and follow one of the two instructions below:
REGULAR: Ctrl-click on your music and paks folders, and then press Ctrl-C. Click on your BetaServer folder and press Ctrl-V. This will cut your patching time down to about 15-20 minutes.
STREAMING: Click on your assetcache folder, and then press Ctrl-C. Now click on your BetaServer folder and press Ctrl-V. This will cut your patching time down to about 15-20 minutes.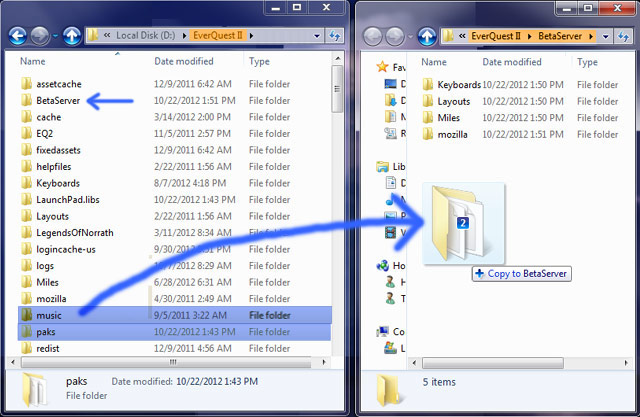 NOTE: You do not need to open the two windows side-by-side as I have done them above. You can just ctrl-drag the two folder(s) into the BetaServer folder all in one window.
CAUTION: Do not copy the entire EverQuest II folder into your BetaServer folder as there are a number of UI changes in Altar of Malice (the devs really do try to keep this to a minimum!) For now, you will want to use the default UI until mod authors of ProfitUI, Drums, Dark, Fetish, etc. can update their scripts.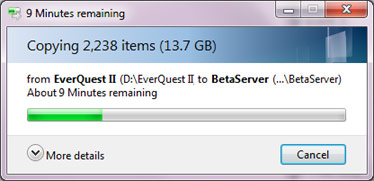 You should feel confident clicking "Replace" wherever necessary to overwrite any files which may already be present. Once the copy is complete, switch back to the Launcher and wait 15-20 minutes for patching to complete. You should then be able to Play!!
NOTE: If you have issues with crashes, delete your EverQuest II\Launchpad.libs file.
NOTE: If EQ2 Beta crashes immediately after launching, go to your main EQ2 directory and copy the D3DCompiler_43.dll and D3DX9_43.dll files to your BetaServer folder.
What about Beta Copies?
Beta Copies use a totally rewritten mechanism this year. In short, when you type /beta on your live character, your character is copied over in as little as 5-10 SECONDS. Thanks to Terrogaunt for this feature.
If you login to Beta and do not see your copied characters, please go to the Character Select screen, create a new character, and then when you exit back to the character select screen, you should see your copied characters.
There have been a number of changes in how name conflicts are handled. In the past, if you copied the same character over 4 times, you'd have Feldon, Feldonx, Feldonxx, and Feldonxxx. Stay tuned to the Beta forums for further details.
Where are the Beta Forums?
Speaking of the Beta forums, they are located here!
Where's the Beta Buffer?
There is not currently a beta buffer, as you should login on live and /beta to copy your character to Beta. Eventually, a beta buffer to bring you up to level 100 will be added, but for now as a tester, you should be testing 95-100 leveling and content!
Where do I start?
The new signature quest, which takes you to the newly discovered island of Erollis, starts in Qeynos Capital District or in Freeport. The world bell also allows travel to the Tranquil Sea.
Trackback from your site.